IN THE BLOGOSPHERE
3-o Blogs offering
unique perspectives
Blogs allow folks to share their thoughts and passions with an online audience across the globe. For the 3-Os, posts can be used to promote awareness of their business, frame lines and causes that are important to them. Blogging gives eyecare professionals the flexibility to express themselves in different ways using interesting photos or informative posts written in a conversational style. There are so many diverse ways to engage with an audience through a blog on social media platforms like Facebook, Twitter or Tumblr. More searches on Google are now done on a mobile device than on a desktop, so social media and blogging lend themselves very well to an ever growing mobile audience. Here's a look at some of the top eye-related blogs. — Carol Gilhawley
This article originally appeared in the June 2016 edition of INVISION.
---
urbanoptics.tumblr.com
➤ Urban Optics in San Luis Obispo, CA, might not have as large a fan base as other blogs but it certainly is active on social media. For the past two years, three staff at Urban Optics have been taking pics of patients with their new glasses and posting them on Twitter, Facebook and Instagram. "These posts are personal," says Michelle Lee, optician at Urban Optics. She says the entries on Tumblr and Pinterest are more pictorial and highlight the store's aesthetic and the frame lines that it carries. "We're getting more active on social media as time progresses," Lee adds. "We're achieving an online presence by showcasing our happy patients!"
---
brighteyestampa.com/blog
➤ In 2007 when very few eye doctors had a blog, Dr. Nathan Bonilla-Warford set up one. "It seemed like a good way to educate my patients and to reach prospective patients," he says. Dr. Nate shares his blog posts on Twitter and Facebook too.
His top three most popular topics are:
1 Genetics behind why children have brown eyes or blue eyes.
2 Why a child might need bifocals.
3 A demonstration of how vision is blurry with different prescriptions.
---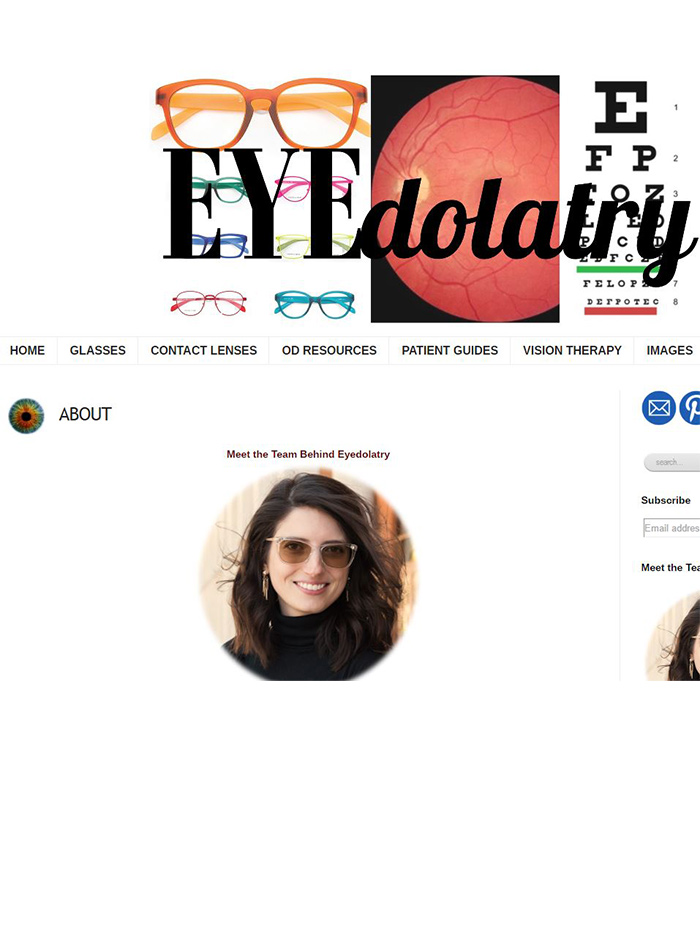 eyedolatryblog.com
➤ Friendly conversation starters were the idea behind Dr. Jennifer Lyerly's popular eyedolatryblog which she set up in 2011 to communicate with patients. "The blog has layman- friendly communication, nothing technical," she says. "I link back to studies so the site is well-rounded." Eyedolatryblog gets 25,000 page views a month and Lyerly posts a new topic directly onto the URL once a week. "What I'm realizing is that most people are curious about their eyes and Google topics about their eyes," she adds. A post about conjunctival cyst is her most popular yet!
---
newgradoptometry.com and covalentcareers.com/blog
➤ The whole NewGradOptometry.com site is effectively a blog, says Dr. Matt Geller, founder. A core team of writers publishes one article a day in addition to e-books, videos, infographics and resource guides. The site gets 40,000 monthly page views and is growing by 300 new members a month. In the past two years, 6,000 new graduate optometrists have joined for free.
Another blog Geller set up is CovalentCareers. com/blog which is an online tool to help eyecare professionals find jobs and practices find staff. "It's like LinkedIn for eyecare," explains Geller. The blog focuses exclusively on staffing and posts tips on jobs, resumes and interviews. In its first year, CovalentCareers.com gained 5,500 registered users and received 10,000 visitors a month.
eyecingonthecake.blogspot.com
➤ Cupcakes inspired by eye disease don't sound too appealing but Dr. Amorette Hanna manages to pull it off. She bakes cupcakes to illustrate glaucoma and macular degeneration and then provides useful information to go with them. She posts pics of her cupcakes
several times a month and patient information about vision and eye health about once a month. "Our time with patients is limited so this way I can continue the conversation with my patients," she says. Her Facebook page is connected to the blog and receives on average 300 views a month. Hanna developed the idea in optometry school and started her "eyecing" on the cake blog in May 2014 after her first year in practice in Raleigh-Durham, NC. "My dream is to open my own practice and to build a bakery adjacent to it," she says. But, before she does that she needs to build up experience working for someone else and to pay off her student loans. "My blog is a manifestation of my two loves," she adds. "It's a creative outlet for me. There's not a whole lot of ways to be creative in optometry so we need to find other outlets where we can be artistic."
blog.eyeseeeuphoria.com
➤ Keeping a finger on the pulse of eyewear and fashion is Eye See Euphoria, a blog which receives between 1,000 and 1,500 hits a day. Founded by Dr. Darryl Glover Jr. in February 2013, he typically posts two to three times a week. He says his most popular topics revolve around fashion eyewear and interviews with independent eyewear designers. Glover is an optometrist based out of Nigeria and North Carolina. He says his "fascination for eyewear" began in 2002 when he was an optical sales consultant. "I fell in love with the opportunity to style a complete stranger with eyewear that would match their personality or give them a new image," he explains. The site's tagline is "state of happiness with eyewear."