Art can be a tricky thing. What one person loves, another may not. And it's always very personal — you can tell a lot about someone by the art hanging in his home.
This article originally appeared in the November-December 2015 edition of INVISION.
---
The same is true for your business. The artwork and decor you choose for your eyecare practice or optical shop will be a direct reflection of who you are, the sort of clientele you want to attract and the type of atmosphere you are trying to create.
The six examples here all show how art can be used to make a business more memorable and reflect what the owner wants the business to be. People with artistic skills may decide to go the DIY route and create their own office decor, while others may look to the work of outsiders. Whichever way you go, aim for a look that speaks to both the uniqueness and professionalism of your businesses.
Onega Astaltsova, an artist who is also managing optician of Providence Optical in Providence, RI, says good art will help elevate your business. "As ECPs, we have a professional obligation (and) the art has to be professional too," she explains. "You still need to follow (the) rules of business and not just your personal taste. Good art will help you look professional."
Need some more inspiration for your space? You'll find lots of good resources online. TheOpticalVisionSite.com and Pinterest are great resources for decorating ideas, as are Facebook groups such as Opticians on Facebook. You might also work with a local artist, gallery owner or art consultant to help you find or create the look you seek. — CORRIE PELC
---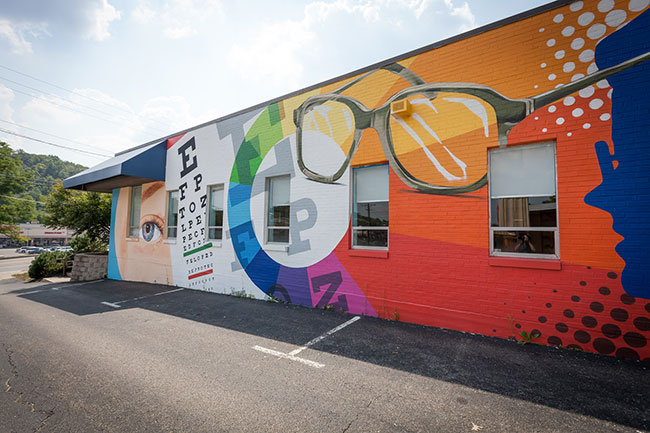 BE VISIBLE
Opticare Vision Center, Newport, KY
➤
After living in the signage shadow of nearby businesses, Dr. Josiah Young decided it was time to make his own building stand out from the crowd. In July 2014, he contracted mural specialists Higher Level Art to design and paint a mural that includes lots of vivid colors and eyecare motifs. "Our mural stands out because of the depth of colors, geometric figures and pictures that were used," Young explains. "It just grabs your attention when you drive up the street ... it tells people what kind of business we are." When new patients see the mural, it helps reinforce positive opinions, he notes, adding, "Our job is to continue to exceed their expectations once they step inside."
---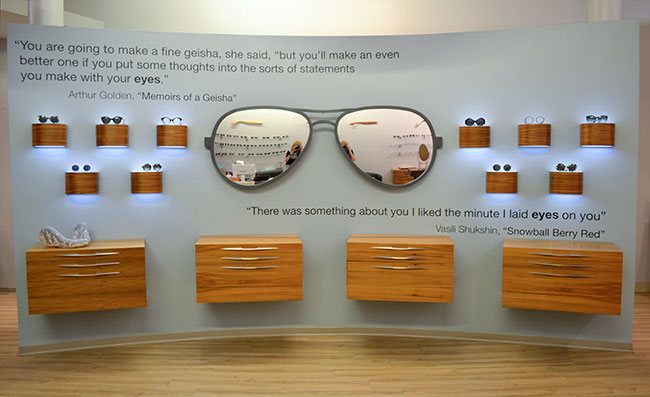 Mirror, Mirror
Providence Optical, Providence, RI
➤
With a background in art, it's no wonder why Onega Astaltsova decided to design an eyewear wall mirror for Providence Optical. Astaltsova says she chose a metal aviator-shaped frame design for the mirror to complement the shop's large selection of vintage frames. She created a hand drawing of the frame she wanted to depict, then transformed that into a vector computer rendering from which polycarbonate and PVC plastic parts were cut and put together. The finished product is set off by large quotations from literature that help reinforce the idea of Providence Optical as a place that celebrates all the arts.
---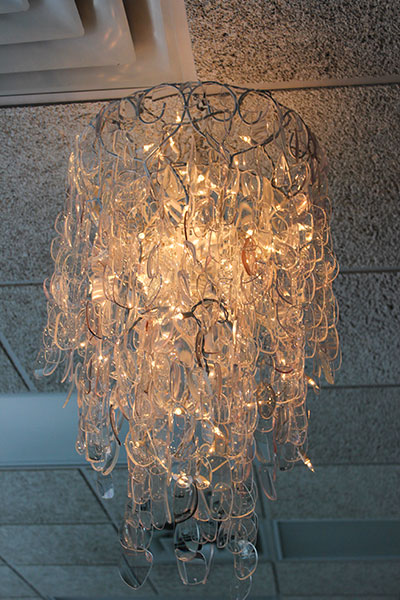 DIY Chandelier
Southern Tier Optometry, Jamestown, NY
➤
Dr. Kara Gibbs credits Pinterest with inspiring her to create a chandelier of recycled lenses. It took her about three months to complete the project, which included hand-drilling holes into 846 lenses, stringing them together with fishing line and attaching them to a frame. She added Christmas lights in the middle to illuminate the fixture. Many lenses came from her own office, but she also got a bunch from other ECPs after she posted about her project on Facebook. "Box after box arrived in the mail," she says. "I was so grateful to get them and excited to put them to good use."
---
On the Table
Leadership Square Eyecare, Oklahoma City, OK
➤
Seeking an eclectic, vibrant look for their office remodel, Drs. Tami Ross and Amber Roby incorporated two spectacle-shaped tables from artist Frances Scholz of Backyard Spectacles into their decor. Positioned in the windows, the tables are eye-catching both to outside traffic and to people entering the business. Roby says they originally chose the tables for their lighthearted, quirky look, but the art has succeeded in making the business's optical selection more of a focus — a big goal of the remodeling project.
---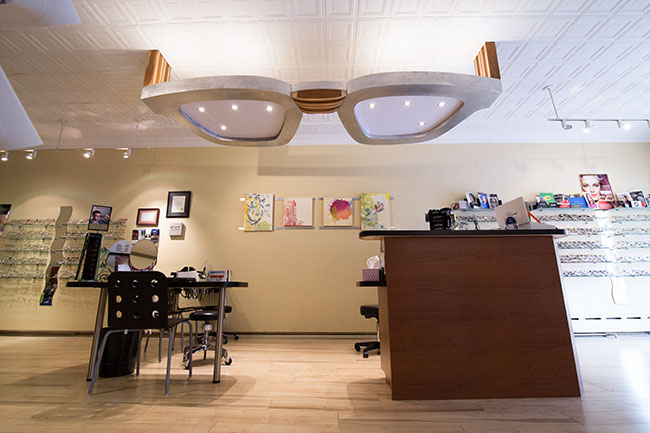 Bright Idea
Happy Valley Optical, State College, PA
➤
Not long after they moved into their current location 10 years ago, owners Dr. Robin and Scott Dutt dreamed of replacing failing light fixtures with a giant pair of glasses hanging in the middle of their shop. The Dutts were able to make it happen in 2015 thanks to a 12-foot aluminum sculpture by local artist William Snyder III. The eyewear sculpture hangs over the reception counter and dispensing tables, and it features LED lighting on dimmers to make it not just art, but functional art. "When returning customers walk in, the sculpture lets them know they are still making a great choice — eyewear IS fashion," Scott Dutt says. "New customers walking into the store see the sculpture and have no doubt this is the place they will find their next pair of glasses."
---
From Time to Time
Able Opticians,
Point Pleasant, NJ
➤
For Judy Carletta, owner/optician at Able Opticians, the spectacle clock that hangs in her business is not just art, it's personal. The oak and stained glass clock was designed and made by her parents when she first opened her business nearly 15 years ago. Carletta says the clock hangs on the back wall of her lab so it's visible to patients when they come through the front door. "It is colorful, so it draws attention without being a distraction," she explains. Everyone from patients to sales reps comment on the clock because it is such an original piece. People often ask questions about where it came from, Carletta says. "I tell them it was made especially for me with love!"