But how many of you think about what the outside of your business says to potential customers? Dr. Joshua Woodland of The Woodland Eye Clinic in Dyersville, IA, recently put up perforated vinyl window graphics. They protect the eyes of his staff and patients from the blinding sun, and they also promote his practice rain or shine.
Perforated vinyl windows present a wonderful picture to the outside world while still allowing you to see out. Whichever side has the more dominant light will prevail: the outside photo during the day, the inside of the practice after the sun sets.
In this case, each window group ran about $350. The graphics will look good anywhere from a year for south-facing windows to more than five years facing away from the sun.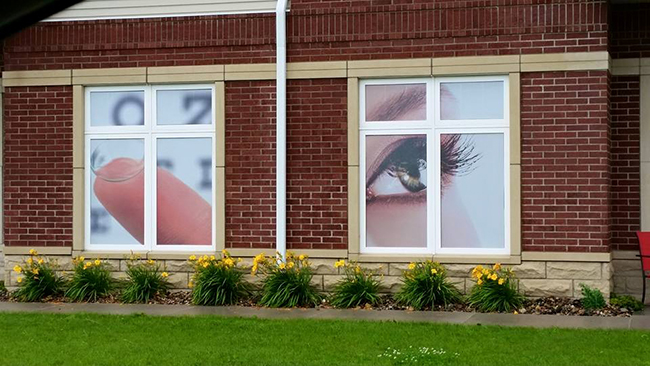 Perforated vinyl window graphics at The Woodland Eye Clinic in Dyersville, IA.

Better yet, ECPs can get help paying for window graphics. Many name brands will co-op windows with you to showcase their products. (Here's one my company did with Lafont and Europtics in Denver, CO.) Ask your local reps for details.