Many of your customers want the best
— but if an eyewear shopper hasn't yet heard of free-form or high-definition lenses, they won't know to ask about them.
Tim Diguer of Old North Optometry in London, Ontario, recently kicked off a discussion on how to sell free-form lenses on the Luxury Eyewear Forum on Facebook by saying he likes to emphasize the comfort of a free-form lens: wider zones, minimized peripheral distortion and sharper vision. "People seem to understand what I am saying without me sounding like a salesperson and using too much technical jargon," he wrote, adding that since opticians are part of a healthcare industry, "it is only fair that we offer the best standard of care."
People who haven't tried progressives — or who've been dissatisfied with them — don't know how advanced they've become. "Let them know that rather than being accurate to within a quarter, it's accurate to within hundredths," suggests Paul Garcia of Charlotte's Optical in Colorado Springs, CO. "In a perfect world, progressives should function as smoothly as single vision, while still accommodating for distance, intermediate and near — and free-form is the closest thing to it. Say it with conviction, rather than using a script or just repeating what the brochure says."— JULIE FANSELOW
This article originally appeared in the March 2015 edition of INVISION.
---
VENDOR LIST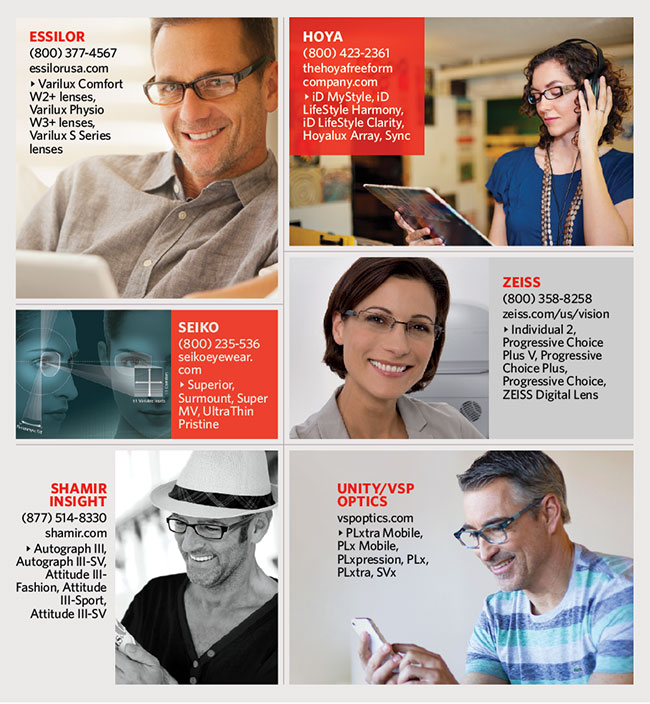 Smart Ways to Sell More
HD/Freeform Lenses
From a recent discussion on Facebook's Luxury Eyewear Forum:
➤ I dispense Hoya-branded "high def" lenses for a few bucks more than what my patients paid for conventional progressives. If there is any pushback, then I dispense a house brand "high-def" lens with a one-year limited warranty versus a two-year unlimited warranty on Hoya lenses. John Ippolito, Ippolito Eye Care, Stirling, NJ
➤ I use the TV comparison. Yes, you may have had a tube TV for years and it worked fine, but there is nothing like the clarity and vision of a gorgeous hi-def television. Why would you want a tube TV for your lenses? Rachel Hill, Personal Optical, St. Catharines, ON
➤ We pick the frame if we can before the doctor sees the patient, based on what they presented with. We try to steer the patient away from drill mounts and rimless, for instance, if they have a high plus prescription. We ONLY use full backside digital progressives. House brands that we have tested are great and you can get them for far less than a conventional surfaced lens. ... I get brand-name-designed lenses for half a C-note in CR39, so you can use that for a starting point and work up to Zeiss Individual or Shamir Autograph as a top-of-the-line personalized lens. I think the old days of selling conventional progressives are over. Jim Williams, Eye to Eye Optometry, Mexico, MO
➤ I say things like, "The reason you are here today is to improve your vision. The most important part is your lens." Gwenn Lewis, Lavenburg Medical Group, Newark, DE, and Elkton, MD
➤ I like analogies. Hi-def TV compared to old cathode ray. Or for golfers, compare clubs off the shelf to ones that have been custom-fitted for swing speed, lie angle and shaft length. Finally, a car reference: Yugo vs. Lamborghini. They will both get you where you're going, but one will get you there faster in more comfort and style. Dave Metzger, New England territory manager, US Optical