LOVE
IS

IN SIGHT

7 EYECARE PRO COUPLES TELL HOW THEY WORK TOGETHER (AND KEEP THE ROMANCE ALIVE)

A

s an eyecare professional, you're used to looking deeply into people's eyes — many, many times every day. But for most of us, somewhere along the line, gazing into another's eyes is a labor of love, not work. And when business and pleasure meet, that can be the most fortunate love story of all.

The 2015 annual office romance survey by workplace intelligence company Vault.com found that 10 percent of its respondents met their spouse or partner at work, and nearly six in 10 report they've had a romance with a colleague. Workplace romances were once widely frowned upon, but only 5 percent of the people Vault surveyed disapprove these days. Another interesting statistic: The U.S. Census Bureau reports that optometrists have one of the lowest divorce rates of any profession. It was a mere 4 percent in 2000.

Love knows no season nor reason, but in honor of this month's big holiday, INVISION would like to salute seven sets of visionary Valentines. Read on to see how they met, how they make it work — and what you can learn from them if cupid's arrow (or maybe match. com) ends up bringing you a fellow ECP sweetheart.
---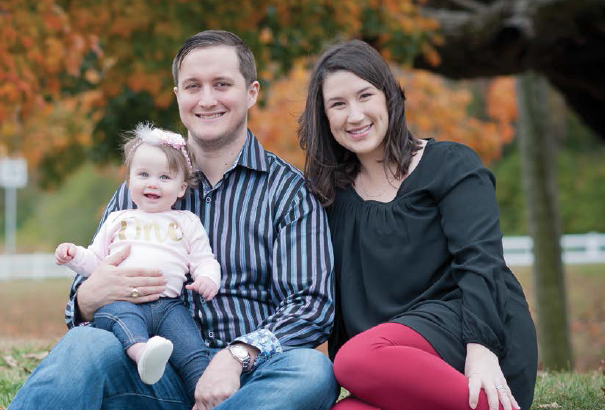 Dr. Katie McElvaine and Scot McElvaine relax with their daughter Grace.
DR. KATIE McELVAINE AND SCOT McELVAINE

SPRINGFIELD FAMILY VISION, SPRINGFIELD, MO
atie Robertson and Scot McElvaine actually sat next to each other in anatomy class in high school, but they didn't realize it until years later when they saw a yearbook photo. Katie's family has lived for generations in Springfield, MO, where her parents own an antique store. Scot's family moved there in 1993 and bought a jewelry store. "Small business is in our blood," Katie says.
LOVE TIPS
DO play to each other's strengths, and be patient with each other.
DON'T step on each other's toes, and try not to micromanage each other.
The couple began dating in 2009 and Scot proposed a year later in Hawaii, where Katie was doing an externship rotation. They married in Springfield in 2011 and have a 1-year-old daughter, Grace. Now they have gone into business together, too, as the owners of Springfield Family Vision, which opened just before Thanksgiving last year.
Katie is an OD and Scot has an MBA. He previously worked as a supervisor with Expedia; before that, he helped out in his parents' store. "I have a retail background," he says. "I was ready to do something on my own, not necessarily in optical. It was the right time to take a risk."
For four years, Katie was an optometrist at a group private practice in town. "There was a structural change at my previous employer which made it easier for me to leave," she says. When working for different employers, they were both doing shift work and rushing home to see each other. Working together, especially with a small child, is a change that simply feels right.
The McElvaines began setting up their practice last August. They gutted a computer store and hired an architect. "It was a mad rush," Katie says. "But we got everything done in 78 days." With just the two of them on staff, Katie runs the clinical side and Scot does everything else. "She's the brains and I'm the muscle!" he says.
"We're doing such different roles," Katie says. "But at the end of the day you're going home with that person and you want to live a happy life." Some days, their parents help mind Grace. Other times, she goes to a day care center that shares a parking lot with their business. After closing shop, they can walk over together to pick her up. "We need to remember why we're doing this," Scot explains. "We're doing it for each other and for our family."
---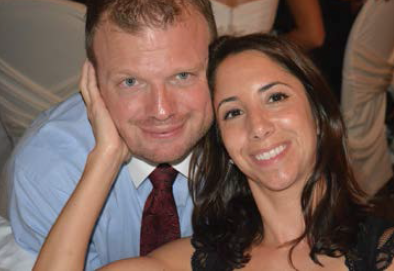 DR. JASON MacLAUGHLIN AND DR. LISA GENOVESE

INSIGHT EYECARE/LICATA OPTICAL, BUFFALO, NY

aughter is important in relationships, and although Jason MacLaughlin was a class clown, Lisa Genovese fell for him. The couple — she's originally from Buffalo, NY, and he's from Shawano, WI — met socially during their first year at Illinois College of Optometry in 1998. Although there were 170 students in their class, "everyone became close real fast," Lisa says.
LOVE TIPS
DO rally behind each other and help each other out.
DON'T butt into the other's responsibilities.
They worked together during rotation and then again for 12 years at the same ophthalmology practice in Amherst, NY. In December 2015, they opened their own practice together. "We bought a two-location practice owned by an optician," Jason says. Their new business is called Insight Eyecare/Licata Optical with one location in Williamsville and another in Lockport, both suburbs of Buffalo.
"People always say to me 'you don't want to work together,' but I've always found it fine," Lisa says. "It's nice to rely on each other and bounce ideas off each other. We use our iPhones to send each other pics to get a second opinion." Both have different talents, too. Jason is more focused on optics and Lisa on diseases. She says he's good at billing as well. "I feel like we're different at what we're strong at and so our responsibilities complement each other," she adds.
The couple have two children, a 9-year-old son and a daughter who's 7. Owning their own practice now means Lisa can pick up their children from school and do more activities with them. "It's important to enjoy life," Jason says. "Don't take work home too much!"
---
CHRISTOPHER CAIN AND ADAM HOFFBERG

OJO OPTIQUE, SANTA FE AND ALBUQUERQUE, NM

ou know it's love when someone will leave a job selling luxury real estate in Los Angeles to join a fledgling optical shop. Two years ago, Adam Hoffberg and his younger brother, Jed, decided to move back to Santa Fe, NM, where they'd lived as kids, to realize their dream of opening an optical store. "We dragged Chris back with us!" Adam says of the man he met in L.A. 14 years ago. "He has joined the ranks of the optical world."
LOVE TIPS
DO split responsibilities so you can excel at different things.
DON'T hold a grudge when there's a disagreement ... and don't take work home with you.
Adam has been an optician for over 20 years and his brother Jed has been one for 14. The two brothers and Chris are co-owners of Ojo Optique, which they opened in Santa Fe in 2013 and expanded to a second location in Albuquerque last July. Adam and Jed had previously worked in Santa Fe, where they knew there was an opportunity for an optical shop that was completely independent. Ojo Optique carries such designers as Anne & Valentin, l.a.Eyeworks, Theo and Oliver Goldsmith, and it uses only independent labs.
"Chris brings a great business background to our partnership," Adam says. Chris takes care of technology and finance and works with Adam at the Santa Fe location, while Jed runs the Albuquerque store. "As a couple, working together can be challenging, but for the most part it works," Adam says. "We have great communication skills with each other and we have similar goals — in life and in business. We enjoy spending time together, which is key."
---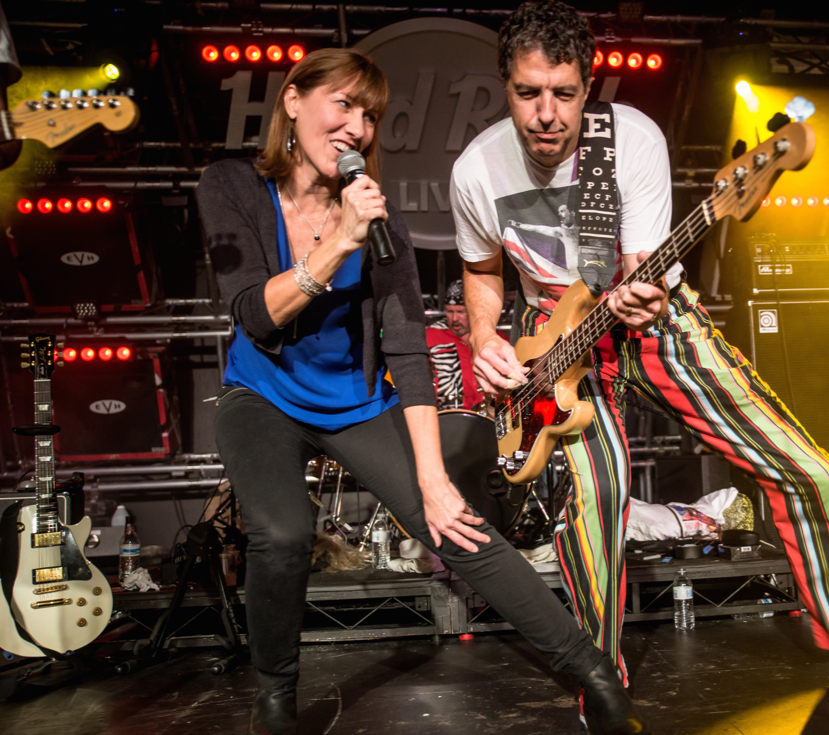 Dr. Kelly Raies onstage with her husband Dr. Michael "Jules" Raies singing her signature song AC/ DC's "Dirty Deeds Done Dirt Cheap." Photo by Julie Bergonz
DR. KELLY RAIES AND DR. MICHAEL "JULES" RAIES

PORTSMOUTH VISION CENTER, PORTSMOUTH, OH
ancing by the Nile, the ladies love his style ... — Steve Martin, King Tut
Even though (or maybe because!) Michael Raies was dressed like an Egyptian for a college talent show, Kelly Carson agreed to go out with him. Michael (aka "Jules") was a freshman and Kelly was a sophomore at the Ohio State University College of Optometry when he took the stage at a talent show to channel Steve Martin's Saturday Night Live skit — and the rest is not-so-ancient history.
LOVE TIPS
DO complement each other in your work duties.
DON'T let things get stale. Have an exciting hobby to keep things fresh.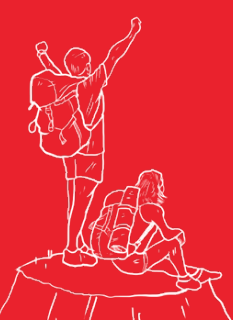 College was where Michael's band, Bad Habits, the EyeDocs of Rock, came together in 1987. "Kelly supports my music habit," Michael says. In fact, she's even joined the band onstage at its eyecare conference gigs. But, he adds, "I don't think any of my patients know we're these closet rockers!"
Kelly and Michael married in 1990 and worked together for a year in Pittsburgh, PA, before joining her dad in his Portsmouth, OH, practice, which they bought in 1996. (Dr. Raymond Carson still sees patients.) Kelly and Michael share office space as well as their life outside the practice. "A lot of people think it would be hard but it works for us," Kelly says. "It's great and we enjoy it. I share my time between administrative work and seeing patients. Mike shares all the responsibilities with me."
"We both complement each other well," Michael adds. "I can see how some people might butt heads especially if they are both trying to run a practice and not willing to compromise. But you have to be open-minded and careful not to let business disagreements have an effect on your personal relationship."
Over the years, Michael has worked more hours at the practice than Kelly, especially when they were raising their three daughters (now ages 20, 18 and 16). The family travels together when the band performs at shows. "Our whole family loves music," Kelly says, "but we keep it separate from the office."
---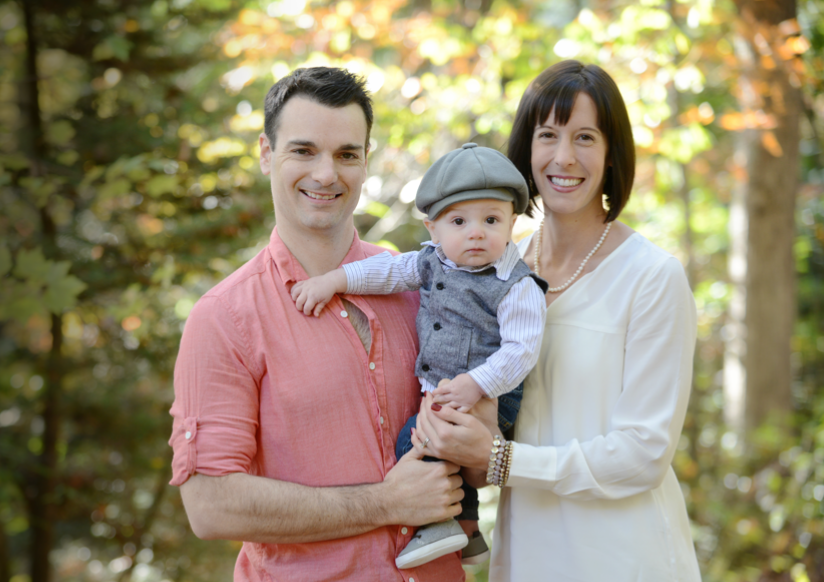 Dr. Cory Partlow and Dr. Jennifer Partlow, here with their son Harrison, are balancing life as optometrists and parents.
DR. CORY PARTLOW AND DR. JENNIFER PARTLOW

BLACK MOUNTAIN FAMILY EYECARE, BLACK MOUNTAIN, NC
LOVE TIPS
DO divide up office responsibilities between each spouse so there are fewer points of contention.
DON'T avoid taking time off at the same time to go on vacation.
ory and Jennifer Partlow met as optometry students, though not at the same school. In 2008, Jen was doing her ocular disease residency at the VA Medical Center in Huntington, WV, and Cory was an intern at the same time. They continued to date while he went through rotations at other locations. After he graduated and she finished her residency, they moved to the same town in Virginia and worked at separate optometry offices. They got married in 2012.
Together they opened Black Mountain Family Eyecare in Black Mountain, NC — near where Jen grew up — in July 2013. "As far as opening a new optometry office with your spouse, one of the biggest positives is the support you get when things aren't going smoothly," Cory says. "It is also great to be able to talk about issues of the office with someone who actually understands those issues."
On the flip side, it's sometimes hard to separate your working life from your private life, and that goes double when it comes to getting away from the office for more than a few days to spend time together. "It can be difficult to take time off at the same time due to coverage issues," Jennifer says. "But it is extremely important to plan for it and to do it."
---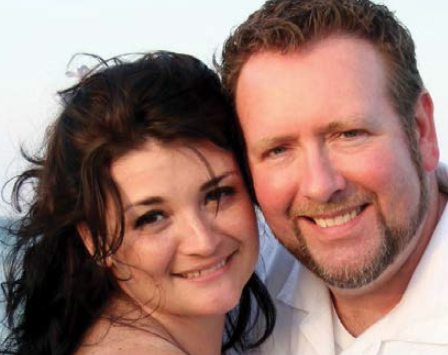 BRYAN AND AMIE FINLEY

ISLAND OPTICIANS, PALM BEACH, FL

t's a family affair at Island Opticians, where Bryan and Amie Finley will mark their second year in business on April 2 — which is also their wedding anniversary. How romantic is that? "We met when Amie applied for a job at an independent optical shop I worked at," says Bryan, who's been in the vision care business since 1999. "She didn't have any optical experience, but I could tell she was smart and was comfortable in a sales role, so I told the boss he'd be stupid not to hire her. Three years later, after each going our separate ways, we reconnected at another practice, and the next year we were married."
LOVE TIPS
DO understand and play off of each other's strengths and weaknesses.
DON'T let it get competitive. Always praise the other's efforts and input.
The Finleys bought a long-standing shop in Palm Beach and have made it their own over the past two years. "We find it hard to not talk optical when away from work," Bryan says. "Between work, kids and grandbabies, we always have something to talk about, but I'd be lying if I said we leave work at the office. On the good side, we do at least always understand and can empathize with each other when it comes to work topics."
Both Bryan and Amie are licensed opticians, though Bryan is at the shop more since Amie has another job. "We try to both be involved in frame buying and other large decisions," Bryan says. "I do all of the social media stuff and print advertising, but when it comes to face-to-face marketing, she does most of that. Let's face it, she's easier on the eyes."
---

Accepting an award as Florida's OD of the Decade last year is Dr. Ken Lawson with his wife Dr. Jamie Lawson.
DR. KEN LAWSON AND DR. JAMIE LAWSON

BAYSHORE EYE CARE, BRADENTON, FL
en got his future fatherin- law's seal of approval before he ever met his wife. Ken Lawson and Jamie Wedel attended the same large high school in Bradenton, FL, and knew lots of the same people, but somehow, their paths had never crossed.
LOVE TIPS
DO use each other for free consultations on a confusing case.
DON'T be upset with your spouse for not always having the same opinion, especially on major work decisions.
Taking a year off after college to decide between medical school and optometry school, Ken was working as a part-time high school science teacher. That's when he met Jamie's father, Jim Wedel, who also taught science. Ken decided to attend the University of Houston College of Optometry in the fall of 1989. Jamie had begun studies at UHCO at the same time — and her dad made sure she met Ken when she came home for winter break. The couple hit it off, dated the rest of their time in optometry school, became engaged just before graduation and got married in 1994 after Ken finished his residency.
Like most young couples, the Lawsons had multiple goals. Owning a private practice was one, but paying student loans and buying a house were on the list, too. So they both worked in commercial optometry for a couple of years before taking the plunge on their own business, Bayshore Eye Care.
"We finally purchased a free-standing office on a busy corner at the end of 1995 and really got going building the practice in 1996," Ken says. He was working at two places while trying to remodel the new office and finish up their new home. Meanwhile, Jamie was eight months pregnant with their first child and working full time. "Whew! It makes me tired just remembering that time in our lives," she recalls. They even opened a second location with another OD, Dr. Glenn Altman, Ken's college roommate. "It did well, but we had little kids and wanted more time with them," Ken says. (Altman is still at that practice, University Eye Care.)
One office suits Ken and Jamie well and they work on opposite schedules. The couple's daughter is now 19 and they have a 14-year-old son, too. The hardest part of working together is trying to take time off. "We want to take vacations together, but then no one is at the office generating any income," says Jamie. But the best part of working together as a married couple, she adds, is "100 percent trust in financial and ethical decisions and complete empathy with the other after a particularly draining day."