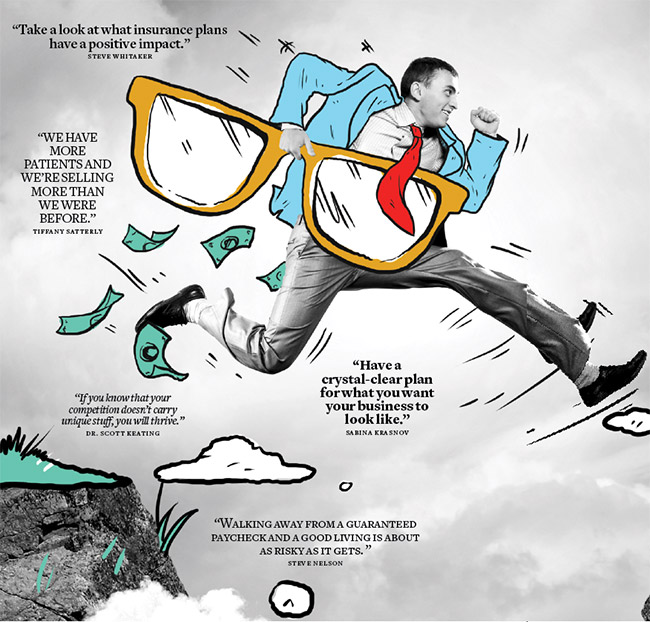 Eyecare Pros Share Their Boldest Moves
There's no time like a brand new year to start dreaming big and daring greatly for your business — especially when the biggest risk in business today is not taking a risk. As eyecare entrepreneurs, we perpetually feel caught between information overload and infinite opportunity. But stand still, and your competitors will blow past you before you can blink. That's especially true in an industry seeing as much disruption as vision care. As author Seth Godin says, "How would you do it differently if the building were burning down? Because it is."
Change is scary. It will make you feel uneasy and vulnerable. But sometimes, change is exactly you need. Best-selling author Brené Brown says, "For years, I drew courage from the question, 'What would you attempt to do if you knew you could not fail?'" Eventually, she adds, "I pushed that question out of my head to make room for a new question: 'What's worth doing even if you fail?'" Failure is nothing to fear. Brown notes that if we spend our lives waiting to act, "we ultimately sacrifice relationships and opportunities that may not be recoverable, we squander our precious time, and we turn our backs on our gifts, those unique contributions that only we can make." Godin adds: "Bravery means a willingness to fail, coupled with the knowledge that failure isn't always a bad thing. We need a lot more failures, I think. Failures that don't kill us make us bolder, and teach us one more way that won't work, while opening the door to things that might." We asked INVISION readers to tell us about their boldest risks. Here's what some of you had to say. We hope you'll share other stories of risks taken, rewards gained and lessons learned with us in the comments section at the bottom of this page.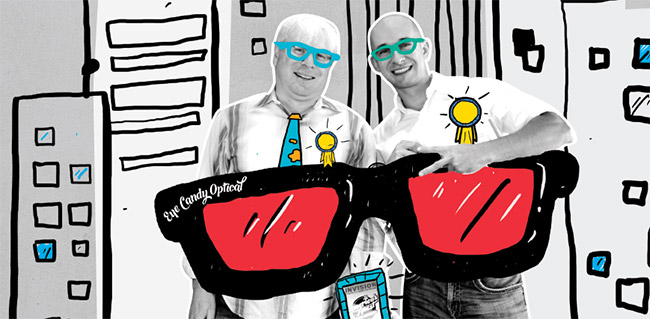 Steve Nelson and Anton Syzdykov wanted a new adventure. They've found it selling fine eyewear.
DELIVERING EYECARE EVERYWHERE
Eye Candy Optical, Westlake, OH
Steve Nelson and Anton Syzdykov both had well-paying, jet-setting corporate jobs, but they left their cushy gigs behind to open a high-end eyewear boutique despite having no experience in the industry.
THE RISK:
For years, Nelson and Syzdykov worked and traveled together in global marketing and retail development within the paint industry. Along the way, they had the chance to visit optical outfits from all over the world, which inspired them to embark on an entrepreneurial journey. In 2013 the duo opened Eye Candy Optical in Westlake, OH, putting their own twist on optical retailing while breaking free from the "golden handcuffs," as Nelson calls his former career. "When you're guaranteed a paycheck and you make a very good living ... walking away from that is about as risky as it gets," he says.
THE REWARDS:
Nelson is proud to report that Eye Candy has developed into a business that is viable, growing and "fulfilling from a financial perspective." Recalling an epiphany about six months into the operation, Nelson says it was a "big amazing moment" when he realized that "this thing is going to work ... the risk is going to pay off." (It has paid off in industry cred, too: Eye Candy placed second in INVISION's 2015 America's Finest Optical Retailers competition.) But dollars and cents aren't the only way to measure the boutique's success. Nelson says that he and his partner succeeded in bringing to life their personal vision of what the optical experience should look and feel like. "We've really done something that I truly believe is totally different in optical for our geographic area," he says. "We were able to create an eyewear buying experience where people not only rave about (Eye Candy), but they're two inches taller when they walk out of the shop."
THE TAKEAWAY:
If possible, find a willing business partner and split the risk in launching your enterprise, Nelson says. It's also critical to make well informed decisions backed by data and anecdotal research, which is why he and Syzdykov studied the industry for three years before diving into it. However, he cautions against getting caught up in "paralysis by analysis," as only a businessman with an MBA who once wore the "golden handcuffs" can explain. "What we've found in business, and the way we make most decisions, is it's a process of triangulation," Nelson says. "You do need some data points to make a decision and take a risk, but you'll never know all the information. ... At some point, it goes from writing a business plan to saying, 'We can do this.' So that's what we did — we basically jumped off a cliff."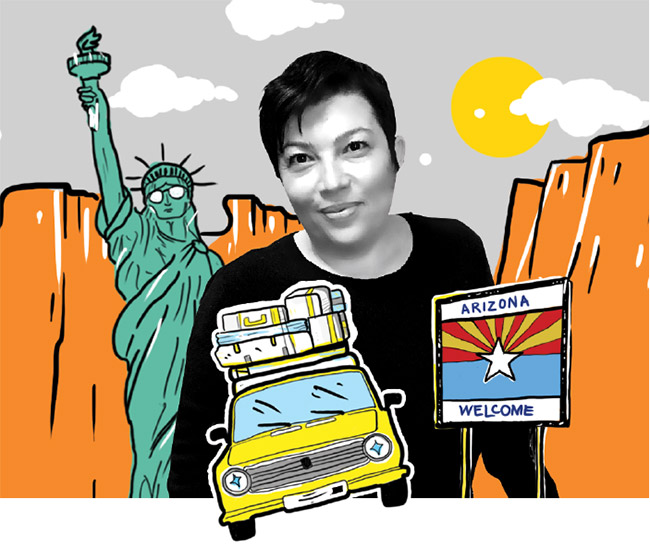 Sabina Krasnov moved her family and her career across the continent. She isn't looking back.
GO WEST, OPTICIAN
i2i Optique, Scottsdale, AZ
Sabina Krasnov took not one but two big risks two years ago: She moved across the continent from New York City to Arizona — and when she got there, she opened a new boutique from scratch.
THE RISK:
Krasnov is the first to agree she made a bold move by leaving a familiar job in a familiar location to open an optical shop on the other side of the country. But it was a necessary risk, she says. Her gig in New York City — where she'd worked as an optician for 19 years — was a stressful, "dead-end job," and she wanted a change for herself and her family. So along with her mother, children and husband, she moved to Scottsdale, AZ, where she opened i2i Optique in September 2014.
THE REWARDS:
At first, i2i Optique's biggest challenge was just "getting people in the door," Krasnov recalls. After a few unsuccessful marketing initiatives, she began making monthly appointments with several assisted-living facilities where she does adjustments and other services at no cost, both to get her name out there and to give something back to her new community. Word began to spread and she's beginning to see repeat customers. "It takes time and patience," she says. "I've met some amazing people that really needed someone like me in Arizona — someone that cares. (My customers) call me the eyewear fashionista. ... I pick their eyewear, they sit in my chair and they just trust me."
THE TAKEAWAY:
Of course, launching a retail business of any kind requires the financial discipline to sock away enough money to sustain your operation during slow times. Beyond that, Krasnov recommends having a crystal-clear plan for what you want your business to look like. "Most of all, have a vision. I wanted my optical to be like the Apple customer experience — that was my vision," she says. "Service is key. When somebody comes in, smile, educate them and see what you can improve. My vision is treating everyone like they're my mother." Krasnov has had ups and downs as a new entrepreneur, but she's living her dream. "Work hard, show people that you really do care, and they'll feel it," she says.
3 MORE WAYS TO WIN AT RISK
1. SECURE YOUR NET
We're here to tell you that most risks work out ... when you eventually get the courage to make the leap. But Elizabeth Gilbert, author of
Big Magic: Creative Living Beyond Fear
, says she'd like to change the business bromide, "Leap and the net will appear" to "Leap and the net might appear." After all, as scientist Louis Pasteur once said, "Fortune favors the prepared mind." So do your due diligence.
2. TRY A POWER POSE
When it's time to make your move, whether it's going to the bank to finance a new location or appearing on a local TV show, set aside a few minutes to psych yourself up for the occasion. Harvard Business School faculty member Amy Cuddy is the author of the new book
Presence: Bringing Your Boldest Self To Your Biggest Challenges
, and she found that when people privately practice "power poses" (arms on hips, or feet on the table, or even draping an arm over a nearby chair), their risk tolerance and confidence soar. See her describe this phenomenon in a TED Talk that has nearly 30 million views at
invmag.us/cuddy
.
3. ENGAGE YOUR TEAM
Your employees may not have the exact skill set necessary to run your business, but they do understand your patients and customers. Tom Peters gives us four tips for sparking in-house innovation: 1) Hold an idea fair to encourage the revolutionaries within your company to share their inspirations. 2) Start a monthly new economy seminar series with your own staff as speakers. 3) Create a "Weird Fund," a pool of money that your people can draw upon in small doses to pursue wild, one-off projects. 4) Encourage research through a "scholarship" that gives winning applicants time away from the office to network with a top customer, an interesting supplier, or even inside a high-performing eyecare business in another city.
"One big difference is that the frames are a lot more spread out, so each brand gets its own area and you get more of a brand experience." — Tiffany Satterly
---
TIME TO MOVE AHEAD
Optique, Austin, TX
Business was good at Optique Austin. So good, in fact, that the Austin, TX, optometry clinic and eyeglass store was ultimately compelled to leave its old digs behind for a bigger location two blocks away — and open yet another new location in the same year.
THE RISK:
There's no such thing as having too many patients. But when you have more patients than your physical space can comfortably accommodate, it's a problem. Optique Austin's previous location had just one exam room with minimal space for a lab, and there was "such a flow of patients that we couldn't physically fit enough people into the office sometimes," says optician Tiffany Satterly. So the business relocated a couple of blocks away into a bigger office that has three exam lanes, a full-sized lab and more space for employees to work.
THE REWARDS:
More space means more room for frames and overstock, which has led to higher sales, Satterly says. The extra real estate also helps make frame styling easier. "One big difference is that the frames are a lot more spread out, so each brand gets its own area and you get more of a brand experience," she adds. Beyond increased sales, higher patient volume and an improved customer buying experience, the new location better suits clinic staff, who now enjoy a more spacious, better equipped work environment. Satterly says employees were given the opportunity to offer input on the interior design, including how frames would be displayed as well as what the lab dimensions need to be. The result, she says, is a space that's "just a lot bigger and more comfortable." Patients and frame reps compliment the fresh design, too.
THE TAKEAWAY:
If you plan a relocation or expansion, prepare to spend a lot of time contacting your patients and customers so they aren't surprised by the change, Satterly says. And when you're speaking with them, "get them excited" about your new or expanded space by explaining how the move will benefit them. Also, it's a lot of work to pack up an entire business and move it somewhere else, even if it's just two blocks away. It was even more work than Satterly thought it would be. "You have to have a lot of patience with learning new equipment and organizing the space, and there are a lot of after-hours working together with the whole team," she says. "But it's worth it because we have more patients, and we're selling more than we were before." In fact, business is so strong that Optique Austin added
another
location, this one in a new South Austin development with two red-hot business successes (Shake Shack and Austin's own Alamo Drafthouse) as neighbors. It opened in December.
Confused over which insuance plans are working for you? Steve Whitaker advises a scientific approach.
BE AN EXPERIMENTER
Whitaker Eye Works, Southeastern PA
After careful analysis, Steve Whitaker took a gamble when he stopped accepting vision plans for two years. The experience gave him new perspective on how to run his business.
THE RISK:
Whitaker says that when he opened his first location in Wayne, PA, in 1993, he chased as many patients as he could by accepting seven different insurance plans. After crunching the numbers, he discovered that he was losing money on one plan and spending more time discussing insurance with his patients than addressing their needs. He eventually dropped all vision plans for two years to refocus on the sales aspect of his business.
THE REWARDS:
By eliminating vision plans, Whitaker and his staff were able to stop performing administrative gymnastics and focus on customers' needs. Dropping insurance helped him get his "mojo back" as an eyewear professional. "Don't forget why you're here," he says. When people pull out insurance cards, Whitaker says it can pull you away from your true purpose: showing people how to get superior vision via your best eyewear. Two years into the experiment, Whitaker increased doctor hours and added three vision plans. The result was added profitability and a new sense of control over his business, which now has three locations. He advises other ECPs to avoid being merely "ambassadors for insurance companies." Instead, he says, think of your business as "for-profit centers that sell eyeglasses and provide better eyewear and the best progressive lenses."
THE TAKEAWAY:
Of course, launching a retail business of any kind requires the financial discipline to sock away enough money to sustain your operation during slow times. Beyond that, Krasnov recommends having a crystal-clear plan for what you want your business to look like. "Most of all, have a vision. I wanted my optical to be like the Apple customer experience — that was my vision," she says. "Service is key. When somebody comes in, smile, educate them and see what you can improve. My vision is treating everyone like they're my mother." Krasnov has had ups and downs as a new entrepreneur, but she's living her dream. "Work hard, show people that you really do care, and they'll feel it," she says.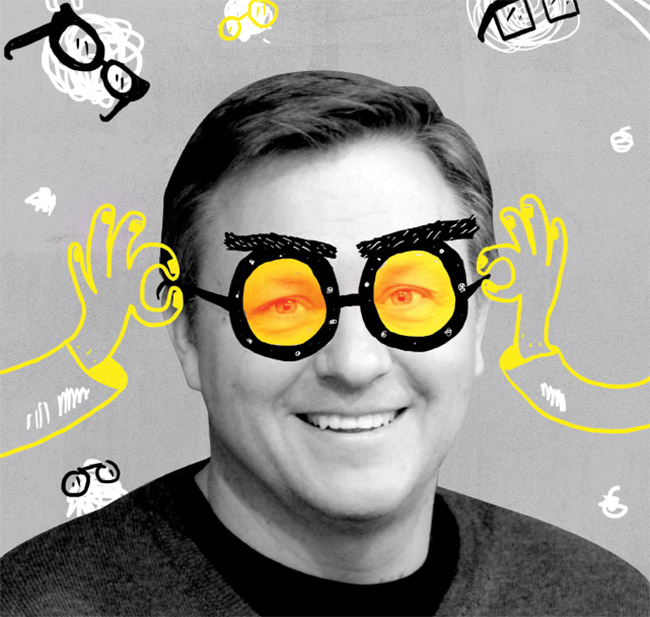 Dr. Scott Keating has discovered that offbeat frames can be a hit in small-town America, too.
UNCOVER A NICHE
Vision Trends, Dover, OH
Dr. Scott Keating opened an optometry office that sells obscure frame brands, suspecting there was a hidden demand for them even in his small town.
THE RISK:
Keating has always had a love for fun, unique frames — a passion that's stoked every time he attends the Vision Expo trade shows. As the owner of a practice with two locations in a "semi-rural" Ohio county, he wasn't sure if his clientele wanted anything other than traditional frames. But he had a hunch they might, so he opened Vision Trends in Dover, OH, and is finding success with a savvy formula that strikes "the right mix of frames, and the right customer service."
THE REWARDS:
Keating says Vision Trends has grown so well since it opened almost four years ago that he opted to sell one of his practice locations so he could spend more time on the new venture. A large selection of offbeat frames at different price ranges has given his niche strategy a broader appeal. "You can't be everything to everybody, but at the same time you have to be careful to not pigeon hole yourself into too narrow of a thing," he says. With a selection of unique styles, colors and shapes, customers are "more willing than you think to spend the money." He also credits strong customer service focused on "doing the small things" — such as presenting eyewear on a velvet tray — for distinguishing his business and attracting a more eclectic, higher-end shopper.
THE TAKEAWAY:
If you want to run an upscale eyecare business, go all in. "You do have to jump in — you can't just have one unique line," says Keating. "If you know that your competition doesn't carry unique stuff, you will thrive, and (your business) will grow fast once you get the right people to come in your door." To help entice those "right people," Vision Trends holds an annual sales event that offers discounts large enough to persuade hesitant shoppers to take a chance on a unique frame style. Be conscious of your shop's look, too. "If you want to sell unique style eyewear, you also need your optical interior look to be fashion-forward," Keating says. "This ties into the overall experience and definitely puts the customer in the right buying mood."
9 MORE TALES OF DERRING-DO
WORKED WELL
Here are more examples of risks INVISION readers have taken and how they worked out ... or didn't. Either way, you had the guts to try!
1
We stopped seeing all medical patients. It worked out great. Seeing all optical allows me to make much more income in way less time and makes ICD-10 of no consequence in my office.
Dr. Texas Smith, Dr. Texas L. Smith & Associates, Citrus Heights, CA
2
Moving to a new location. It seemed like a horrible idea because we were doing well at our existing location, but we were renting and the landlord increased rent by 80 percent. (That's right: eight zero!) We bought a retail condo in a new location, so it was a huge commitment without any sense of whether the new location would draw customers. It's been a great decision!
Dr. Sarah Jerome, Look + See Eye Care, St. Paul, MN
3
Two years ago, I entered a partnership with a practice that originated in 1965, where the optometrist's last name was always McQuaig. Though the practice was called Family Vision Care, the locals knew it as "Dr. McQuaig's" for the father and son duo. In order to change the community's perspective of the practice moving forward, we decided to rebrand. New logo, designs, cards, signs, shirts, etc. went into effect and we waited with significant anxiousness. Our largest risk is now our largest success. People recognize our brand, and even know us by our logo alone.
Dr. Blake Hutto, Family Vision Care, Alma, GA
4
We opened a larger location after two years in business. Visibility is better and business is up 800 percent.
Terri Focht, Eyes All Over, St. Paul, MN
5
Money was tight, but I had a marketing idea that would cost us $2,500 a month. I did all the market research and recommended to the doctor that we do the idea all year long. It was a mailer to try and get a specific clientele to come in as new patients. The first month was a huge success, so we kept doing the mailers and increased our new patient base by 100 percent from the previous year. We stopped doing the mailers the next year, but we were able to retain about 70 percent of the patients that came in previously, as well as have a steady stream of new patients. It was scary at the time because it was my first big idea that the doc would have to invest in, but it worked out.
Josh Bladh, Dr. Taylor Bladh, Diamond Bar, CA
6
We made the decision to not take insurance when we opened. It's turned out fantastic!
Kira Connally, Spectacles West, Weatherford, TX
7
I am an optician now, but I previously owned and operated a flooring business. The scariest thing I ever did was decide to stop advertising and start asking relentlessly and shamelessly for referrals for six months! It sharpened my customer service skills, gave us a chance to revisit/refine installation/quality issues and was a huge, very successful business builder. At the end of the year, almost every single customer who came through the door was a referral.
Brandy Patrick, DePoe Eye Center, Macon, GA
NOT SO MUCH
8
I put in a fashion line of frames with a 50-piece minimum. Despite our best efforts, the fashion-forward appearance of this line was not a wow for our clients.
Kate Giroux, MacPherson Opticians, Arlington, VA
9
We switched from a local lab to an out-of-town one that had unbelievably low prices. The quality and turn-around time were horrible with way too many re-dos. It was a nightmare. We gave up and went back to our previous lab. The savings were not worth all of the headaches. Don't give up quality to save a few bucks!
Susan Kantor, Central Phoenix Eyecare, Phoenix, AZ