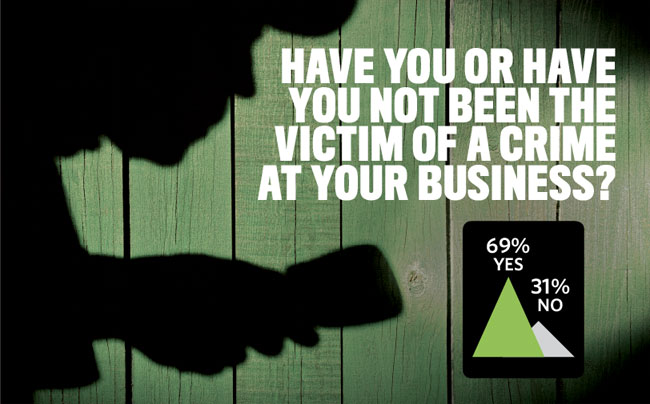 Yes, WE HAVE

➤

We used to keep the back door cracked open to let in fresh air. One afternoon a man snuck in and picked up our 80-pound safe from under our office desk, and walked right out with it. Fortunately there was not much cash in it, and he was caught thanks to our camera system. It took him all of 15 seconds. However, the new safe is secured to the concrete floor and we no longer leave the back door open or unlocked. Jennifer Shroba, Spare Pair Vision Center, Holmdel, NJ

➤ Never judge a person by their appearance. Ever! They can be the owner of a successful concrete company and come in all dirty but spend $3,000-$5,000 or they can come in a fancy business suit with a stolen credit card. Never judge and always ask for photo ID, especially if they are in a hurry and only want frames with no lenses. Always ask questions! The more questions you ask, the better you can help them with their purchase. If they are tying to pull a fast one, they usually want to avoid answering all of our questions and leave. Diana Sims, Buena Vista Optical, Chicago, IL

➤ We have had both employees and customers steal from us. We now have a great camera system that captures all! Dr. Joseph Smay, Family Eye Care, New Kensington, PA

➤ We've been broken into four times over 10 years. The worst one was when I was at Vision Expo East in New York, and I got a phone call from the Minneapolis PD. An officer was on patrol and noticed a gaping hole in our glass front door. We had a cash sale of $1,200, and I found out much later — after she had already been terminated for something else — that it was the employee who made the sale who came back and threw a brick through the window to steal the money! We have since changed security companies and added surveillance cameras. Since then, we've only been broken into once, and the only thing taken was the postage scale. The guy was looking for the cash box, which we move to a different location at night. Dr. Sarah Jerome, Look + See Eye Care, Minneapolis, MN

➤ We never let a shopper alone in the dispensary and we are very watchful of those who try to shoo us away. Best bet is to ask for an Rx so that we can properly assess their frame requirements. If they are not legit, asking for the Rx that they cannot produce ends the dance pretty quickly. Kate Giroux, MacPherson Opticians, Arlington, VA
---
NO, WE HAVEN'T

➤

I think we've just been lucky, and we don't let people wander alone in the shop. We don't hover if they don't want us to, but we believe in personal shopping experiences. Kira Connally, Spectacles West, Weatherford, TX

➤ I never let anyone in the optical area without an optician nearby. It is a very small optical, so it is difficult for anyone to take anything without me seeing. Kathy Maren, Combs EyeCare & EyeWear, Western Springs, IL

This article originally appeared in the February 2015 edition of INVISION.