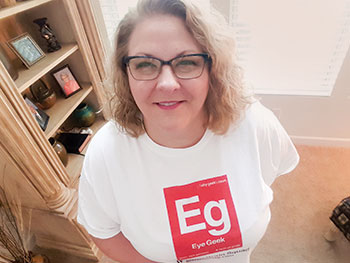 EYE GEEKITUDE
➤
Still my fave trade magazine, from the first issue to the most recent! I rock my Eye Geek T-shirt to the point that my daughter says it is time to get a different one. (Hint hint!) Also love the "frame of the day" on the daily online updates — we have gotten quite a few styles from that before the reps bring them in, so it keeps them on their toes! Keep up the great work!
Stephanie Crowley, Sie Eyecare, Charlotte, NC
Stephanie, thank you for your photo! We want more photos of Brain Squad members wearing their T's. Send them to This email address is being protected from spambots. You need JavaScript enabled to view it.. Everyone else: Join the Brain Squad at invisionmag.com/brain-squad and get a free T after answering your first survey. Find images of your fellow Eye Geeks at invisionmag.com/eye-geeks. And see our Frames of the Day each weekday by signing up at invisionmag.com/bulletins.
---
GOTCHA!
➤
I just want you to know that this is the most progressive industry magazine out there. It "grabs" you. I love reading it as much as I love reading my
Garden & Gun
magazine.
Sherry Berry, Pascarella Eye Care, Newtown, PA
---
HIT PARADE
➤
I loved the 50 websites. I've kept a copy for reference.
Ron Gitlan, Prism Optical, Miami, FL
➤ I really enjoyed "Love All Serve All." It inspired me to continue to go above and beyond for my patients. I too have many of these stories from over the years. Stacey Harlander, CNY Eye Care, East Syracuse, NY
➤ You guys are doing great with everything. I love the way you involve ECPs, their thoughts, ideas and stories. Makes for a more personal mag. Jeff Grosekemper, Casa De Oro Eyecare, Spring Valley, CA
This article originally appeared in the November-December 2015 edition of INVISION.