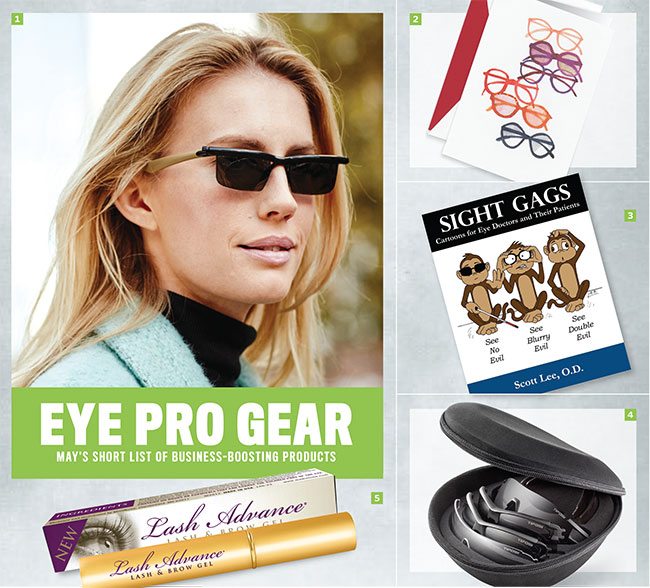 SUN DIAL KING

1

The Instant Eyewear line from

ADLENS

gets a rectangular sunglasses model, which the designers say was inspired by John Lennon's spectacles in a 1966 video. Users adjust power levels via Adlens' Alvarez technology. Angular temples feature Lennon's signature, and packaging includes a custom guitar pick. adlens.com

P R I C E : $70
---
NOTE WORTHY

2

Master the art of professional note writing made personal with eyewear-themed cards. These folding notecards from

CRANE & CO.

subtly encourage a colorful eyewear wardrobe. Crane also has an engraved correspondence card featuring an aviator frame paired with cabana stripe envelopes for a classy seasonal look. crane.com

P R I C E : $16
---
LIGHTEN UP

3

Maybe you've seen his optometric humor online, or in other magazines. Why not add a collection of Dr. Scott Lee's

SIGHT GAGS

to your reception room, restroom — or both — with this book of 92 cartoons? Lee practices at Atlantis Eyecare in Southern California, and he worked as an illustrator before going to optometry school at UC Berkeley. invmag.us/5158

P R I C E : $13.95
---
ZIP TRIP

4

With a cool zippered case to keep its options together, the interchangeable component system from

TIFOSI

means fast switches between full frame, half frame and/or shield active eyewear. A notch system on each frame type clicks into a set of universal arms, and the user adds the appropriate lens.tifosioptics.com

P R I C E : From $100
---
HEALTHY LASHES

5

The makers of Lash Advance,

MEDINICHE

, want ECPs to try (and maybe sell) their drug-free, non-Rx lash and brow gel, so they're offering a deep professional discount. Made with natural ingredients that help stimulate lash and brow health, it's billed as a less-expensive alternative to prescription medications. invmag.us/5159

P R I C E : $10

This article originally appeared in the May 2015 edition of INVISION.