All-white, perforated stainless steel wall makes an artistic statement.
Mykita, a Berlin-based eyewear maker, will cut the ribbon on its new store in Washington, D.C. on Monday, the Washingtonian reports. The company has a different take on what an eyewear shop should look like, as the article says its storefronts feature an "all-white, backlit, perforated stainless steel wall that doubles as an art installation and a display for the eyewear, while repurposed flight attendant trolleys serve as in-shop storage." Here's a description of the store found on Mykita's website:
"The second MYKITA Shop in the U.S. is situated on a chic street corner in the historic neighborhood of Georgetown. This red brick, heritage-listed building is one of the oldest in the U.S. Capital and follows in the tradition of MYKITA Shops around the world that all feature their own distinctive identity. The character of the old row house and the warmth of the wooden floorboards create a beautiful contrast to the clean and modern MYKITA aesthetic. Located on the popular M Street in the city's Northwest, the shop enjoys the company of several high-end boutiques located in this established shopping, dining and entertainment area."
Mykita's other U.S. location is in New York City.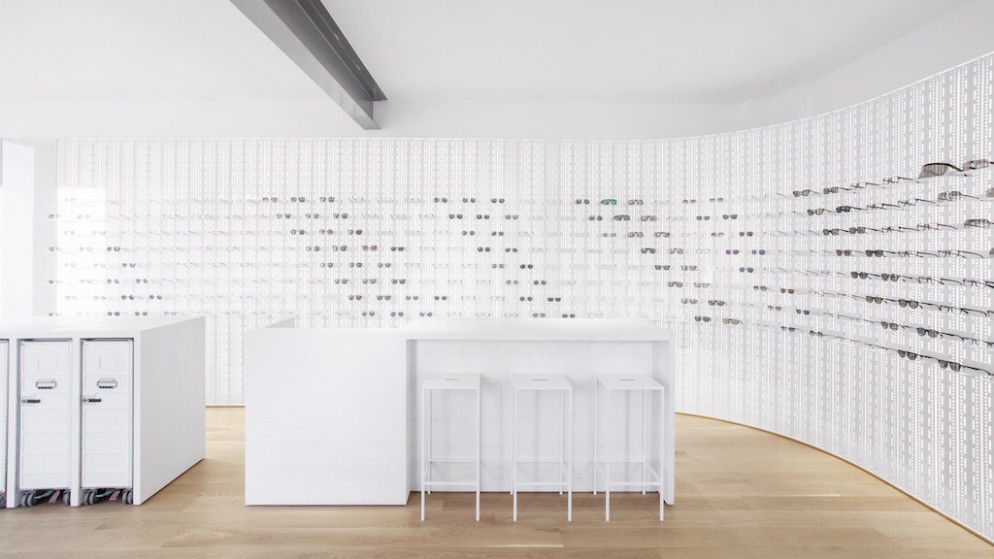 The store's signature white stainless steel wall neatly displays eyewear while doubling as an art installation.
Read more at The Washingtonian