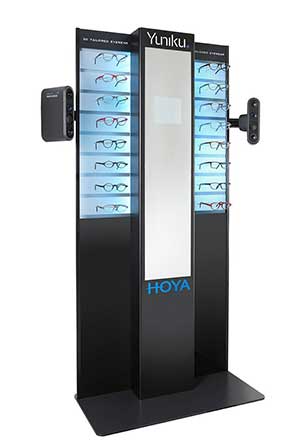 The Yuniku 3D scanning system is designed to be installed in opticians' shops, to take high-resolution scans of a customer's facial anatomy for fully 3D-tailored eyewear. Photo credit: HOYA Vision Care
The system will be installed in opticians' shops.
Materialise NV, HOYA Vision Care Co. and Hoet Design Studio are launching what they call "vision-centric 3D-tailored eyewear."
Yuniku by HOYA allows both lenses and frames to be designed and positioned to fit an individual's facial features, functional needs and vision requirements, according to a press release. Yuniku is a Silmo D'Or nominee in the equipment category at Silmo 2016 in Paris.
Materialise (NASDAQ: MTLS) and HOYA co-created a custom 3D scanner and software platform, directly linked to Materialise's Certified Additive Manufacturing factory. Using 3D scanning, parametric design automation and 3D Printing, the Yuniku platform designs the frame around the ideal position of the lenses.
"When 3D printing meets the right application and the right partners, it has the potential to turn around an entire industry," said Alireza Parandian, global business strategist for wearables at Materialise. "Materialise has helped this happen before in the hearing aid industry, when our custom software enabled the digital manufacturing of in-ear hearing aids to go from 20% of the total to nearly 100% in just two years. I believe Yuniku could be equally momentous for eyewear."
Read more at BusinessWire