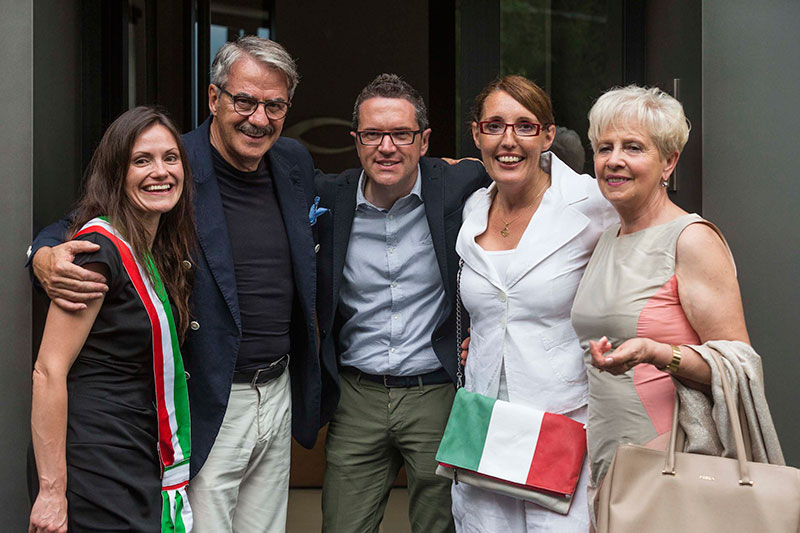 From left to right: Silvia Tormen, Giancarlo Recchia, Nicola Del Din, Elena Donazzan, Maria Pramaor (Nicola's mother)
(Press Release) Italian eyewear maker Blackfin celebrated its 45th anniversary with the opening of a new headquarters in Taibon Agordino, in the Italian Province of Belluno.
The opening ceremony took place on Friday, July 1 and was attended by local government representatives, employees, business partners and friends of the company.
The original building has been extended to house the 60 employees in a working environment portraying the image of what, for Pramoar CEO Nicola Del Din, is the representation of the neomadeinitaly concept – an Italian production model caring not only about the product but also about the people who produce it.
The ground floor is home to reception, stores and the dispatch department, as well as to some friendly social spaces created to reflect an international approach to the working environment. The production department with its various processing units is on the first floor. The all-new second floor houses the offices and management suite.
"Our building reflects our values: technology and tradition, modernity and history, style and design. Pride in the all-Italian," says Del Din.
The interior design is the result of the partnership between Blackfin and Lago, a leader in the production of furniture and fittings and in holistic design for all living areas.
"When I got to know Daniele Lago, owner of the furniture and fittings company after whom it is named, I got an immediate feeling," adds Del Din. "I could see right from the start that we shared the same entrepreneurial vision based on an approach to design that is not an end in itself but that is centered around people, first and foremost those who work in our business, giving our products shape and value and who are the true architects of success."
"Although we are a small Italian company, we need to display a multi-national mentality," continues Del Din. "Every morning when each one of us crosses the threshold of the company we need to be able to feel we are in an international experience in which we know we are being listened to. Then, in the evening, we are able to enjoy the reassuring beauty of our own family environment. All this is really possible for us, simply summed up in what we call neomadeinitaly."
Silvia Tormen, mayor of Taibon Agordino, praised the company with these words: "You have the ability to look to tomorrow, making it become the present. It is a great honor having you in Taibon because you are a fine model, and I hope that all our local businesses, regardless of the sector in which they operate, manage to share your vision and approach that drives you forward while keeping your roots firmly planted here."
Elena Donazzan, Veneto regional authority councilor for education, training, employment and equal opportunities, added: "As a councilor I visit on average two companies a week. What I most enjoy is getting to know what you don't read in the balance sheet. I like to delve into a company's history and its people in an attempt to find out why its products work, considering its links with the local area. This is what I really love. I feel the same passion as those entrepreneurs who make the decision to believe in us and stay in their own country to show off the wonder of Italy with its amazing history. This is precisely what Blackfin does. We are all about relationships, this globalized world can proceed travel on many roads, but we win with relationships, with our history, our identity and that which is within us. People need to be part of a community, the first community is the family and the most ancient community is the locality."