Per the World Health Organization, approximately 90 percent of visually impaired people live in developing countries,...
The technology behind daily disposables has improved immensely in the past few years. In addition to an increased focus...
Jenna GilbertsonMcCulley Optix Gallery, Fargo, ND My current favorites are my Lindberg Strip 9709 and Zero G Chauncy. Both are lightweight and turquoise! My two Prodesign pairs are the first...
Wood, moss, pinecones ... no, we're not setting the scene of a forest landscape, we're describing some of the...
The intersection of technology and healthcare has birthed essential tools such as virtual try-on which allows patients...
March Madness is here! Your bracket may be busted, but you can still support your favorite team by wearing one of our...
Glamor Editor's Pick to Be Produced by L'Amy America L'Amy America signed a multi-year license agreement with Condé Nast to market and distribute sunglasses and ophthalmic frames for Glamour...
If you're an independent ECP without an in-house edger, here's a likely scenario: Your practice is running...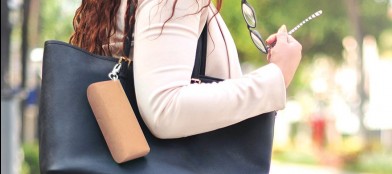 Find My Glasses EyeCarry is a portable bodyguard for glasses. It clasps to your purse or belt but if you go...
Ciao Your mother's reading glasses get a sexy Italian makeover with the launch of Ottavo, a new brand from Eponym...