Slip Them On Warm, cozy feet and a little bit of sass? Sign us up! These plush Emoji Slippers from I Want It So Bad...
Any Vera Bradley sunglasses! We are an ophthalmology office and our mature lady customers love the patterns. A lot of...
What are you doing New Year's Eve? Hopefully wearing a pair of these fancy and festive frames! Here are 17...
Kerin Rose Gold of A-morir has made a name for herself as one of the key designers of modern day embellished eyewear,...
Kering Takes Gucci on the Road Kering Eyewear released the first Gucci Eyewear sales campaign, the first since fully taking the brand in-house. A team of brand ambassadors has been hired to target...
This year, I learned that there is a frame out there for everyone. That was not the case in the '80s, when I was a...
Many baby boomers pay close attention to their eye health because of fears over vision-related diseases such as macular...
Man's Best Friend Matching your kid has been done. Now, thanks to CROAKIES and Stunt Puppy, you can match your dog's leash and collar. Grab a classic XL Croakies all in Serape and go for a...
Thanksgiving is upon us. For your Turkey Day menu, try this feast of frames! Dinner...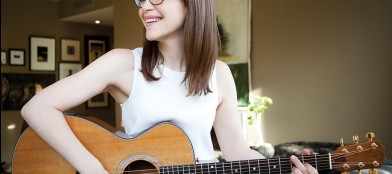 Guitar and Glasses Grammy-nominated singer/songwriter Lisa Loeb has branched out not only into eyewear, but also...