Kerin Rose Gold of A-morir has made a name for herself as one of the key designers of modern day embellished eyewear,...
Kering Takes Gucci on the Road Kering Eyewear released the first Gucci Eyewear sales campaign, the first since fully taking the brand in-house. A team of brand ambassadors has been hired to target...
This year, I learned that there is a frame out there for everyone. That was not the case in the '80s, when I was a...
Many baby boomers pay close attention to their eye health because of fears over vision-related diseases such as macular...
Man's Best Friend Matching your kid has been done. Now, thanks to CROAKIES and Stunt Puppy, you can match your dog's leash and collar. Grab a classic XL Croakies all in Serape and go for a...
Thanksgiving is upon us. For your Turkey Day menu, try this feast of frames! Dinner...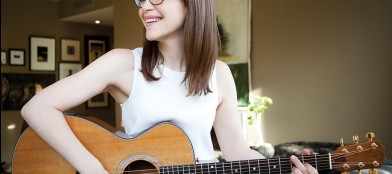 Guitar and Glasses Grammy-nominated singer/songwriter Lisa Loeb has branched out not only into eyewear, but also...
Has there ever been a bad year for sunglasses? They are always in fashion, but now, more than ever, wearers recognize...
Gone are the days of marketing campaigns that consist exclusively of a few postcards, a couple of posters and a box of...
Chances are if you're reading INVISION you're an eyewear lover ... but even connoisseurs have favorites. In...