Articles tagged: lenses, Lens Treatments,
With summer just around the corner and blinding sunshine on its way, your patients may start to hum Timbuk3's 1986 song "The Future's So Bright I Gotta Wear Shades." According to The Vision...
Military: They're "very promising." The U.S. military is working on eyeglasses that could help soldiers avoid sleep deprivation. The project being carried out by the Military Health System...
The frames will have a copper hinge. Brothers Tony and Jack III Erker, the fifth-generation owners of St. Louis-based Erker's Fine Eyewear, are starting another eywear business called Copper...
The firm is seeking to raise $1 million. The founders of Los Angeles-based startup Lensabl say they're providing consumers direct access to the optical lab, at least virtually. Lensabl has...
The firm is "taking an innovative step." Austrian designer Silhouette has announced the launch of its first line of optical lenses. The launch marks the start of the Silhouette Vision Sensation...
"Progressives are like cars; Hyundai, Chevy, Lexus, Mercedes. If you could pick any car, what would you drive?" When to use it: When presenting patients with PAL options, so they clearly...
Along with the cold, Old Man Winter can also bring low-light situations and harsh glare, especially on snow-topped mountains. There is a huge selection of winter goggles available to help improve...
VISION EXPO WEST'S 11 MUST "SEE" ATTRACTIONS There are many attractions for anyone visiting Las Vegas — the "Welcome to Fabulous Las Vegas" sign, the Fountains of Bellagio, the Eiffel...
Who doesn't want their eyeglass lenses to be crystal clear and scratch free? Anti-reflective coatings offer many benefits, but most important they allow patients to see better and can dramatically...
Getting patients to understand and purchase AR treatment for their own glasses is difficult. It's even tougher when it comes to their kids. Parents are reluctant to spend extra money on their...
Next month at The Masters golf championship, we'll see Jordan Spieth, Jason Day and other top pros swing, putt, make birdies and safeguard their eyes with specialized sunglasses. Several elite...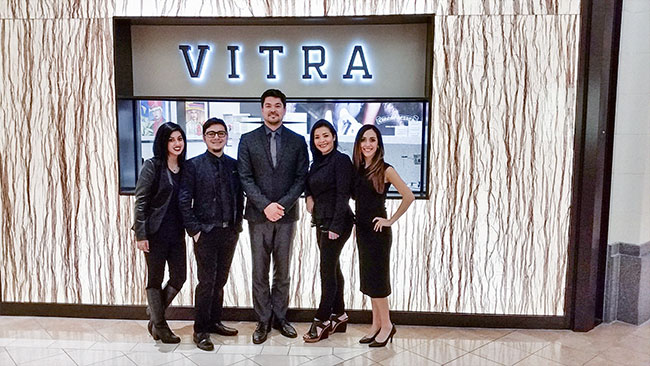 The team at the first Vitra Eyewear boutique includes Kianaz Etemadi, Nestör Cordero, David Abernathy, Sonia Martinez and Karin Abernathy. New California boutique offers a view into its lab Vitra...
Despite the category's small share (about 10 percent) of the contact lens market, exciting things are happening with gas permeable (GP) lenses, which are popular with people who have dry eyes,...
California cruisin' with the Beach Boys on the radio and a cool pair of shades: That's the image of Americans' love affair with driving. But real-life conditions include dangers and...
Red wine in moderation can be good for you. And blue light, too, can be good for your eyes in small daylight doses. But electronic screens and energy-efficient lighting mean we're all getting a lot...
SPONSORED VIDEO: OPTOMETRY WORTH SHARING
HOW TO AVOID AUDIT HELL
You may think you're ready for a Medicare Audit. But are you? Little things count—but they can mean the difference between a great outcome and one that leaves you out in the cold. Don't get swallowed up by the audit machine. Get this free guide to preparing for — and surviving — a Medicare Audit. Simply fill out the form to the right to access the information. Because you can survive "Audit Hell" if you're prepared. Download Audit Kit ➡