Articles tagged: Eye Pro Gear,
Fresh and Clean Examining someone's eyes or fitting them for glasses is close work. Make sure everyone's breath smells sweet and fresh with custom packaged mints featuring your logo from MY...
On Display EYENAVISION have redesigned their ChemTech 20-piece display, which now offers four styles (two new) in three additional colors each. Made with the company's prescription quality clear...
All Seeing Eye It's believed that the All Seeing Eye brings intuition and clarity to all who seek it ... but one must look within. Luckily, LADY SCORPIO offers the perfect solution, an eye mirror!...
RH-Eye-No Angel Halo Chang wrote SIRIS THE RHINO to help her cope with the chronic uveitis she had growing up, and to befriend other kids with bad eyesight. Through Kickstarter, she hopes to spread...
Get in Gear Hat wearers rejoice! Your frames are safe. Smart Brands has introduced its patented and award-winning eyewear retention accessory, EyzGear. The retainer firmly secures frames to headwear...
The Crafty Optician That's her name. Colleen Brondo has been an optician for more than 20 years and has a side gig making eye-related vinyl decals, mugs and jewelry. invmag.us/051705 Prices...
Sit, Stay, Hold These eyeglass holders are perfect for pet-loving opticals. From PAWS N CLAWS EYEWEAR and OPTIPETS, they capture 20 dog breeds and six cats. The hand painted stands hold glasses and...
Find My Glasses EyeCarry is a portable bodyguard for glasses. It clasps to your purse or belt but if you go 100 feet away the Bluetooth-enabled case pings your phone and the GPS-powered...
Insta-Grip This Joby GripTight GorillaPod stand may look like a toy, but this practical little tool lets you take high-quality photos with a mobile phone or tablet totally hands free. Time to up...
Slip Them On Warm, cozy feet and a little bit of sass? Sign us up! These plush Emoji Slippers from I Want It So Bad feature all your favorite emojis and fit adults sizes 6-11. We think they are...
Man's Best Friend Matching your kid has been done. Now, thanks to CROAKIES and Stunt Puppy, you can match your dog's leash and collar. Grab a classic XL Croakies all in Serape and go for a walk...
Full of Charm Jewelry designer Jessica De Lotz and glasses chain makers FRAME CHAIN have collaborated on a belcher-style glasses chain that doubles as a necklace and can be personalized with charms...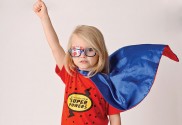 We're All Superheroes EYE POWER KID'S WEAR designs fun T-shirts for kids who wear glasses, eye patches or have other visual impairments, as well as T-shirts for doctors looking for something fun...