Articles tagged: eyecare businesses in California,
Experience free, fast-paced pop-up talks. Check out INVISION² with the winner of America's Finest Optical Retailer 2017: Invision Optometry. The event will feature Deirdre Carroll,...
2015's 'America's Finest' champ congratulates this year's winners and shares her secrets. Congratulations to America's Finest Optical Retailers for 2017! It's no mystery what got you here:...
Uber Optics Petaluma, CA A striking visual imagination, a passion for photography and design, and some patient kids and staff combine in a standout in-house advertising operation at Uber Optics...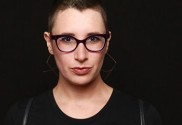 Julia GogoshaGogosha Optique, Los Angeles, CA If you haven't heard of Julia Gogosha you probably need to get out more. An indie eyewear darling, she established Gogosha Optique in 2008 after...
Take care of your people and they'll take care of your customers. People work for people! As the business grows it's important to grow the team personally and professionally. At The UnOptical, we...
All work and no plates make Tex a dull boy! What's the point of life if you can't have a little fun with it? That's certainly Dr. Texas Smith's of Citrus Heights, CA, point of view. That...
It only took 10 days for Dr. Stacey Gin to transform her practice into a modern technology haven. Over the week of Thanksgiving 2016, her practice underwent a major makeover to keep it at the...
← BACK TO WINNERS PAGE America's Finest Winner: Invision Optometry San Diego-based practice dazzles with a contemporary look that transcends tradition STORY BY By Daniel P....