Articles tagged: Sanity Files,
Julie Kubsch Specs Around Town, Bloomington, IL Julie Kubsch finds lots to love about running a business, but there are downsides. "Paying bills, chasing credits/returns. It always seems like the...
James and Dr. Laura ArmstrongAlberta Eye Care, Portland, OR Winners never quit. You'd think after winning INVISION's 2016 America's Finest Optical Retailers contest, the Armstrongs would sit...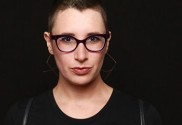 Julia GogoshaGogosha Optique, Los Angeles, CA If you haven't heard of Julia Gogosha you probably need to get out more. An indie eyewear darling, she established Gogosha Optique in 2008 after...
Blake Hutto, ODFamily Vision Care, Alma, GA Dr. Blake Hutto, co-owner of Family Vision Care in Alma, GA, originally founded in 1955, moved back to his hometown after graduating from Nova...
Leanne Liddicoat, ODClearVue EyeCare, Roseville, CA Six years at ClearVue and Dr. Leanne Liddicoat credits a happy working environment for some of her sanity. "We work as a team, striving together...