---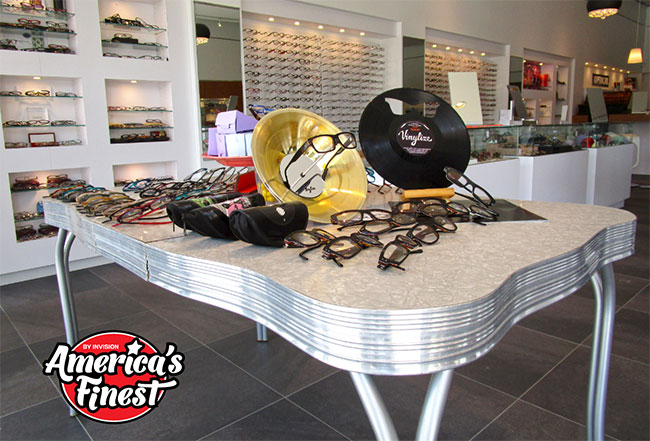 This article originally appeared in the October 2015 edition of INVISION.
---
Q U I C K F A C T S
LOCATION: Homestead, PA
WEBSITE: eyepolis.com
OWNER: Dr. Viki Christopoulos
FOUNDED: 2010
AREA: 2,900 square feet
EMPLOYEES: 3
TOP BRANDS: WOOW, Kate Spade, Caroline Abram, OVVO, Kame ManNen
FACEBOOK: facebook.com/eyepolis

Homestead, PA, a former steel town just upriver from Pittsburgh, has an open-air retail and entertainment center where the old mill stood. The Waterfront sits along the lazy Monongahela River — not a sandy beach — but the complex is still proving to be a destination: for shopping, dining and even for an upscale eyewear boutique/medical eyecare practice.
Dr. Viki Christopoulos chose The Waterfront for her vision care business, which she named Eyepolis ("eye city") in honor of her Greek heritage. Together with her small staff, she has created what managing optician Tamara Walker calls "a beautiful environment where her employees would want to come to work everyday, where the clientele would have a peaceful, elevated experience choosing exquisite eyewear."
(From left) The Eyepolis crew includes Dr. Viki, Michelle Singer and Tamara Walker.
An ophthalmologist whose training included a fellowship at London's renowned Moorfields Eye Hospital, Christopoulos worked a decade for the University of Pittsburgh Medical Center before launching Eyepolis. She wanted to practice medicine her way, getting to know each patient as a person — and she wanted to offer them fine eyewear, too.
Walker is a metalsmith and former respiratory therapist who'd found her way into corporate eyecare when she answered an ad for lab work. She learned a lot about vision care, but she yearned for a setting where she could use her artistic talents to curate a fabulous frame selection and creative displays.
And then there's Michelle Singer, the intrepid ophthalmic technician. Want to know who started Tiara Tuesdays at Eyepolis? She's your gal. Eyepolis has hit its stride with this trio, plus recent addition Carly Domhoff, who works at the front desk. "It took a couple of years to get the staffing just right," says Walker, and it took some tweaking to get the frame offerings perfect, too. But now, she adds, "We know our audience, and can buy with complete confidence for them." Eyepolis does know its strengths. Because Christopoulos is double fellowship trained in retinal and corneal medicine (and is affiliated with an outpatient surgical center just half a mile away), she rarely needs to refer people to another office. On the other hand, she's made a conscious decision not to practice pediatric eyecare. And with the emphasis on fashion-forward independent frames, the contact lens business is minimal.
Late one morning, two older women huddle around a smartphone, sharing hearty laughs at YouTube dance videos. They're probably waiting to see Christopoulos, but sometimes it's hard to know. "We've gotten to the point that many of our customers come in just to hang out," Walker says. "We love the idea that they are so comfortable here, that we're friends and confidantes, that they include us in many facets of their lives that have nothing to do with sight or eyewear. To us, this is a sign we've made it."
Walker offers a tour of the 1,200 frames in stock. There, on an antique trunk, are a selection of Kame ManNen eyewear, made in Japan since 1917. (Fans of the line have included Winston Churchill, John Lennon and the costumer for the Harry Potter films. Eyepolis won the brand's design contest with this display.) A retro table offers the perfect platter for spectacles from Vinylize, the hip Hungarian line made from old records. "And look at these, they're like Jolly Ranchers!" Walker says, pointing out a table of WOOW frames in super-saturated colors that look almost good enough to eat. Also on display: a Remington typewriter that Walker rescued from a nearby trash bin.
Eyepolis' location formerly hosted an old steel mill.
The emphasis is on frame lines people won't find everywhere else, yet Eyepolis really does have something for everyone. And Walker is clever about helping people who think they want one thing discover something else they might like even more. For example, Eyepolis doesn't carry Ray-Ban, so when people ask for it, "I point them toward Sama or Penguin." Kate Spade and Oakley are hot-sellers among the better-known brands, but Walker loves turning people on to Kilsgaard, Monoqool, Francis Klein, Iyoko Inyake, Res Rei and OVVO. She notes that the latter is designed by a fellow Pittsburgh optician (Tyler Elwell of Pediatric Adult & Vision Care in Wexford), adding that his work is "comparable to Mykita, but at half the price."
The lean staffing at Eyepolis sometimes means long hours, but with laughter and creativity in abundance, there's no palpable sense of worry or hurry. Christopoulos thinks about adding an OD to do vision tests once a week, but even then, she says, "It's kind of like a marriage. You have to find the right person with the right ethos." It'll all happen in good time — and meanwhile, Eyepolis' staff and visitors will have a good time and get excellent vision care.
---
Five Cool Things About Eyepolis
A vintage trunk makes an ideal showcase for Kame ManNen.
1. High Tech, High Touch:
In 2013, Christopoulos was the first Pennsylvania eye surgeon to implant a miniature ocular telescope for advanced age-related macular degeneration. But the human factor is never far away at Eyepolis. "Conversation in the exam room can run the gamut from cornea transplant to origami, detached retina to macaroons," Walker says. "It's just not the typical experience."
2. Playful Picks: Walker says she often pulls about 20 frames for a customer and encourages people to try things they'd never choose for themselves. "Even if the client knows 'exactly what they want,' we pull five more frames just a bit outside their comfort zone to try," she adds. Take an artistic eye and deep knowledge of color, shape and correct fit. Blend that with a fun attitude and lots of laughter, "and sometimes these people do not want to go home!"
3. Good References: Eyepolis offers a 10 percent discount ("not to mention invaluable free styling with our optician extraordinaire!") to the lucky people who receive its referral cards from current customers. The referring customer gets 25 percent per referral, so that means a free frame if four friends redeem their referral cards.
4. Quality for All: "Lots of opticals have a good/better/best mentality with lens choice. We just don't do that," Walker says. "We put people in the best lenses for their Rx, and we don't sell eyewear without AR. We have had close to zero pushback on this policy. If anyone begins to act like it's a problem, we just gently let them know that we would rather lose the sale than make glasses that aren't protecting them properly. No one has taken us up on that offer."
5. Chalk It Up: Eyepolis is a client of noted street artist Melanie Stimmell, who makes intricate chalk drawings of eyeglasses and other optical motifs around The Waterfront to help people find their way to the shop's most special events.
---
F I N E S T O R Y
TIARA TIME
➤ Tuesday is usually a slower day at Eyepolis, since Dr. Christopoulos is often in surgery. That's why it became Tiara Tuesday. "It lightens everything up," says Michelle Singer, who started the tradition. Everyone from customers to delivery-truck drivers — not to mention the tiara-wearers — enjoy the lighthearted looks.
---
Eyepolis