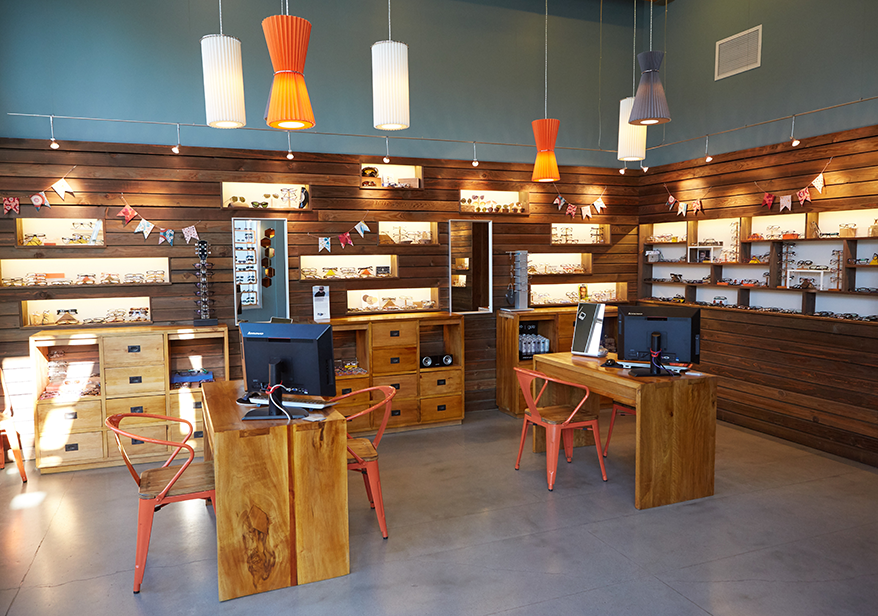 During her third year in optometry school at Pacific University in Forest Grove, OR, Laura Armstrong and her MBA-wielding husband, James, decided to make their long-term home in Portland. That decision alone wasn't striking, especially given the vibrancy that fills the 610,000-resident city along the Pacific Coast. But alongside the couple's decision to settle in Portland, the Armstrongs concocted another plan: They would build an optometry practice reflecting their own style and values. It was a bold decision given that Portland is rich in a few areas: weird, foodies and optometrists.
This article originally appeared in the August 2016 edition of INVISION.
Quick Facts
LOCATION:
Portland, OR
URL:
albertaeyecare.com
OPENED:
2013
AREA:
2,100 square feet
DESIGNERS:
DECA
EMPLOYEES:
12
TOP BRANDS:
Andy Wolf, SHO Eyeworks, l.a.Eyeworks, L.G.R., Cutler & Gross
FACEBOOK:
facebook.com/AlbertaEyeCare
INSTAGRAM:
@albertaeyecare
PINTEREST:
pinterest.com/albertaeyecare
"It was a crazy idea to start one," Dr. Laura Armstrong says.
As the couple began connecting with bankers about a loan, they kept waiting, even expecting, for someone to chide their effort,but rejection never came. "We just kept getting further along in the process," says James, a forensic accountant.
In 2011, the Armstrongs signed a lease for a yet-to-be-constructed storefront on NE Alberta Street in Portland's Alberta Arts District, committing themselves, and their futures, to a dirt lot. "We only saw a photo of what the building was going to look like," James says.
One bold move after another eventually birthed Alberta Eye Care, a fullservice eye health clinic and optical boutique that invites patients to "See Portland Better."
With thoughtful service including exams, refractions, contact lens fittings, about 600 frames and in-house lab services as well as a stroke of neighborly luck, the 3-year-old practice has emerged as one of Portland's premier eyecare destinations.
In a once-downtrodden neighborhood now full of ambitious restaurants, swanky bars, posh boutiques and art galleries, the Armstrongs designed the practice to match the neighborhood's creative vibe with a space decidedly unclinical. "Our goal is to promote a proactive approach to eye health, so we wanted something that felt more like a boutique, a place where people wanted to be and to return," Laura says.
2016 America's Finest 1st Place: Alberta Eye Care
A mid-century modern space characterized by simple lines, geometric-inspired elements and an uncluttered look, Alberta Eye Care's 500-square-foot retail area is heavy in recycled wood, industrial elements like a polished concrete floor and a touch of whimsy, best characterized by Snellen chart papers floating out of a vintage typewriter carrying messages. There's a pair of live-edge benches in the wait- ing area, a barn door to the pretesting room and a cedar reception desk. The credenza under the display cases and optician desks feature reclaimed wood from the Yangtze River Delta flooding. The Armstrongs selected the pendant lighting to complement the orangehued wood.
The Armstrongs have been able to build a thriving practice that corralled $1.2 million in sales in 2015
"There's a lot of old looking new," James says."We thought through every aspect of the design to optimize what we were trying to accomplish."
Practicality, however, never took a backseat to style. "We didn't cut corners on functionality for the sake of aesthetics," James says. "Everything had to have a purpose."
In the end, the Armstrongs knew the frames needed to shine."It's always about the eyewear," Laura says.
With an aversion to traditional frame boards and manufacturer POP materials,the Armstrongs worked with their designer to display eyewear in various compelling ways. Reclaimed barn wood covers walls in the retail area while recessed boxes with LED lights showcase the eyewear. In the windows, industrial cables suspend boxes crafted from recycled Douglas fir. It's a design funky enough to fit Alberta's creative vibe, yet soft enough to appease any neighborhood newbie deciding to pop in.
And people do pop in — often thanks to Salt & Straw, the ice cream shop next door that emerged as a foodie phenomenon just as the Armstrongs opened. "This has spurred walk-in traffic and definitely helped to build our reputation," James says.
For a couple that once termed its daring entry into Portland's optometry scene a "crazy idea," the Armstrongs have been able to build a thriving practice that corralled $1.2 million in sales in 2015. That success spawned the opening of a second office, Cathedral Eye Care, near Portland's Cathedral Park last August.
"It's surreal to think of where we were five years ago, but we just keep putting one foot in front of the other and it's led to something really special," Laura says.
Fine Story:
Private-Label Eyewear
Alberta has a branded in-house frame line called Community. Produced by SHO Eyeworks, the Armstrongs pick a collection of frames and stamp them with the Alberta Eye Care logo. When a customer purchases a Community frame, 10 percent of the proceeds go to a local organization.
"People here take pride in where they live and it's beneficial to have a deeper story we can share," James says.
Though there is a financial risk in stamping their logo on them, Laura says those concerns are offset by a lower price and the branding and marketing benefits.
"Plus, having something exclusive is another way we can't be usurped by online shops," Laura says.
5 Cool Things About
Alberta Eyecare
1. CHEERS:
Alberta Eye Care offers complementary beer and wine to its adult patients. "After an eye exam, of course," Laura says. The hospitable effort accelerates each Halloween when the office provides the parents of trick-or-treaters homemade Jell-O shot eyeballs.
2. ADD-ON SALES:
Alberta Eye Care hosts a rotating gallery wall spotlighting the work of local artists. "And we'll even sell a piece here and there," James says.
3. MOODY BLUES:
For all of the unique design elements the Armstrongs pack into their 500-square-foot retail area, the most remarked-about feature is perhaps the simplest: the Sherwin Williams Moody Blue paint color that encircles the space. "We've had numerous people come in off the street solely to ask about the wall color," Laura says.
4. POP, POP, POP:
Alberta Eye Care has hosted trunk shows for both Andy Wolf and l.a.Eyeworks, emptying out its entire retail area and displaying only the complete collection of frames from the featured company — a branded pop-up of sorts. "People love getting a taste of the entire collection and seeing the array of colors and styles available," she says.
5. CURATING COST:
The Armstrongs believe quality eye health should not be impacted by one's income. To maintain financial flexibility they accept most insurance, including Oregon's Medicaid plan, and have implemented multiple cost-savings measures, including the purchase of stock contact and ophthalmic lenses, operating an in-house edging lab and carefully curating a selection of frames covering multiple price points.
What the
Judges Say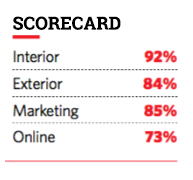 ANDREA HILL:
Alberta Eye Care recognizes that you can't deliver a quality experience without quality employees, which is key to success in retail today. Also key is community involvement — and they're doing a great job with that.
DR. TANYA GILL:
This is a inspiring brand concept come to live, breathe and happy dance. Everything is on point. The doctor, the space, the website, the thoughtful signage, the branding and the little details make it so special. I'm a huge fan.
MICHAEL KARLSRUD:
I love the vibe of this business. It comes through every element of design. Most impressive, I love that it somehow captures the essence of Oregon. I can only image that when patients arrive they feel like they've walked into a magazine story of their lives. Very well done.