RETURN TO AMERICA'S FINEST MAIN PAGE
SECOND PLACE
EYE CANDY OPTICAL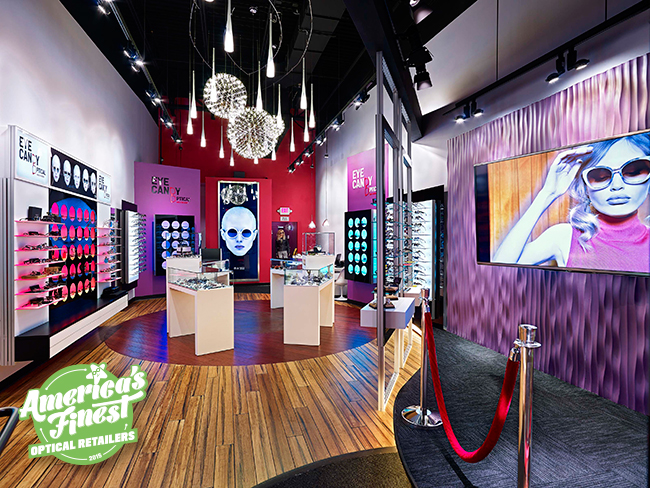 A red velvet rope marks the stage where people rock their new eyewear for a green screen photo at Eye Candy Optical.
This year's No. 2 shop is a new business launched by two guys with MBAs and no optical industry experience. (No, not those two.) Steve Nelson and Anton Syzdykov had worked and traveled together for years in global marketing and retail development within the paint industry, but they saw a need in their hometown of Cleveland for a high-end eyewear boutique that didn't feel clinical or stuffy.
---
FINEST FACTS
Eye Candy Optical
Westlake, OH
---
Owners: Anton Syzdykov and Steve Nelson

Website: eye-candy-optical.com
Opened: 2013
Area: 1,200 square feet
Employees: 2 full time, 1 part time

Top brands: Face à Face, J.F. Rey, Matsuda, SALT, Theo
Facebook URL: facebook.com/EyeCandyOpticalCle
Instagram: @eyecandycle

Their corporate day jobs gave them the luxury to visit optical stores "from Miami to Moscow, Las Vegas to London," and they were knocked out by the sexy eyewear they saw at their first Vision Expo a few years ago. But the duo took most of their inspiration from outside the industry, and Eye Candy is their answer to this question: "What if Victoria's Secret and House of Blues opened a glasses shop? What would that look like?"
Turns out it looks like a rock 'n' roll-themed eyewear emporium. Originally, the duo envisioned a 2,400-square foot space — but when they found half that footprint in a prime location near the popular Crocker Park lifestyle center in the affluent suburb of Westlake, OH, they grabbed it and transformed what was once a Baskin & Robbins ice cream shop into Eye Candy. With the help of designer Bob Reighard, they did a remarkable job downsizing their vision without compromise, from ample open shelving for frames to a nightclub-style bathroom, to the way they fit an edger and blocker onto a small counter wedge.
Eye Candy is going for substance as well as style. Nelson and Syzdykov interviewed hundreds of potential customers about their experiences and what they wanted in an eyewear shop. They heard over and over that people want and need help to find eyewear that fits and performs well. So, as any smart optical newbies would, they hired employees with experience in the business. Adds Nelson: "It's easy to get caught up in eyewear fashion and aesthetics, but if you can't get the vision piece right, you won't be in business very long."
Above and right: From sexy to sweet, Eye Candy aces the little details.
---
5 COOL THINGS ABOUT
EYE CANDY OPTICAL
1.
Sweet stuff:
Eye Candy turned to a local chocolatier for custom-made milk chocolate bars given in thanks when people pick up their eyewear. The candy theme also finds its way into the window displays, where — for example — Skittles and M&Ms separated by color helped draw attention to the latest frames from Theo.
2. No patients here: You won't hear the word "patient" at Eye Candy, since it smacks of illness. Many people bring their prescriptions from elsewhere, but eye exams are available (and can be booked online). Dr. David Oldenburgh — who has his own nearby practice — comes in to do exams several times a week, and there are plans to add a full-time OD.
3. Get An eyeful: Look closely at the bamboo flooring and you'll see it's an eye, with several island displays arrayed on the "pupil" center. Above that, globe-shaped LED lighting fixtures pop like fireworks when seen from outside. They're accented by slender hanging lamps that recall upturned champagne flutes.
Eye Candy's sassy print ads emphasize the business's bold identity.
4.
Wild things:
For its print ad campaign, Eye Candy uses vendor art — much of it from J.F. Rey — to come up with sassy ads that help underscore the shop's slogan, "See and Be Seen." The shop's green screen project also helps people share their new eyewear online with a backdrop of their choice.
5. Beyond brand names: Eye Candy carries only a handful of well-known brands, but the business has found those top names are a way to get people into the shop. ("You can't convince a 15-year-old kid that he doesn't want Ray-Bans," Nelson says.) Once customers see other possibilities, however, most opt for independent lines.
---
WHAT THE JUDGES SAID ABOUT
EYE CANDY OPTICAL
INTERIOR

93%

EXTERIOR

83%
INDIVIDUALITY

96%

ONLINE

73%
---
Their marketing/advertising is beyond brilliant! "From Shy to Sly"? "From Stood Up to Hook Up"? That's smart, clever and sexy, with great humor. — Robert Bell
---
The "rock 'n' roll meets Gothic" vibe of the space is intriguing and unlike any other we've seen in the optical industry. — Onega Astaltsova
---
There are a lot of options for high-quality opticals in all the major markets, so having a fun experience rather than an efficient one can be much more memorable for the consumer. — Nate Ogura
---
---
PHOTO GALLERY /
EYE CANDY OPTICAL
Eye Candy Optical
RETURN TO AMERICA'S FINEST MAIN PAGE