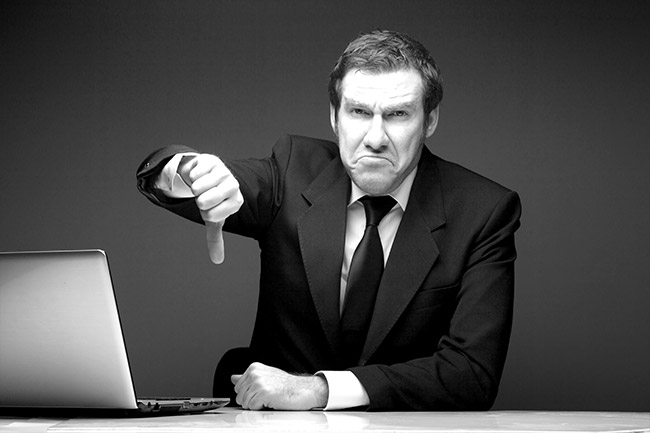 What's the best way to deliver a bad employee review?
David Bentley coined the term "naked leadership" to promote the idea of totally honest management and stripping away the emotional hang-ups of giving negative feedback. When it comes to handing down a less-than-positive performance review that means: Just do it. No sugar coating. No mixed messages. Make it clear you're criticizing a result or action, not the person. Stay on target. You're doing this to identify and fix a problem. Keep it simple, objective and sincere. Insincere feedback is a waste of everyone's time and it detracts from your credibility. This is about business and behaviors. It's not about you and whether you're a nice person, it's about the team and improving the performance of your business. Keep that idea in your head and it will make the process much more useful for all.
I'm going to be hiring a new optician soon. What qualities should I look for?
Ready for 212 words that will tell you everything you need to know? Here's what one of our favorite eyewear retailers, Barbi Tuckerman of B. Tuckerman Unique Eyewear in Columbus, OH, had to say on the subject: "When I hire an optician, he/she must be licensed. I look for someone who has had previous experience but is willing to adapt to my high standard of doing business. I want an optician who is knowledgeable about optics. They need to know all the lenses including the difference between progressives. Knowledge of manufacturers and their so-called 'mapping' of lenses is the icing on the cake. Since I don't have an optometrist on the premises, they must be able to look at prescriptions and know what to do. This includes calling the prescribing doctor if they feel he/she made a mistake in the correction. I will only hire someone who is a people person and not afraid to stand on their own: somebody who exhibits confidence in their manner, is polished, loves what they do and is a good listener. I can help teach them what I know, but you cannot teach somebody to have a good eye. That comes with experience. No matter if it's myself or another optician, reading every trade magazine and continuing to learn is of upmost importance. We should always strive to better ourselves as opticians in order to make a change in this profession. If we don't consider us as professionals, who will?" (Mic drop. Barbi exits.)
---
An employer has asked me to comment on a former staff member's performance. He wasn't great. Should I be honest?
Sadly, this is an area where it's often best to keep your mouth shut. Unless he signed a release protecting you from legal action, a simple "It's our policy not to comment" may save you from a lawsuit.
---
How can I help my youngest customers care for their glasses?
Remind them that they should always use a soft microfiber cloth. (It's a tough message for any age, we know, but you can help by offering a selection of cleaning cloths featuring kid-friendly prints or movie characters.) And here's a pithy care slogan from Peter Rebmann, who works at Lenscrafters in Santa Cruz, CA. Says Rebmann: "All kids get the line, 'On your face ... or in the case!'"
---
I ran a campaign that said sign up three friends for our newsletter list and we'll give you a 20 percent discount, but the response was dismal. What did we do wrong?
Responding to an offer like this makes customers feel like they're selling out their buddies. Instead, offer this: "You and every one of your friends who signs up will get a 15 percent discount." Now your customer has special access to a discount she can pass along to friends. You've made her the hero.
---
What's the best approach to selling a customer who wants something you don't have?
If you can't give them what they want, tell them where they can get it — but try to sow some doubts first. This may be an uphill battle if it's a particular brand-name item they're after, but go ahead and ask what it was about the frame that they liked so much and offer to find them something similar. (That's what they do at Eyepolis in Homestead, PA, where — since they don't stock Ray-Bans — managing optician Tamara Walker shows people Sama or Penguin.) You never know, they may just fall in love with it. As a last resort if you can't provide it, tell them where they can get it, because that's part of your job. "Everyone hates to walk somebody, but it's the professional thing to do if you can't turn it around," says sales trainer Shane Decker.
This article originally appeared in the March 2016 edition of INVISION.
SPONSORED VIDEO: VISION SOURCE
Optometric Practice in a Small Town
Practicing in a small town gives you the diversity and opportunities to practice full-scope optometry. See how one OD found professional and personal fulfillment in a small town.