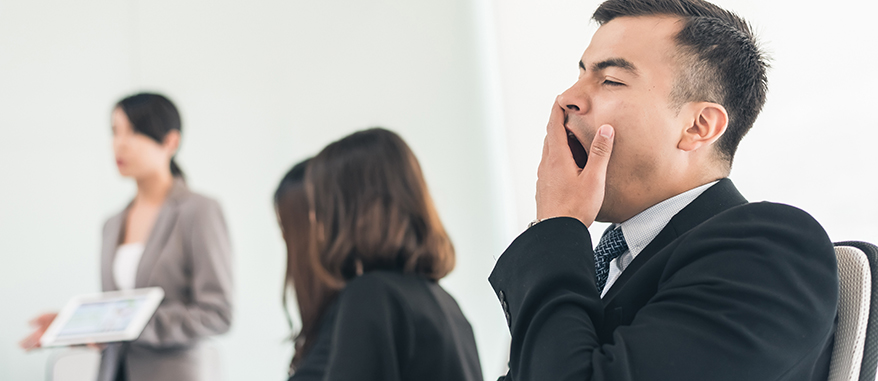 We need to change the way we do staff meetings. People don't show up, they complain, and once they're in there, they aren't very engaged.
There's a reason people don't want to attend, like maybe a severe lack of fun. Business studies have repeatedly shown laughter relieves stress and boredom, boosts engagement and risk-taking, and spurs not only creativity and collaboration but also analytic precision and productivity. But how to make your meetings more fun? Start with good food and drink. Dr. Brian Burke of Dawson Vision Center in Dawsonville, GA, springs for Chick-fil-A biscuits and sweet tea for all. Then set the tone from the beginning. Jokes about your struggles with the latest IT upgrade, a gentle ribbing over a missed deadline or a trying salefloor encounter can all help set the mood. Encourage staff to recount things that went wrong and organize role play for salesfloor situations (yes, people will groan but they'll actually enjoy it). Rewards work too. Mary Hollis Stuck, a manager and optician at Eye Associates of Cayce in Cayce, SC, recalled a former boss who identified workers who had earned customer praise during the week and rewarded them with gift cards. Now that sounds like a meeting we'd want to attend.
Should I explicitly state that tattoos must be covered up in our dress code?
ODs on Facebook ran a poll a while back that found about one in four of its members had tattoos. It didn't ask how many covered them in a clinical or professional setting, but we're guessing it's the majority. Society's attitudes are changing but it's a demographic-driven shift, which means older patients — the majority of ODs' core customers — are likely to view tattoos as a sign of poor judgment. Our advice would be to take your lead from your clientele. If they are likely to have certain ideas about how a medical professional should look, then it's best to devise a dress code that reflects those sensitivities.
Do I have to pay overtime whenever an employee works more than 40 hours, or can we just give him or her the hours off later?
You are nearly always required to pay an overtime premium, usually 50 percent, be it in dollars or minutes. For example, if the staff member works 42 hours in a week, you owe three, not two, hours of time in compensation. You can, however, offer them four 10-our shifts in a week and not break the 40-hour threshold. Check www.dol.gov and with your state labor office.
Please tell us how to absorb the lab increases and not raise our prices more.
No, we won't tell you that. An ECP should never be a "price taker." Sure, keep looking for ways to cut costs, be it through new technologies, business practices or better vendor partnerships, but low prices should be way down on your list of patient selling points. When it comes to eyecare, trust is the most important consideration for a patient or prospective customer. Also, keep in mind, that while customers hate price increases, they hate big price increases even more. If you make a habit of absorbing supplier/subcontractor price hikes, eventually you reach the point where you have no choice but to raise your rates by a huge amount. We recommend you make a habit of increasing your prices every year (at least on those services most important to your profitability). Pick a time and just do it. The annual increases at a specific time will condition patients to expect regular rate adjustments. One way to soften the impact is to announce adjustments a month or so in advance or set a period for clients to lock in existing rates by pre-purchasing a package. If you have certain months when cash flow is low, it can be the perfect time to announce future rate adjustments and boost package sales.
How do I calculate my ad budget?
Advertising guru Roy Williams suggests it's better to think in terms of "total cost of exposure," which is your "cost of occupancy" (usually rent) plus your advertising budget. This means a business owner who saves money by investing in a weak location will have to spend much more on advertising, he says, adding that a high cost of occupancy, such as a landmark location, is often the least expensive advertising you can buy. How then to work out the numbers? Williams recommends this formula: Budget 10-12 percent of projected sales for "total cost of exposure" and then adjust the figure by the store's average markup (not profit margin). Say, for example, you are projecting sales of $1 million (10 percent = $100,000) and your average markup is 91 percent, you'd thus have a figure of $91,000. Finally, deduct your cost of occupancy (let's say $60,000) and voila! you have it — a $31,000 ad budget.
---
This article originally appeared in the April 2017 edition of INVISION.
SPONSORED VIDEO: VISION SOURCE
Optometric Practice in a Small Town
Practicing in a small town gives you the diversity and opportunities to practice full-scope optometry. See how one OD found professional and personal fulfillment in a small town.