It's just ahead: the season that children dread and parents love — back-to-school time. Kids will soon be sharpening those No. 2 pencils and picking out their first-day outfits. (Will new eyeglasses be part of their ensemble?) Meanwhile, college students are getting ready to pack for their new semester, too. (Do they need extra supplies of contact lenses to see them through their holiday break?)
Now is the time to remind parents of the important role vision plays in their child's education, and to encourage families to book their annual eye exams before the big rush. Getting that message out is easier — and often less expensive — today than ever before. Although broadcast spots and print advertising in parenting magazines and community newspapers are still viable options, creative eyecare practices and optical shops have also found success with blogging, electronic billboards, YouTube and Facebook.
Discounts and sales are a tried-and-true way to bring in families, but there are other ways to drive traffic. For instance, some businesses have had great success tying their back-to-school promotions with events, like holding a book drive for a local nonprofit or sponsoring an annual back-to-school themed 5K run. (They get extra credit for being more visible in their communities, too.)
Also be sure to ask your vendors about co-op back-to-school materials. For example, Hoya offers sample emails and social media posts to help you deliver the message that your business can offer better service and fit than online eyewear sites. People want to give their children the best.
Here's a look at what six practices and shops did last year that helped them earn top grades in back-to-school marketing.
This article originally appeared in the July-August 2015 edition of INVISION.
---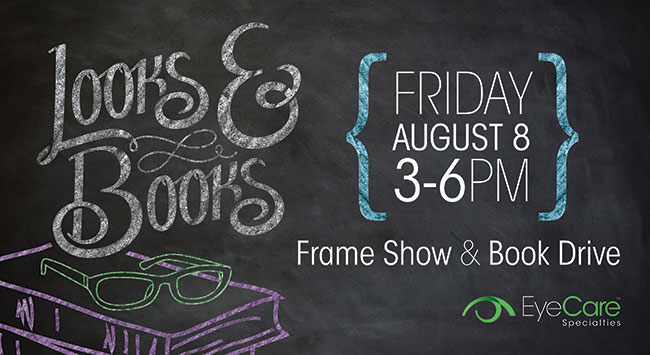 HELP OTHERS
EyeCare Specialties, Lincoln and Beatrice, NE
➤
EyeCare Specialties worked with brand experience agency Eleanor to make the traditional back-to-school sales event more meaningful. Eleanor owner Christine Weeks says her firm created Looks & Books, which included a book donation drive for a local nonprofit and a 30-percent-off frame show. "The charitable nature fostered goodwill and reinforced the idea of EyeCare Specialties being a practice that cares about families, vision and education," Weeks says. The ad campaign included direct mail, posters, radio spots and digital promotion via the Web, email and social media.
---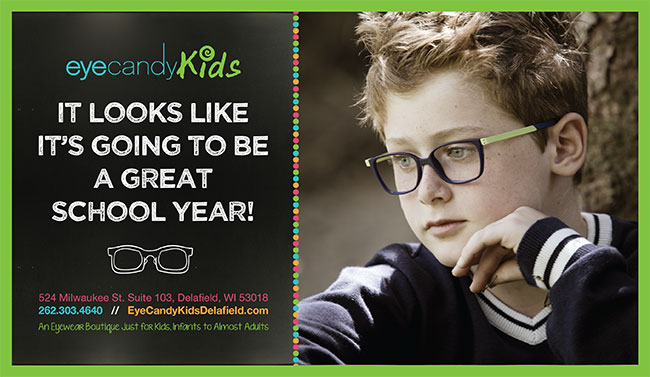 IT'S ELECTRIC
Eye Candy Kids, Delafield, WI
➤
Eye Candy Kids got a lot of mileage from this ad, using it in a local parenting magazine as well as on electronic billboards. Owner Paula Hornbeck prefers electronic billboards to the traditional variety. "You put up a static billboard (and) people might notice it the first time or two they go by, but then they don't notice it because it's just like the landscape," she explains. "(With) electronic billboards you're one of a rotation, so ... every time they drive by they're going to be glancing up at it to see what's (on it)." The ad's design paired a pensive boy ready to learn in his new glasses with a positive message and fun colors that reflect the playful nature of the store.
---
HEAD OF THE CLASS
Bright Eyes Family Vision Care, and Bright Eyes Kids, Tampa, FL
➤
Note the 199 shares on this one — and the July 21 post date. Dr. Nathan Bonilla-Warford used his website's blog as part of Bright Eyes' back-to-school marketing last year, and this post generated a lot of interest. "The link between visual skills and school performance is complicated, so I wanted the space to cover it," he explains. Bonilla-Warford promoted the blog post through his email newsletter, as well as on Facebook, Twitter and Google Plus. Of the big Facebook buzz, he says, "It goes to show you that it is very hard to predict what will be the right post at the right time. In this case it was successful in part because we put it out a little earlier than usual and other ECPs shared it for their patients."
---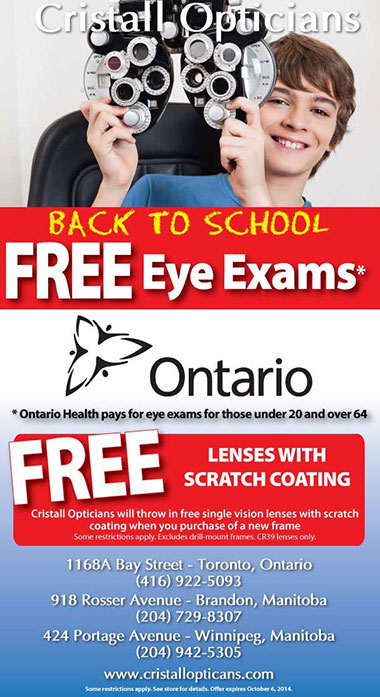 TIMELY REMINDER
Cristall Opticians, Ontario and Manitoba, Canada
➤
Just as eyecare coverage for kids and teens is now mandated in the U.S. as part of the Affordable Care Act, Canada has similar benefits — a point reinforced in this message emailed to patients. "Parents do not know that exam is covered by their provincial health plan," manager Gina Kay explains, adding that free lenses with scratch guard is an appealing offer for budget-conscious parents. This year, Kay plans to send more emails and boost social media, as well as reach out to existing patients by phone. "Communicating with our clients is key — they respond best to a clear message with a simple promotion," Kennedy says. "We always have to keep that in mind when looking to improve our ads."
---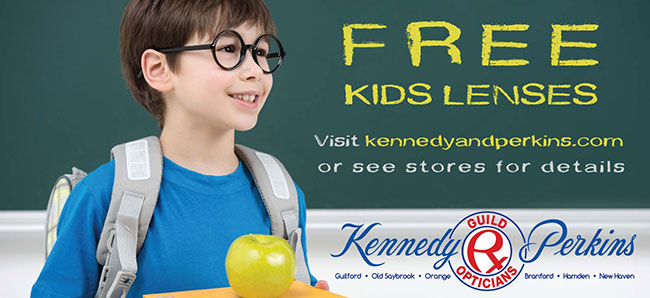 READY TO LEARN
Kennedy & Perkins, New Haven, CT
➤
Owner Rick Kennedy had this back-to-school ad created last year for use on billboards and in local newspapers, as well as for use on their website and Facebook page. The business has run a free lenses for kids campaign for many years, finding it to be moderately successful in gaining a few new young customers each season. The special originally included standard scratch-resistant lenses, "but a few years back we decided to include polycarbonate lenses as an added feature and a safer lens feature for the kids," Kennedy says. This year, Kennedy plans to expand back-to-school advertising with sponsored Facebook news feed posts aimed at their demographic.
---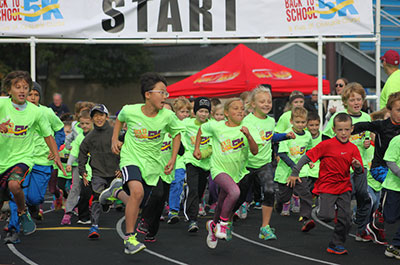 MAKE A RUN
FOR IT
PineCone Vision Center, Sartell, MN
➤
An event can be effective advertising, and a Back to School 5K has become tradition for PineCone Vision Center. The race supports local schools, and community outreach coordinator Cathy Vande Vrede says, "It's an incredible way to give back to our community. Our hope is to get community members out and moving while giving to a great cause." To promote the race, Vande Vrede uses the practice website, as well as a YouTube video (see it at
invmag.us/7151
) to share via Facebook, Twitter, LinkedIn, e-newsletters and websites.
Hear What the Industry Thinks About the Ultimate Lens Package by Essilor
Eye care professionals, patients, and Essilor sales consultants shared their feedback on the Ultimate Lens Package. Watch to see why they believe the innovation behind the lens can make the difference for your practice and for your patients. For more information on the Ultimate Lens Package, contact an Essilor Sales Consultant or click here.
---