Flex dollars aren't really free money, but they sometimes feel that way. People with Flexible Spending Accounts have money withheld from their paychecks, sometimes because they know they'll have a certain amount of qualifying healthcare expenses, but also to reduce their taxable income. (People can set aside up to $2,500 a year in a health FSA.)
Somehow, though, many of the 14 million families with health FSA plans forget they have that money set aside — and since many plans match the calendar year and expire Dec. 31, the fourth quarter is always prime time to remind people of their flex dollars. Two things to bear in mind, though: Many plans offer opportunities for people to carry over funds into a grace period and/or file claims from the previous year during a run-out period. And companies sometimes have plans that expire on a date other than Dec. 31. That's why it's smart to let customers know year-round that they can use their flex-dollars for many eyecare and eyewear needs.
Be sure to mix your marketing mediums and messages so you reach everyone. And be certain that you're letting people know all the ways those health FSA dollars can be used. Any pair of prescription glasses are fair game, so, as Urban Optiques in Northville, MI, wrote in a blog post, "If you've recently purchased a pair of 'everyday' eyeglasses, you might use the remaining balance in your Flexible Spending Account to add a second, more 'daring' pair of designer eyeglasses to your wardrobe."
Other allowable expenditures include Rx sunwear or reading glasses; contact lenses and solutions; prescription sports glasses, safety glasses, goggles and even scuba masks; and radial keratotomy, laser surgery or other surgery done primarily to promote the correct function of the eye.
This article originally appeared in the September 2015 edition of INVISION.
---
FIRST CLASS MAIL
Black Optical, Tulsa and Oklahoma City, OK
➤
The "Use it or Lose It" message is prominent on one direct mail card from Black Optical, while others take a more subtle approach. And although the cards — sent to everyone on the business's mailing list the second week of December and again the first week of January — emphasize the deadline at hand, the fact they go out after the new year, too, helps reinforce the idea that many people have rollover money they can use even after the busy holidays. "The last week of December and first two weeks of January is our busiest three-week stretch of the year," says Gary Black. "And it keeps growing. I like to think it's working." Black notes that staff "consistently talk FSA/HSA with our clients throughout the year, reminding our clients to take advantage of the tax savings and remember Black Optical when they're ready to use their account." Personal phone calls help, too.
---
Koch Eye Associates advertises on YouTube and has also received television news coverage.
PAID ... AND FREE
Koch Eye Associates, Warwick, RI
➤
This vision care business with five Rhode Island locations uses many mediums to promote flex-dollar use, including television ads. But the practice has also been successful in getting "free media" news coverage on the topic, such as when Dr. Paul Koch appeared on
The Rhode Show
, a local lifestyle news magazine program to discuss how people can use flex-dollars on everything from Polarized lenses to "even Lasik ... we can be sure they leave our office with the highest quality vision we can provide them."
---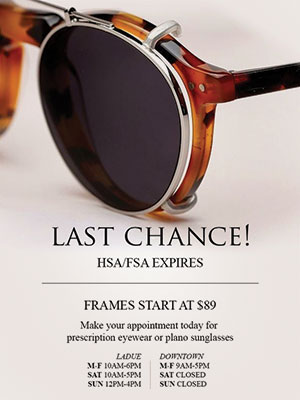 TIMELESS LOOKS
Erker's Fine Eyewear, St. Louis, MO
➤
This business does several direct-mail pieces a year. "You're getting less mail at home, so people look at it," says Jack Erker III. This card — designed to remind people about expiring flex dollars — is as classy as you'd expect from Erker's, which has been in business since 1879. (Note that although this card mentions plano sunglasses, eyewear and sunglasses need to be Rx to qualify as a FSA expense.)
---
FARE SHARE
Spectacles of Union Square, San Francisco, CA
➤
Want to try an unexpected advertising vehicle for your flex-dollars message? How about a bus? You can get a lot of mileage out of what are, in effect, mobile billboards, especially in cities where transit use is high. (We spotted this ad from Spectacles of Union Square while sitting at a traffic light last fall.) Similar messages to captive audiences inside buses and subways work well, too.
---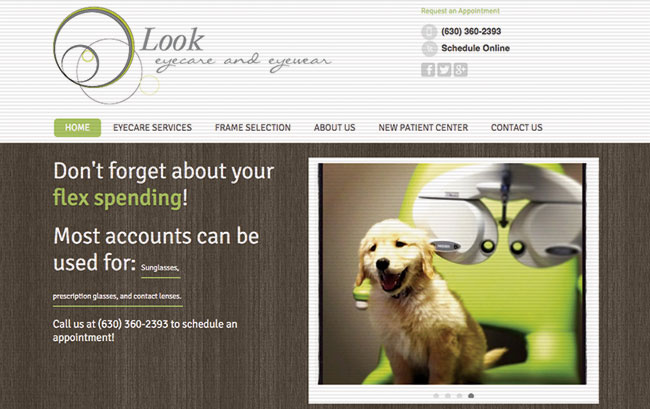 PUPPY LOVE
Look Eyecare & Eyewear, Naperville, IL
➤
This suburban Chicago practice is another one that reminds visitors "Don't forget about your flex spending!" all year round. Pair the message with a cute pup sitting in an exam chair, even if the photo is a little blurry, and it gets noticed. The business also put this message on its Facebook page last Dec. 24: "Merry Christmas and Happy Holidays from all of us at Look! We're checking voice mail and scheduling appointments for those that need to use benefits at the last minute."
---
WARM UP SALES
Eye Candy Optical Center, McMurray, PA
➤
Social media can be a great way to remind people about their spending accounts. Eye Candy Optical Center posted this eye-catching image on its Facebook feed several times last December — and because flex dollars can be used all year, the main rotating image on its website featured a "Nothing Lasts Forever" message, even in the heat of summer.
Hear What the Industry Thinks About the Ultimate Lens Package by Essilor
Eye care professionals, patients, and Essilor sales consultants shared their feedback on the Ultimate Lens Package. Watch to see why they believe the innovation behind the lens can make the difference for your practice and for your patients. For more information on the Ultimate Lens Package, contact an Essilor Sales Consultant or click here.
---