Sure, people can buy their contact lenses online or at the big-box store. Your mission as an independent eyecare professional is to convince people that for a few bucks more, they'll get better service and — most important — take far better care of their eyes by coming to you.
This article originally appeared in the October 2015 edition of INVISION.
You need to make this pitch as often — and in as many different ways — as you possibly can. INVISION readers report that, with the aid of lens vendors, they're able to offer a steady stream of contact lens promotions that keep pricing competitive. Free trials of new lenses or package deals on exams and lenses are always attractive. And many ECPs find that pairing contact lenses with a sunglass promotion works well. After all, one of the very best things about wearing contact lenses is how you can build a wardrobe of non-Rx sunglasses. Whether you give away less-expensive plano sunnies or offer a generous discount on more upscale brands, it's a win-win for all.
As an eyecare pro, you are your community's expert on eye health and safety. So one of the smartest things you can do to build your contact lens business is offer yourself as a spokesperson to local media and service groups (think PTAs, the Lions Club, etc.) for stories and talks on eye health. The recent Centers for Disease Control report on near-universal contact lens misuse was one opening. Halloween is another, since many people will abuse costume contact lenses again this year.
Of course, by "speak," we also mean write, blog and post. Year-round, you can find good contact lens safety resources to share on your website, in guest newspaper columns and on social media at cdc.gov/contactlenses and allaboutvision.com/contacts. Another idea: Make your own series of contact lens care YouTube videos similar to the ones optician Elton Hall of Texas State Optical in Austin, TX, did a few years back. See them at invmag.us/10155.
---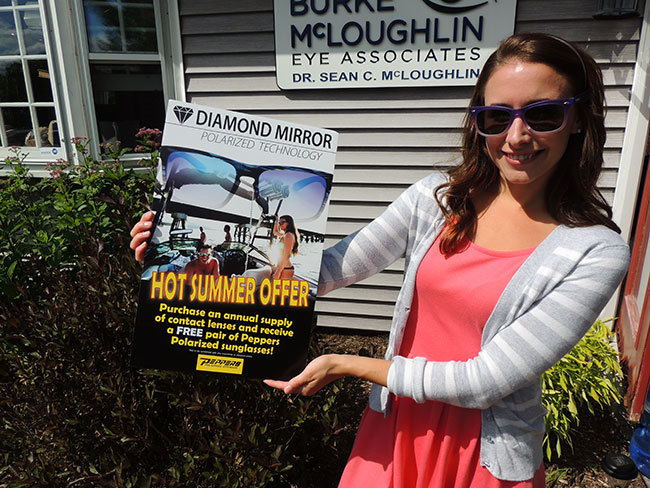 BRIGHT IDEA
Burke-McLoughlin Eye Associates, Avon, CT
➤
This summer, Burke-McLoughlin Eye Associates offered a truly hot summer deal: Buy an annual supply of contacts, get a free pair of polarized Peppers sunglasses. (Here, Dr. Ashley Tholen models the sunglasses for a promo photo.) "We wanted to get people into polarized sunglasses and feel the difference," says Monique Begin. "The cost is low, so we could afford to give them away. Yes, they are not high-end sunglasses, nor made in Italy or Germany, but they are better quality than some drugstore or convenience store pair. So the next time they try on a pair of cheapies, we hope they notice the difference." The promotion also helped spark sales of Peppers to people who didn't buy contact lenses.
---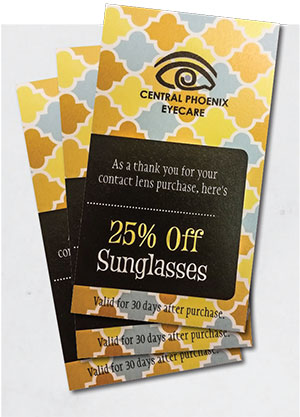 Central Phoenix Eyecare offers a sunglasses discount within 30 days of a contact lens purchase.
SUNNY ALL YEAR
Central Phoenix Eyecare, Phoenix, AZ
➤
It's always sunglasses season in Arizona, so Central Phoenix Eyecare offers a sunglasses discount within 30 days of a contact lens purchase. "We had the idea after we had an in-office sunglasses sale," reports Susan Kantor. "It really increased our revenue that month, so we came up with this card to use all the time." The idea, she adds, is that every staff member can hand these out, starting at the front desk or check-in. The promotion is mentioned throughout the visit as staff members create excitement in getting a quality pair of shades. Contact lens patients get the discount no matter how big of a supply they buy. "The thought was, especially with a new contact lens wearer, they are going to go buy a pair of sunglasses somewhere, so they need the opportunity to buy them from us."
---
BE THE EXPERT
Honolulu Eye Clinic, Honolulu, HI
➤
When it comes to contact lenses, no one speaks with more authority than an eye doctor. Dr. Rupa Wong blogs on many timely eye health and family topics on the Honolulu Eye Clinic website — and last year, just before Halloween, she devoted an extensive post to costume contact lens safety. See the post at
invmag.us/10156
, including her Six "Tips for a Safe Halloween with Your Costume Lenses." (Note how she tells readers that, yes, they can buy Rx and plano costume contact lenses from her practice.)
---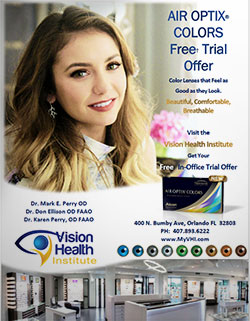 A COLORFUL LIFE
Vision Health Institute, Orlando, FL
➤
When Alcon launched its new Air Optix Colors last year, Vision Health Institute ran this ad for three months in Orlando Family Magazine. "I wish I could say that it was a home run but the response was a little short of our expectations," Dr. Mark Perry says. "Don't get me wrong. It brought new patients to the practice but I anticipated a larger turnout." VHI uses its website to offer a new contact lens promotion every three to six months, as well as to note any current rebate offers. People can order contacts from its website, too.
---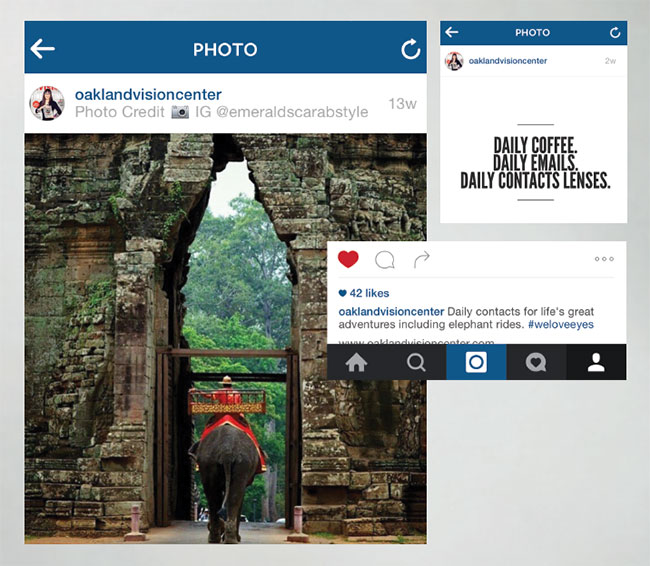 BABY ELEPHANT STEPS
Oakland Vision Center, Oakland, CA
➤
Our 2015 America's Finest Optical Retailer, Oakland Vision Center, has quadrupled sales of daily contact lenses since early 2014. Dr. Tanya Gill says the practice started by giving out samples for trial wear, then progressed to offering 90-day supplies during allergy season. (Smart move. That prompted some patients to order an annual supply after they got hooked on the comfort and convenience of one-day lenses.) OVC also uses social media to make the lenses a lifestyle perk. One Instagram image plants the idea: "Daily coffee. Daily email. Daily contact lenses." Another series celebrates "daily contacts for life's great adventures." "We use a version of these captions over and over and just change up the image," Gill says. "One great adventure was an elephant ride. That was a fun one to write. It's been effective marketing."
---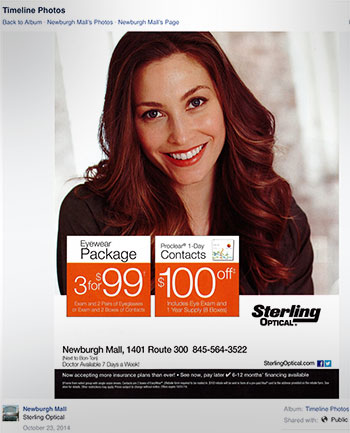 TELL EVERYONE
Sterling Optical, Newburgh, NY
➤
Advances in contact lenses mean many more people can successfully wear them. "So yes, we do mention contact lenses to everyone — or most everyone — who has an appropriate Rx for them," says Claudia Hecht of this Hudson River Valley business. "It starts in the exam room, with the doctor mentioning the option. Then the sales staff continues the conversation." Promotions including a contact lens fitting exam work well, including a recent deal for an annual supply of Acuvue Oasys (fit included) for $220. "Not everyone was fit with Acuvue in the end, but it got the patients in the door — and since that was not the only promotion we were running at that time, we could move the patient to another one that worked for them," Hecht adds. The store benefits from its mall's social media mentions like this Facebook post noting two deals.
Hear What the Industry Thinks About the Ultimate Lens Package by Essilor
Eye care professionals, patients, and Essilor sales consultants shared their feedback on the Ultimate Lens Package. Watch to see why they believe the innovation behind the lens can make the difference for your practice and for your patients. For more information on the Ultimate Lens Package, contact an Essilor Sales Consultant or click here.
---