We know the argument: You're on Facebook, you're on Twitter, you're on LinkedIn; you don't want or need more social media in your life. But let us make a case for Instagram, the photo-sharing site that now boasts 400 million users worldwide.
This article originally appeared in the January 2016 edition of INVISION.
---
Instagram (instagram.com) is a way to share your brand with potential customers, bloggers, eyecare companies, local businesses and fellow ECPs. It's free, fun and user-friendly: Take a picture, add the cool filter of your choice (there are 27 to choose from, not counting "no filter," which is a thing), write a short caption for the picture, tag it ... and post! Then sit back and watch the "likes" and reposts roll in.
Unlike, say, Facebook, Instagram gives you more control over your feed. There is no clutter; it's just one clean, continuous stream that's easy on the eyes. While Facebook's algorithm makes it hard to have an impact beyond your "friends" or followers, on Instagram any photo you post has the potential to reach a non-follower, as long as you tag it correctly.
Yes, it's all about the tagging on Instagram. It's essential to use hashtags — the more, the better — on every post. Create your own signature tag, like some of the feeds featured here. Tags can become part of your brand and can allow people who don't follow you to find you. We've heard more than one ECP report that customers come from out of town to track down a pair of frames they saw on Instagram. This shows that although Instagram — bought by Facebook in 2012 for $1 billion — now offers "sponsored" posts, you can build buzz without spending a cent.
We've previously treated you to Instagram feeds from @oaklandvisioncenter and @gogoshaoptique in California. Here are six more you should know. These examples show there are many ways to do Instagram, but the best feeds reflect the personality and energy of the ECPs behind them.
---
JOIN THE FAMILY
Georgetown Optician, Washington, DC
➤
The Georgetown Optician Instagram account has been teasing their new short film (and hashtag) "Our Family Knows Glasses" with sumptuous photos that will make you want to watch their movie and join their family. Art meets fashion in eye-popping posts of black, white and pink, reminiscent of filmmaker Wes Anderson's work. The photos accomplish what the best social media is supposed to accomplish — inspire you to find out more.
---
NEWS YOU CAN USE
Two Trees Optometry, Ventura, CA
➤
Dr. Kris Skromme recently bought Two Trees Optometry, where the previous owner advertised in the Yellow Pages. Skromme wanted to do something different to engage with his patients and other local businesses. "For me, business is personal relationships," he says, plus no other local eye doctor was using Instagram. He didn't have the time to do a feed himself, however, so he hired a social media coordinator. He told her to have fun with it — he likes posts that are newsworthy, educational and humorous. "Now you can see what eye see. Free anterior segment pictures with appt," read the caption with this post.
---
PARTY TIME
Eye Spy Optical, Chicago, IL
➤
Alissa Fields likes taking and posting pictures, so Instagram was a natural fit for Eye Spy. The shop's Instagram account is as much a lifestyle feed as it is an eyewear one, as Fields shares things that she likes to do and things that inspire her and her staff. "I try to do a lot of color and a lot of patterns," Fields explains. "I like it with a lot of stuff going on. The opposite of what you are supposed to do! Most places take a picture of one pair of glasses on a white background. To me that's boring. I want it to be eye-catching. Our glasses are eye-catching, so I want my pictures to be eye-catching."
---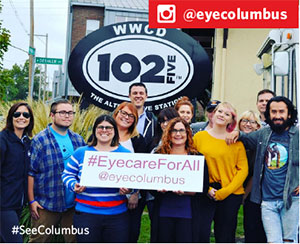 BUILD COMMUNITY
Eye Columbus, Columbus, OH
➤
Dr. Craig Miller is most interested in building community among other local, independent businesses. For World Sight Day last fall, he reached out to businesses in the area with a good social media presence and created a campaign featuring an "#eyecareforall" hashtag sign. It was a huge success. "People loved it because they are Columbus brands that they all know," Miller explains. "They all live and breathe Columbus." He's running a medical office, but he wants his Instagram to reflect all of Columbus. "We are part of the community," he says. He wants to both help Columbus see, and to help people #seecolumbus.
---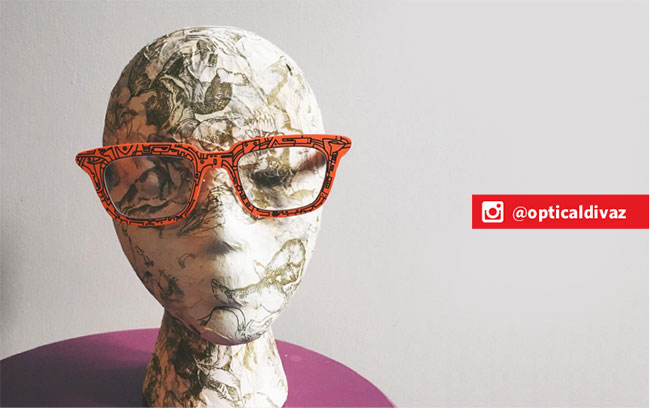 ART GLASSES
L'optique, Asheville, NC
➤
L'optique was an early adopter of Instagram, starting almost three years ago because they saw its creative potential. They see each frame as a piece of art and photograph it accordingly for a clean, cohesive feed featuring statement frames. As apprenticing optician Francesca Santi says, "The eyewear itself is our biggest inspiration. We're also fortunate to be living in Asheville, a city full of people who appreciate beautiful craftsmanship and design." They often pair a frame with an accessory from a nearby shop, and the results are fashion-magazine worthy. "We carry unique, funky, quality products," Santi adds. "Every picture that shows up on your feed is meant to reflect that."
---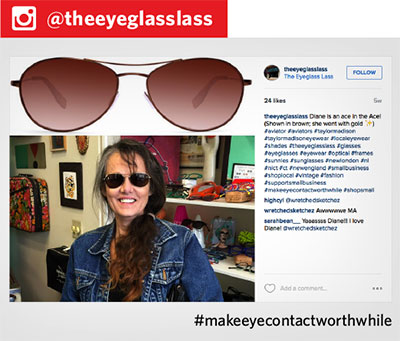 REAL PEOPLE
The Eyeglass Lass, New London, CT
➤
Siobhan Burns started an Instagram account for her store even before it opened in 2014, using the virtual space to help build buzz. "It's definitely a current, valid way of advertising without really advertising," says Burns. "People are doing it for you when they like your posts or repost." Burns is known for her signature "happy customer" post. "Anyone who lets me, I'll take their picture and post it with the frame ... so you're seeing a natural face as opposed to a Photoshopped one. It gets people thinking, 'I want to try that.'"