Honestly, the most important things about your bathroom are that you have one, and that you make it available to patients and customers when nature calls. But — as with so many other things in your vision care business — your restroom is yet another place you can say, "We're different. You're different. And although we all share this basic human need, we care enough to make our bathroom memorable enough that maybe you'll even tell your friends, 'You should see the amazing bathroom at my eye doctor's!'" The bathrooms we show here have two things in common. No. 1, they're pleasant places to be. No. 2, they show some personality. You don't need to totally redo your restroom, but think about what you can do to make more of an impression on your clients when they're a captive audience in that space. And if your own staff members use the same bathroom, keeping it spotless and giving it a little zing is another way you can keep their workday a bit more fun, too.
---
Gets the Job Done (and Then Some)
Vision Source-Fox Optical, Lake Worth, FL
We noticed three things about this photo sent in by Brain Squad member Dr. Barton Parker of Vison Source-Fox Optical in Lake Worth, FL, who added this to his email: "Making the necessary nice." First, the vinyl wall decal is sharp. Second, the place looks spotless, as your bathroom should. Finally, why not include a few informational pieces of product literature in your bathroom? Catching someone's eye with attractive marketing about new contact lens choices or featured frame lines might prompt an inquiry or two in the exam room or dispensary.
---
Rock 'n' Roll, Part I
Eye Candy Optical, Westlake, OH
Are you going to include a photo of your bathroom in your America's Finest Optical Retailer 2016 application? Eye Candy Optical did that a year ago, and we'll admit it's one of the things that caught our attention. "A little known secret is we have the best bathroom in the optical world complete with club style lighting, techno music, and a huge mirror with eyes etched into the back of it," co-owner Steve Nelson wrote. "The specification we sent out to the designer was 'Give us a bathroom that rock stars would have sex in.' Well, actually 'sex' was not the exact word we used. A favorite customer quote is 'If they spent that much energy designing the bathroom, imagine how much effort they put to get the rest of the store perfect!'" Our point exactly.
---
Rock 'n' Roll, Part II
I2I Optique, Scottsdale, AZ
We first heard about this place (also featured in our January "Risky Business" article on bold business moves) when Alex Feldman posted a photo of it last year on Luxury Eyewear Forum's Facebook page with the notation, "Sickest optical bathroom I've ever seen!" Says shop owner Sabina Krasnov, "they say when you have an amazing bathroom, you will have a successful business." The den-like retreat features real rock walls and ceiling. It looks more like something you'd see in a hip nightclub than an optical shop.
---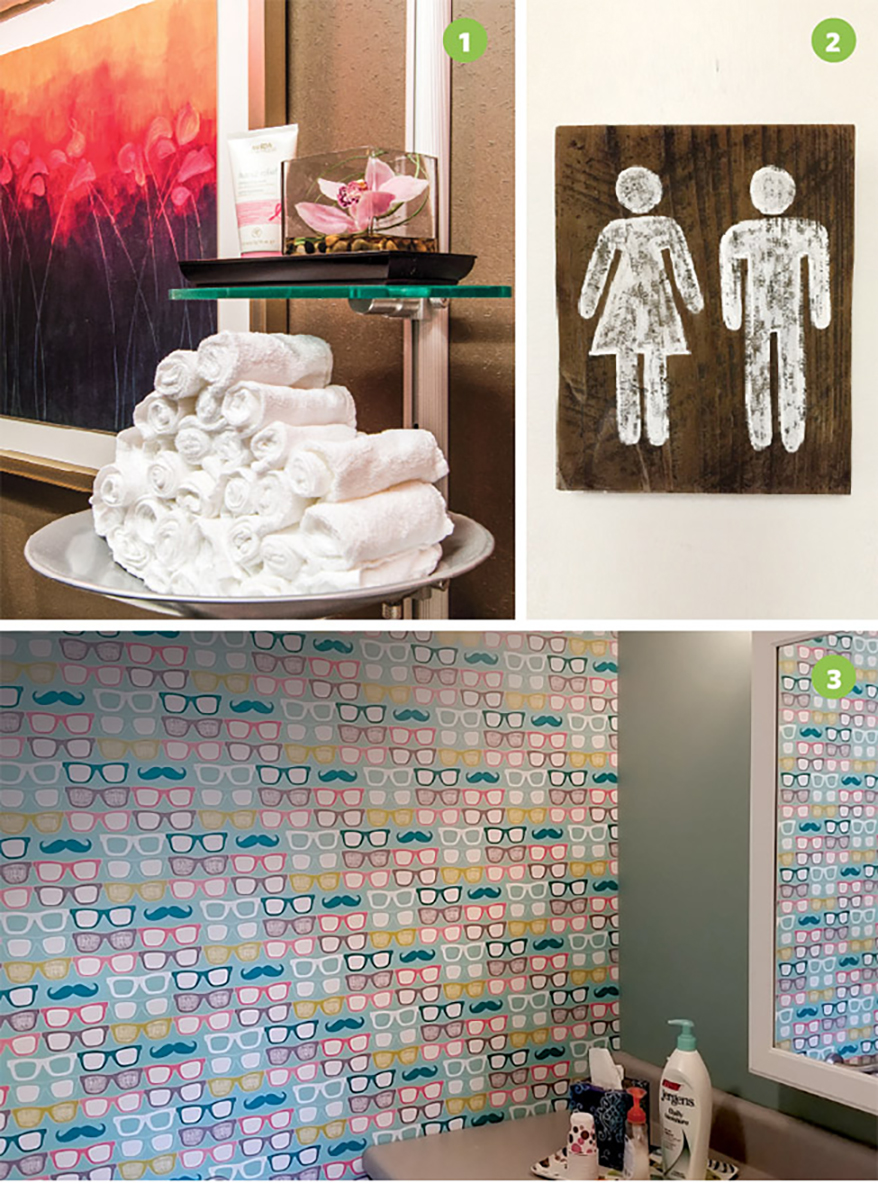 A Few Quick Pit Stops Oakland Vision Center Optometry
Ocean Optical
Lynn Valley Optical
Sometimes, there's only so much you can write about bathrooms, OK? But we want to point out a few more ways we've seen to take yours up a notch. First, let's give a nod to the lovely bathroom at Lynn Valley Optical in North Vancouver, BC, where the little luxuries include beautiful artwork, hand lotion and a pyramid of fresh hand towels [1] for their guests' use. Of the clever bathroom door sign [2], Dr. Tanya Gill of Oakland Vision Center Optometry in Oakland, CA, writes, "We got this awesome reclaimed wood bathroom sign on Etsy. It was a nice update to the beige plastic placard." Optician Cheryl Aparo sent a photo of the wallpaper [3] at Ocean Optical in Gloucester, MA, noting, "It is fun and gets our customers talking."
SPONSORED VIDEO: ESSILOR
Nominate a Difference Maker
Introducing #DifferenceMakers. Recognizing those who improve lives by improving sight.