WAITING GAMES
Play Areas That Keep The Tiniest Clients Happy
It's often an overlooked space in doctor's offices, but a well designed kids' play area can do more for your optical practice than you may realize.
A designated waiting area for children can make managing the practice an easier task. For instance, a fun-filled space for kids to play while mom is having her eye exam will keep them from running around and forcing you to play babysitter. Also, if parents know that your office is kid-friendly and equipped with things to keep their children busy, they may be more likely to give you their business.
There are many ways to go about entertaining kids while their parents or siblings are having their eye exams or looking for glasses. Books, blocks, coloring activities and toys are the staple forms of entertainment that usually do the trick. If you've got enough space for a TV viewing area, all the better. And it doesn't hurt if you've got a selection of refreshments and snacks available.
Creating a kids' play area isn't about knocking down the walls and remodeling your practice. If you're an office manager feeling crunched for real estate, consider rearranging some furniture to carve out extra space in your main waiting room. If that's not a possibility, perhaps another room can be transformed into a toddler's respite. You don't have to get fancy. As long as the area doesn't feel clinical and offers a few choice activities that keep kids busy, then you've got an effective pediatric waiting room that should keep mama happy. And when mama is happy, everyone's happy. — JESSE BURKHART
This article originally appeared in the May 2016 edition of INVISION.
---
ROOM WITH A VIEW
Honolulu Eye Clinic, Honolulu, HI
➤ Now here's something you don't often see through the window of a waiting room: the ocean. Located at the back of the office and separate from the main waiting room, the kids' play area at Honolulu Eye Clinic offers a cityscape, views of the Pacific Ocean and plenty of natural light. Office manager Sarah Collins says the room has three tables where children can sit, as well as coloring books, blocks and Legos. The practice also has a specially equipped examination room for children complete with toys and DVDs to facilitate the eye exam.
---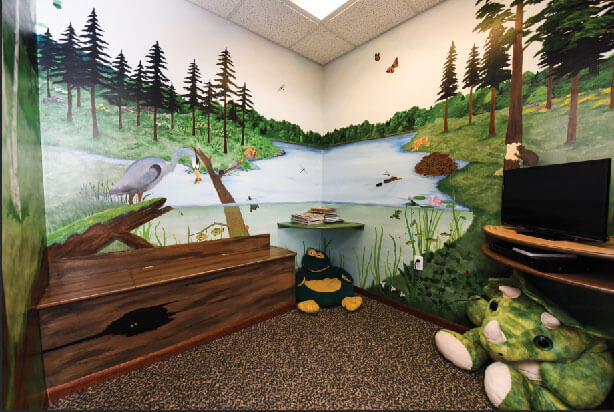 NATURE'S RETREAT
Belle Plaine Eyecare Centers, Belle Plain, MN
➤ The kids' playroom at Belle Plaine Eyecare Centers takes its inspiration from the great outdoors, with one large mural of a nature-scape covering each wall and a play bench that recalls a log. The log bench serves as the habitat for several oversized stuff animals for children to enjoy, and also contains toys and games for younger ages.
---
WELCOME TO ALL
Weber Vision Care, Harrisburg, PA
➤ Office manager Debbie Lowe says the play area at Weber Vision Care attracts not only the waiting children from its own practice, but also those who can see into the room through the window of a neighboring dental business. Kids from either office are invited to enjoy the space, which has a TV set to the Disney Channel, play kitchen, bean bag chairs and books.
---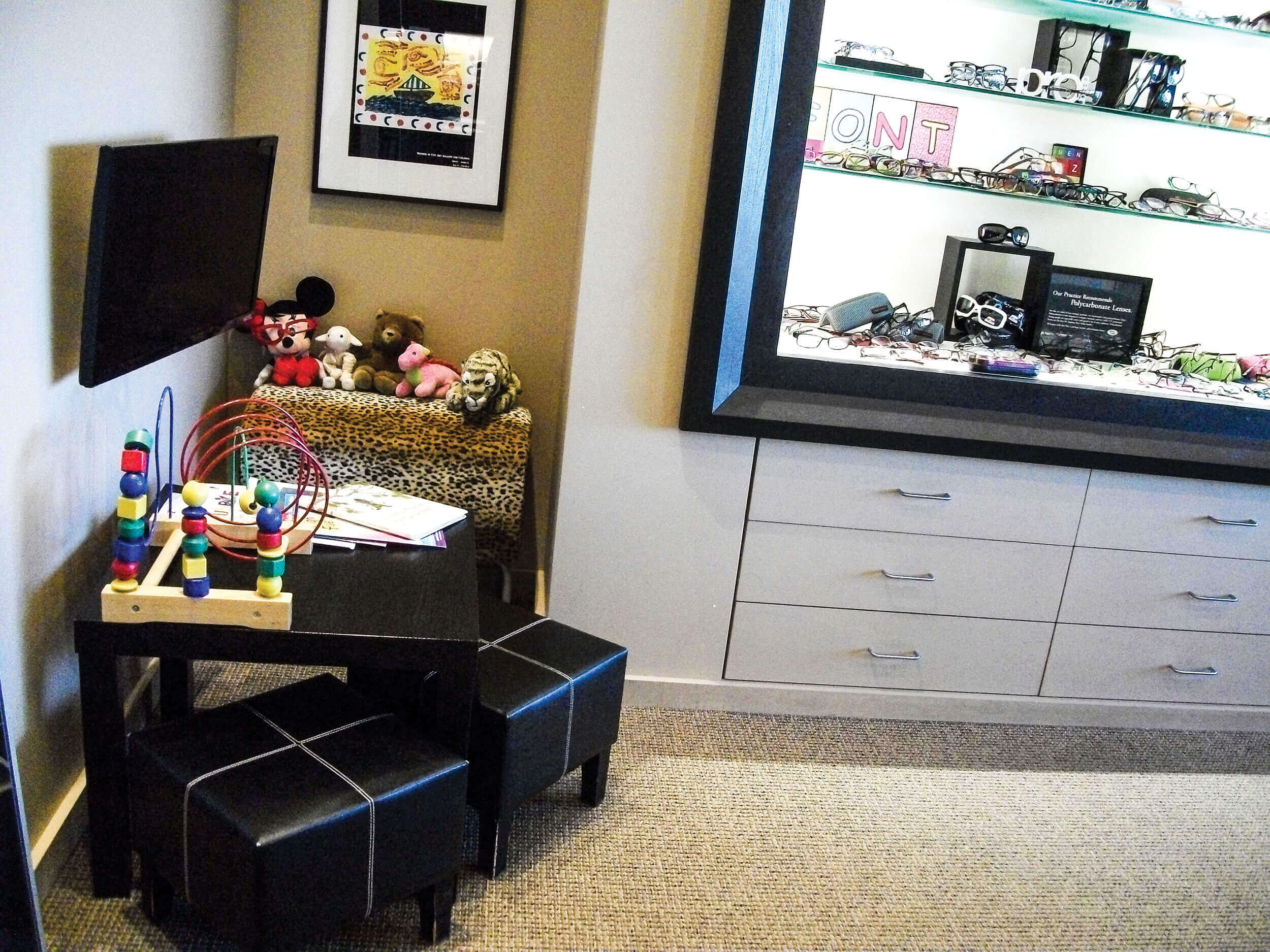 KID'S CORNER
McCulley Optix Gallery, Fargo, ND
➤ A bigger play area doesn't necessarily make for a better play area. Just ask Jenna Gilbertson, the office manager of McCulley Optix Gallery, which has a modest kids' corner right next to the children's frames. She says she's pressed for space, but a TV helps keep the little ones occupied. There's also a toy basket, which gives the eye doctor "a chance to talk to the parents while the kids are distracted." Wall art produced by local students is changed every six months by the Junior League.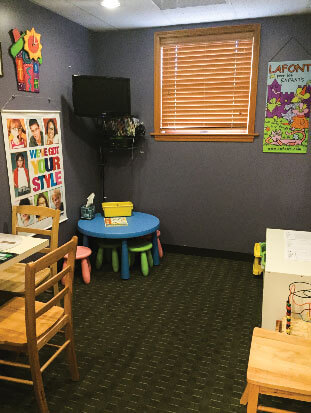 SWEET TREATS
Forsight Vision,Long Grove, IL
➤ At Forsight Vision, the kids' waiting room serves as both a play area and a place where vision therapy is occasionally done. In the room, children will find all the entertainment essentials. There are also fun activities like optometry-related crossword puzzles and word searches. Optician Sonia Contreras says that the practice also serves snacks and refreshments like cookies and hot chocolate, as well as lemonade in the summer.
PRODUCTIVE PLAYTIME
Springfield Family Vision, Springfield, MO
➤ When Dr. Katie McElvaine and her husband Scott started Springfield Family Vision, they wanted to create an environment that felt welcoming to families. That's why their vision therapy room doubles as a play area. Kids can keep busy with a swing, an exercise ball, blocks, puzzles and other games that are used in the one-on-one therapy sessions. "The kids will be occupied and learn visual skills at the same time," Katie says.
SPONSORED VIDEO: VISION SOURCE
Optometric Practice in a Small Town
Practicing in a small town gives you the diversity and opportunities to practice full-scope optometry. See how one OD found professional and personal fulfillment in a small town.