Last month, INVISION polled our Brain Squad and asked about those who had invested in ensuring they had a mobile-friendly, responsive website. What stood out about the responses wasn't the number of people who said they had, but the sheer number of people who hadn't. In fact, not only were there a number of people who responded they hadn't, but there were many who said they didn't even see the point in it.
So, let's put it into context. According to a recent comScore report, mobile now represents 65 percent of digital media time, while the desktop has become a "secondary touch point" for an increasing number of digital users. That means more people are coming to your site via their phone than their computer.
Here are some more compelling numbers:
Google says 61 percent of users are unlikely to return to a mobile site they had trouble accessing and 40 percent will visit a competitor's site instead. (MicKinsey & Company)
88 percent of consumers who search for a type of local business on a mobile device call or go to that business within 24 hours. (Nectafy)
57 percent of users say they won't recommend a business with a poorly designed mobile site. (CMS Report)
So for the Brain Squad members who responded to the question with answers like "My business is all word of mouth" or "My patients aren't technologically savvy," I'd ask, how many new customers are you missing out on because you don't understand the importance of a compelling and responsive digital presence?
Of course, many of the respondents did absolutely understand the need for a mobile-friendly experience and how it plays into building their patient base.
---
We recently had our website optimized for smartphones. The original wasn't bad, but our large photos were taking too long to download, and looked wonky on a small screen. The new mobile site has an easy to navigate menu and reduced content to speed up download over 4G. James Armstrong, Alberta Eye Care, Portland, OR
---
I hired the best! One piece of that equation was ensuring it was mobile friendly. We track monthly usage of devices and utilize a third party to test usability. Selina McGee, OD, Precision Vision, Edmond, OK
---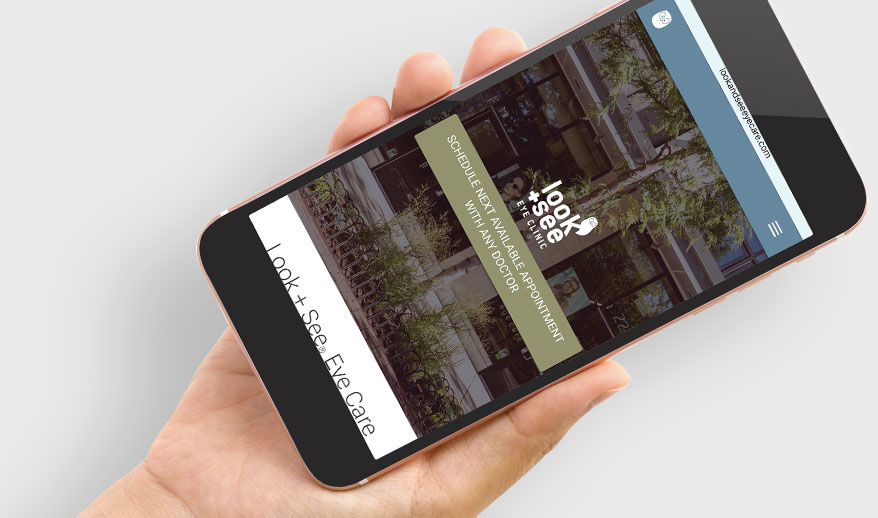 We hired a web design company a few years ago to make sure our site is beautiful and functional across all platforms. It's money well spent. People are busy and you have a few seconds of their time to give a great first impression. Your website needs to be amazing. Sarah Jerome, OD, Look+See Eye Care, Minneapolis, MN
---
"We were mobile-responsive several years before the "deadline" from Google. Being html- and Dreamweaver-trained, I have always been more technical in this arena than my peers. It's fun, it's creative and I like knowing more than the IT salesmen that come to try and sell their web/SEO services. Dan Amyx, Hillmoor Optical, Port St. Lucie, FL
---
When I bought my practice and created my website, I made absolutely certain that my webpage would be mobile-friendly. I get weekly reports from Facebook on how many views my office page gets, and I also get Google alerts, so I am notified immediately anytime my business name is mentioned in a review or elsewhere. Angie Patteson, OD, Sunset Eye Care, Johnson City, TN
---
Soooo passionate about this! We need to step it up as a profession. We have so many practices out there that made their websites 10 to 15 years ago and have not touched them. This doesn't help us fight the Warby Parkers out there that are rocking the internet! A fun, responsive website will definitely help to bring folks into your office. We hear it every day! Build your credibility by having a fun and responsive website. Deliver great content and this helps to build trust with your patients and makes them come to you first. Have links to social media, but only if you keep them updated, to help build that relationship. We have only done SEO and social media our first year of practice and we have seen amazing results. We live in a different world so doctors have to get out of the lane and help cater to a world on the go. Katie McElvaine, OD, Springfield Family Vision, Springfield, MO
---
This article originally appeared in the November 2016 edition of INVISION.
Hear What the Industry Thinks About the Ultimate Lens Package by Essilor
Eye care professionals, patients, and Essilor sales consultants shared their feedback on the Ultimate Lens Package. Watch to see why they believe the innovation behind the lens can make the difference for your practice and for your patients. For more information on the Ultimate Lens Package, contact an Essilor Sales Consultant or click here.
---