Revamping displays and merchandising is a relatively quick, fun and profitable way to engage with customers. The trick is to catch a customer's attention with a unique frame presentation while not distracting from the product. The frames are still the stars of the show, but the displays in which they shine are more than mere window dressing.
Many INVISION readers believe unique frame displays are a fun, funky and inexpensive way to engage customers through creativity. Your definition of fun and funky should match your business and personality. If you're the literary type you could display frames on plastic busts of Shakespeare and Hemingway. Prefer a movie motif? Why not set up a display case like a concession stand at a movie theater with frames lined up alongside the Raisinettes and Twizzlers? (Free popcorn for the customers is also a nice touch. And it smells fantastic.) One of our more crafty respondents went so far as to affix frames to papier-mache mermaids she hung from the ceiling.
The more fun you have creating an interesting display, the more fun your customers will have enjoying it.
Have a Cigar

EyeStyle Optical and Boutique, Oakdale, MN
Is there any category of box more versatile than a cigar box? They're perfect for stashing love letters, standing in for the men's version of a jewelry box or as a fitting coffin for the family bird in the movie "Poltergeist." They're timeless, sturdy and a great choice for unique frame stands. "I like using cigar boxes. They are super cheap to obtain, have amazing color schemes and can be reconfigured to adapt to any space," says Nikki Griffin.
---
Take It Easy

Optical Oasis, Jupiter, FL
You don't need an associate degree in design to punch up your frame displays. Look for inexpensive items and use them sparingly to attract attention. "I love changing up my displays — from using coffee cups to shells and sand. Sometimes the sillier or different is the best, like putting frames upside down. Anything to draw attention," says Julie Uram.
---
Glue Gun Gangster

Cynthia Vision Center, Cynthia, KY
Your shop is likely missing a crucial — yet criminally overlooked — piece of equipment: a glue gun. When masking tape or thumbtacks won't do, reach for the glue gun. It's a simple tool that's essential to DIY displays and other crafts in your shop. "I have taken large artificial sunflowers, glued bridge mounts to the center of each flower and put them in a ceramic pot," says Angel Miller.
---
Target Marketing

Weber Vision Care, Harrisburg, PA
"Target and Asian grocery stores are always great sources for quirky and unique displays," says Barbara Bloom. Most Target stores have a section of seasonal bargain items at the front of the store. Pick up a few lunch boxes and you're ready for your next back to school promotion. Or use Chinese restaurant take-out containers for a picnic pagoda theme this summer.
---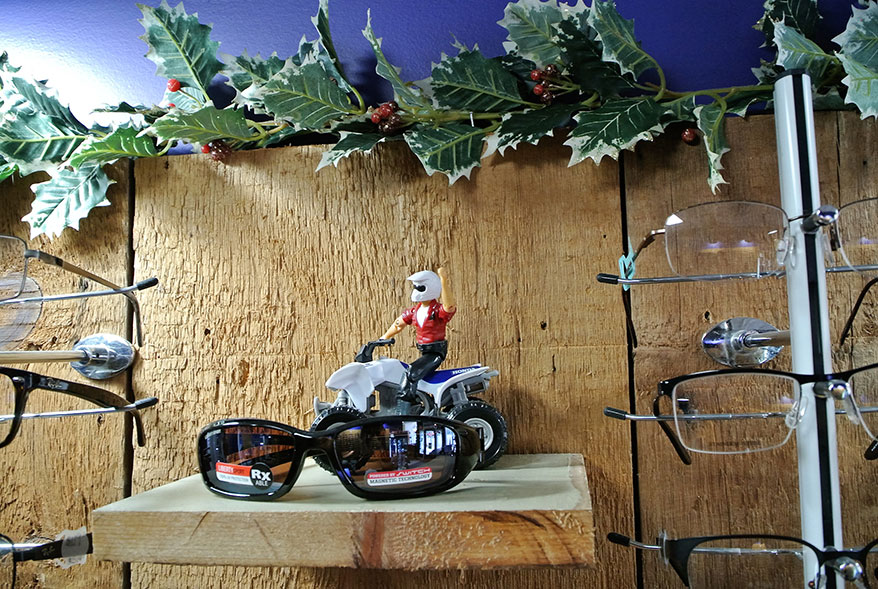 All Play at Work

Mill Creek Optical, Dansville, NY
No one hates toys. It's impossible. No matter their age you can be sure your customers remember the magic of toys from their youth. Remember this as you select iconic toys from yard sales or the dollar store and use them to draw attention to your frames. "I have a mini ATV with some men's frames and a Barbie Optometrist with the kid's frames. I change it up constantly," says Jennifer Leuzzi.
---
Useless or Unique?

Advanced Ophthalmology Associates PLC, Clawson, MI
Martha Downing has mastered the art of creating unique displays out of anything on hand. We'll let her explain: "We use everything from chicken wire to a slab of reclaimed barn wood with pegs hammered in to hold the frames. I even flew giant papier-mache mermaids from the ceiling with a specific line of frames on their faces. Anything weird, quirky or unique to draw attention to the product but not so strange that all that is noticed is the manner in which a frame is displayed."
---
This article originally appeared in the February 2017 edition of INVISION.
Hear What the Industry Thinks About the Ultimate Lens Package by Essilor
Eye care professionals, patients, and Essilor sales consultants shared their feedback on the Ultimate Lens Package. Watch to see why they believe the innovation behind the lens can make the difference for your practice and for your patients. For more information on the Ultimate Lens Package, contact an Essilor Sales Consultant or click here.
---