NO 'WAITING'
It's time to welcome customers and
treat them more like guests
They used to be called "waiting rooms," but these days, smart eyecare pros know people don't like to wait. Reception areas now look and feel more like living rooms that encourage browsing and interaction between you and your clients.
You might consider getting rid of your reception counter altogether, says Jay Binkowitz of Gateway Professional Network. Writing recently at ODSuccess.com, he recalls a practice that used a beautiful French desk as its welcome counter.
Some added touches might include refreshments, iPads (instead of clipboards) for updating medical information, free Wi-Fi and a well-curated selection of impulse-buy items. Binkowitz suggests that you put out some trays for people to use to browse for frames while they wait, complete with a sign that reads, "Grab a tray to shop and play."
Read more of his advice on how to transform the waiting experience in your practice at invmag.us/1154 — and check out these vision care businesses that have mastered the art of making people feel welcome. — By JULIE FANSELOW
This article originally appeared in the January 2015 edition of INVISION.
---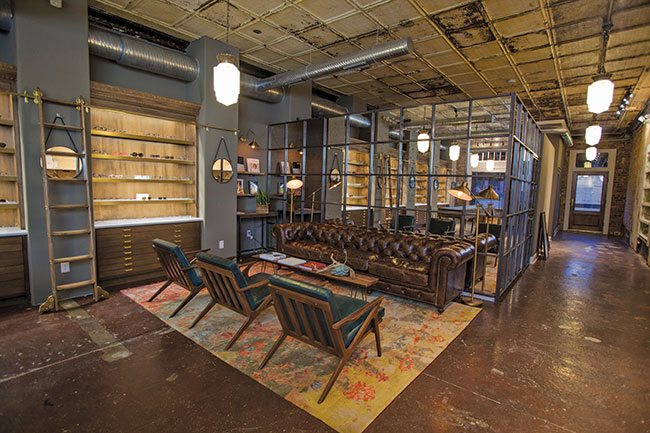 JOIN THE CLUB
Glass Optical, Dallas, TX
It's not every day that an eyecare business's opening merits coverage on a local lifestyle-and-arts website, but that's what happened when Paul Wilkes and his father Stephen opened Glass Optical in Dallas' up-and-coming Oak Cliff district a few months ago. And when we read on dallas.culturemap.com how "a Chesterfield sofa from Restoration Hardware and midcentury leather chairs from Crate & Barrel create a lounge area in the back of the store," we had to get a photo. The rug is eye-catching, too; Paul Wilkes says he and his wife Megan (who owns a nearby bakery) spotted it in Dallas' Design District. Glass Optical co-hosted its grand opening party with another neighbor, Spinster Records. Sounds like a fun neighborhood.
---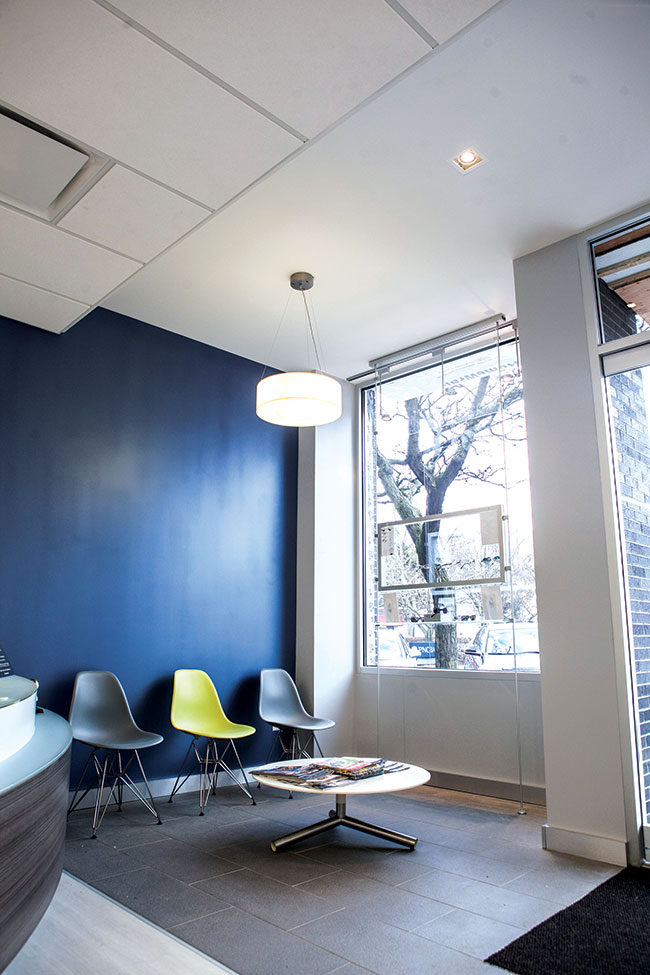 COOL AND CALM
Palisades Optometrics, Leonia, NJ
Blue is a welcoming color, and it helps make the most of this small reception area tucked just off the street. This longtime New Jersey practice led by Dr. Ronald Luxenburg recently worked with Presenta Nova to refresh its offices and optical dispensary. A trio of cool retro-look chairs — the middle one a sunny yellow — plus a view of the outdoors and abundant natural light help people pleasantly pass the time. A new rounded reception center (just to the left in this view) draws people into the practice and hides much of the clutter that too often defines a reception desk.
---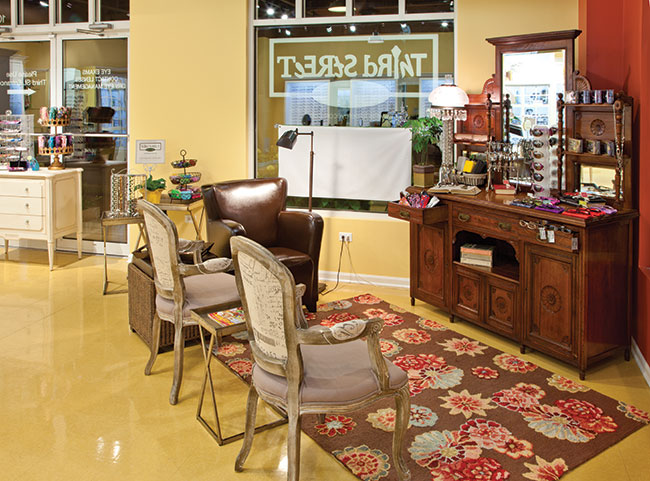 RIGHT AT HOME
Third Street Eyecare, Geneva, IL
Third Street Eyecare — with a design by Barbara Wright — has two areas where customers can linger. One, in a corner near the door, has large windows on either side and an English antique piece with reading glasses and other accessories displayed near a big mirror. Armchairs offer moments of refuge. "Everybody loves the warmth of it," says Julia Burggraf, the shop's buyer, who opened the practice with her husband, Dr. Randall Burggraf, in 2013.
---
---
OPEN UP
Sonoma Eyeworks, Santa Rosa, CA
Comfy armchairs in muted and calming colors, a blooming orchid and a glass-topped coffee table piled with magazines welcome people to the center of this practice near California's wine country. Display cases replace a monolithic reception counter, and even the adjoining onsite lab and exam room have windows out into the rest of the practice. "The waiting area was designed to be the focus of the showroom," says Cindy Harmon, who co-owns the business with her husband, Dr. J. Michael Harmon.
---
EYE-OPENER
Northwest Opticians, St. Paul, MN
This downtown St. Paul eyewear shop may have the ultimate reception area: It shares space with a branch of the Dunn Bros. Coffee chain. People can browse the optical displays any time the coffee shop is open: from 6 a.m. to 8 p.m. seven days a week. Owner-optician Roger Schultz (seen above helping a customer) was actually bumped from his previous location by a coffee shop. When he inquired about a new storefront, he was told it, too, was set to be a coffeehouse. "All of a sudden coffee was changing my life and I don't even drink it," he marvels. But the building owner liked the idea of an optical shop joining the space, and the business blend has proven successful. "They're separated and yet they're open to each other," says Schultz, noting that 800 people a day visit the coffee shop. "It's like having an open house every day."
---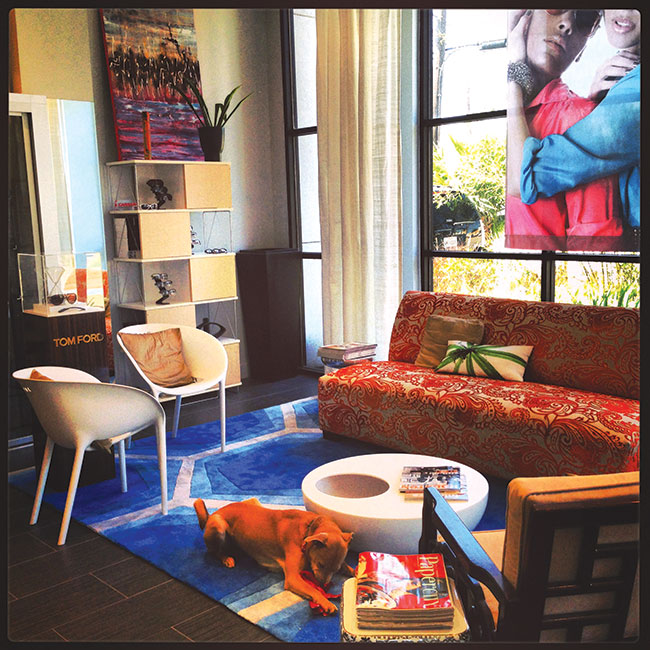 OLD IS NEW
Eye Impact, Houston, TX
Dr. Gary Nguyen's practice features his old living room sofa professionally re-upholstered. "Patients compliment that sofa pretty much every day," he says, and it was less expensive than buying new. "We often get patients chatting with each other on the couch while they wait." Nguyen also repurposed a Chinese side chair from his parents' home, along with display shelving from a home furnishings store that was going out of business. The coffee table features local style and entertainment publications. Nguyen's dog, Chloe, feels right at home — and Eye Impact's clients do, too.
Hear What the Industry Thinks About the Ultimate Lens Package by Essilor
Eye care professionals, patients, and Essilor sales consultants shared their feedback on the Ultimate Lens Package. Watch to see why they believe the innovation behind the lens can make the difference for your practice and for your patients. For more information on the Ultimate Lens Package, contact an Essilor Sales Consultant or click here.
---