DO YOU HAVE MAIL?
Old-school technique can still get attention
Think direct-mail marketing is old-fashioned? You bet it is. But if you think it's dead, you need to think again.
Sure, social media and digital technologies drive most small businesses' marketing strategies today. But when it comes to connecting with customers and attracting new ones, direct mail can do things that email blasts and Facebook will never be able to.
Direct mail is tangible. Since a postcard comes directly to your customer's mailbox with its contents visible, it's more likely to get at least a quick read than an email blast, which the recipient can delete without ever seeing what's inside. And subconsciously, if customers are physically holding your brand, they may feel closer to it and be more likely to consider the message reliable.
Another advantage of direct mail is that it's highly targeted. By simply knowing where your customer lives, you can infer much about that person's interests and buying habits. This helps you craft pieces that are tailored specifically for them, whether they're existing customers or new prospects, big spenders or thrifty shoppers.
Direct mail can even be personalized. Think back to when you last received a handwritten letter in the mail. (Been a while, right?) You probably at least felt appreciated — if not loved — that someone had taken the time to write you a message they could have just as easily emailed to you, or perhaps not have written at all. Nothing trumps a handwritten thank-you card to your clients — and you ought to send at least some each month — but personalized direct mail is great for a double take.
Yes, direct mail has seen better days, but it still offers benefits that other marketing mediums can't. Think twice before you write it off. — JESSE BURKHART
This article originally appeared in the May 2015 edition of INVISION.
---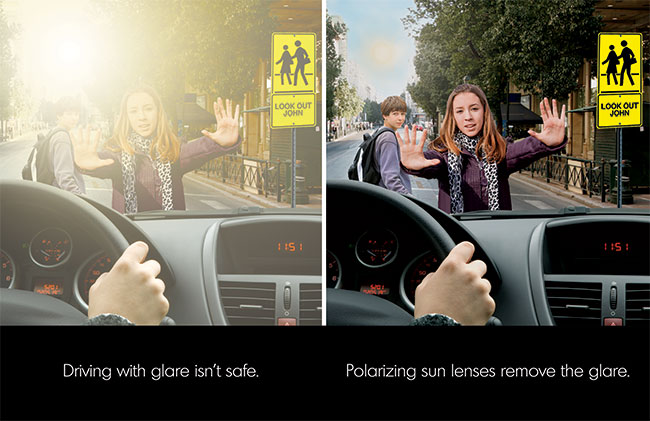 Your Name Here
Ziegler Leffingwell Eyecare, West Allis, WI
➤ Most direct mail campaigns have response rates around 1 percent, but Wisconsin optometrist Dr. Dave Ziegler regularly tallies responses of 8 to 12 percent for personalized pieces incorporating each recipient's name. Ziegler and partner Dr. Chap Leffingwell have three different cards, including this one on how polarized lenses help people see better while driving. They send 1,000 pieces each month to current patients. Each mailing costs about $850 to $1,000; Ziegler says that in one recent month, about 11 percent of the recipients either called for an exam or walked in, and the business tied $62,000 in revenue to those patients. For more info on the cards, which are available to all eyecare practices, see zieglervm.com.
---
Right on Target
Erker's Fine Eyewear, St. Louis, MO
➤ Direct mail has always been a staple in the marketing strategy of Erker's Fine Eyewear in St. Louis, MO. Co-owner Jack Erker III finds that his customers are more responsive to it than other forms of marketing because people get far less physical "junk mail" today than they did 10 or 15 years ago. And since it's easier to retain than recruit, Erker's sends direct mail to its current clients, such as it did with this Customer Appreciation Sale mailer. "We also run the same campaign through each marketing outlet to keep the same look and feel throughout," says Erker.
---
---
Local Love
Look + See Eye Care, Minneapolis, MN
➤ Minneapolis, MN, is a city that loves to champion and support its local businesses, so Look + See Eye Care aimed to do that through its "Made in Minnesota" event. The practice featured frames from Ogi Eyewear and Seraphin — collections that are based in Minnesota — while partnering with a local craft brewer to serve its beer at the event. "I think people get inundated with emails and mail is becoming obviously a lot less common," says Dr. Sarah Jerome. The direct mail piece included a call to action ("Be Our Guest") and simple yet eye-catching design.
---
Active Appeal
QT Optometry, Folsom, CA
➤ QT Optometry, another dba client, caters to people that live more active lifestyles, so its mailers try to mirror the customer base it serves. Still, Feldman says, it's important to be demographically sensitive whenever possible — whether reflecting age, race or gender — so that your message casts the widest net possible. Besides the offer itself, perhaps the most important thing a mailer can do is portray "something that most people identify with."
---
Offbeat Brands
Island Opticians, Palm Beach, FL
➤ Bryan Finley, owner of Island Opticians in Palm Beach, FL, turned to direct mail when he purchased the business last year, sending letters to notify existing customers of the change in ownership. Happy with the response, he's since designed and sent mailers to showcase the various brands he carries. Florida is very brand-conscious, so names like Blackfin and Rye & Lye may not mean much to customers, "but maybe they think, 'Hey, these guys have some out-out-the-norm things that I don't see everywhere else.'" Finley adds that direct mail is more personal than bulk mail since it's addressed to a specific person instead of "Current Resident."
---
Make It Quick
Europtics, Denver, CO
➤ With five locations in the Denver, CO, area, Europtics has worked with dba designs & communications for more than 10 years. Daniel Feldman, CEO of dba, says a direct mail piece has only about 10 seconds — or however long it takes your prospect to walk from the mailbox to the trash can or recycling bin — to make an impression. That's why this mailer relies on a big splash of color, the offer and minimal sales puffery to hook customers. "We all get junk mail, so if [the mailer] doesn't stand out, it goes right into the trash can and it doesn't matter what the paragraphs of copy say," Feldman notes.
Hear What the Industry Thinks About the Ultimate Lens Package by Essilor
Eye care professionals, patients, and Essilor sales consultants shared their feedback on the Ultimate Lens Package. Watch to see why they believe the innovation behind the lens can make the difference for your practice and for your patients. For more information on the Ultimate Lens Package, contact an Essilor Sales Consultant or click here.
---