Ollie Quinn: dozens of boutiques unified by an in-house design team's aesthetic vision and local touches.
From its logo-friendly name (initialized, it becomes the spectacles-suggesting "OQ") to the wordmark signage and three-core-colors chromatic scheme deployed in its stores, eyewear manufacturer and retailer Ollie Quinn sets a high bar when it comes to comprehensive branding.
For an independent optical, the biggest takeaway from Ollie Quinn's branding effort is probably a deeper understanding of the transformation that results when you start thinking of your store as the heart of a brand — your brand — rather than a place to purvey brand names.
Last July, Ollie Quinn made its opening gambit in the U.S. with the launch of its store in Seattle's Capitol Hill area. It was the latest chapter in a short but complicated history dating back to 2014 in London, when a group of four entrepreneurs (two of them Canadian) established its predecessor. Along the way partnerships were formed and dissolved, stores acquired and private equity funding obtained.
The Ollie Quinn brand emerged in March 2017 and has since been seamlessly applied across 27 opticals in three countries. A clear aesthetic is reflected in both the stores and Ollie Quinn's sleek but fun frames targeting a demographic that Siena Dixon, head of marketing and communications, defined for INVISION as "socially conscious, well informed and inherently creative individual[s]."
Ollie Quinn's Vancouver-based in-house designers are recruited from the world of eyewear and beyond, many with experience from Savile Row to Tag Heuer, ZANZAN and Gotti. "We are a big proponent in providing creative license to bring their visions to life, however, eye health has to remain the focal point," says Dixon.
"All of our boutiques follow a similar OQ branding aesthetic, but the layout of the store and creative elements such as lighting, photography and storefront design will reflect the aesthetic of the local community," she said. "In this way, each boutique feels unique." The result is "a responsive design process with an efficient and very collaborative feedback loop."
The tastes of its demographic are reflected in Ollie Quinn's signature aesthetic — "modern, minimal and creative" — but also in its store locations, the selection of which exemplifies the quality control coming from HQ: "We have an in-house property manager who scouts locations... He seeks communities that most align with our brand." Seattle was "the obvious choice for our first [U.S.] location," says Dixon. "As a brand, we connect with the city's vibrant and artistic style." The overall aesthetic framework is communicated by the in-house designers, but local furniture suppliers and craftsmen are brought in to create "clean, modern and welcoming spaces that reflect the vibe of the locale and its community," she said.
What's her branding advice for a small, independent optical? "It's important to have a real sense of your own values and who you want to resonate with. This is key to organically finding a point of difference. Find your own voice and run with it. Trying to cater to everyone, can essentially leave you resonating with no-one."
---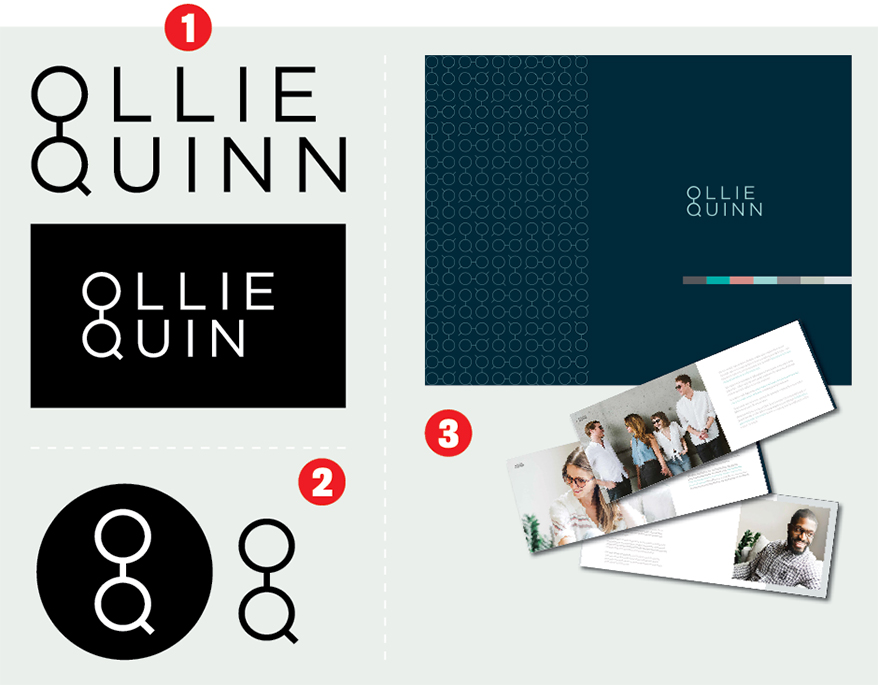 The Logo
The primary logo links 'O' and 'Q' to form a pair of glasses.
The OQ Icon
The OQ icon is used across social media, packaging and signage.
Photo Style/Tone of Voice
Photographic content is original with a 'clean' look; an effort is made to keep the writing style 'frank,' 'honest' and occasionallly 'cheeky.'
---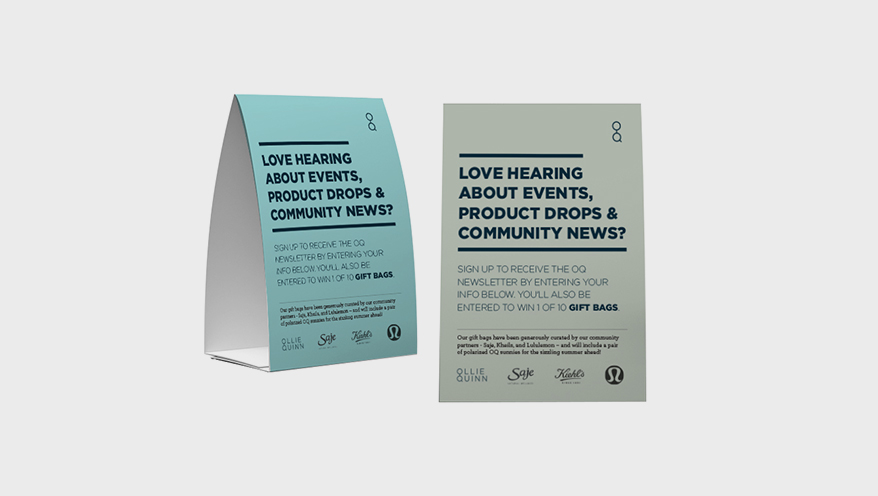 Tent Cards
Gothic and Archer are the main typefaces on stationery and packaging.
---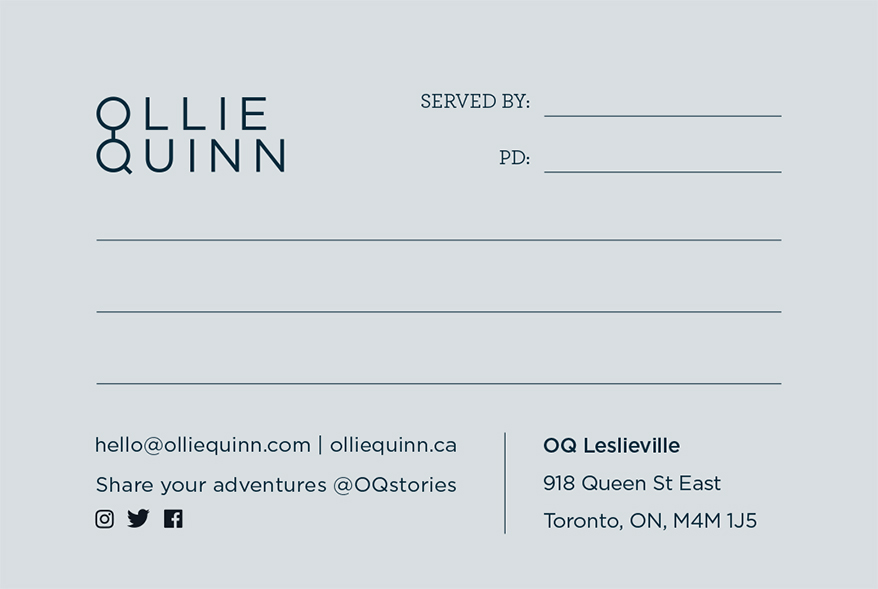 PD Card
Stationery is kept clean and uses the two main color palettes and patterns.
---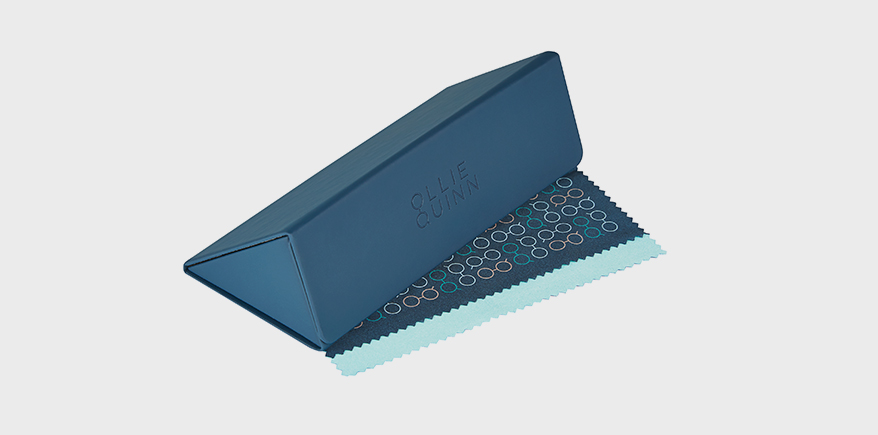 Case/Cleaning Cloths
These are in the primary color palette, consisting of Pantone 303C and 324C.
---
Packaging
Kraft paper creates a natural feel that matches the stores' interiors.
---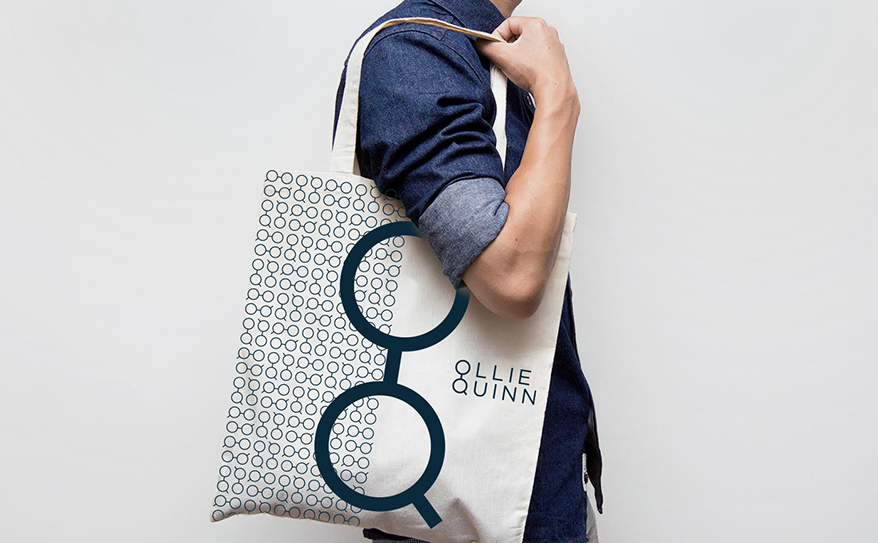 Tote Bag
The tote bag features Ollie Quinn's signature pattern.
---
This article originally appeared in the January 2018 edition of INVISION.