Redesign on a Dime
Every once in a while your place needs an update but rarely is there the time or money for a major overhaul. How do you manage a minimal business renovation on a budget, but create a big impact? Well we asked several ECPs who have done just that, and had a couple design experts weigh in too. Here are some ideas to refresh your space, whether your budget is $5,000, $2,500, $500 or mere pennies.
STORY BY
Deirdre Carroll
---
$500-$1,000
After 50 years in business, David Goodrich of Goodrich Optical in Lansing, MI, found a quick and inexpensive way to update the business his father founded: a logo redesign. "We updated the logo design with new signage," says Goodrich. "I put together an idea of what I was thinking and had a commercial company finalize the design. The banner gets people's attention and it's been interesting hearing folks say they have lived in the area for umpteen years and never knew we were here." Total cost: less than $500
The folks over at Dr. Bladh O.D. in Diamond Bar, CA, are masters of the small refresh project. According to Josh Bladh, last year they spent about $500 on new chairs from Flash Furniture for the reception and dispensing areas. "It made the whole ambiance of the office brighter and feel newer," he says. "We received so many compliments within the first month that I waited to do any other upgrades. The average patient comes in every 15 months, so it took over a year for people to get used to it." And they just finished another (admittedly slightly more expensive than $500) project. "I set my sight on what the patient sees when they walk in," says Bladh. "Behind our front desk was a plain wall and I wanted to do something with it. I decided on a rock wall with our logo coming out of it. It took us two days and looks amazing! We did the work ourselves to save on labor costs." Total cost: $775 (rock wall $600 from Lowe's, custom sign $175 from signs.com.)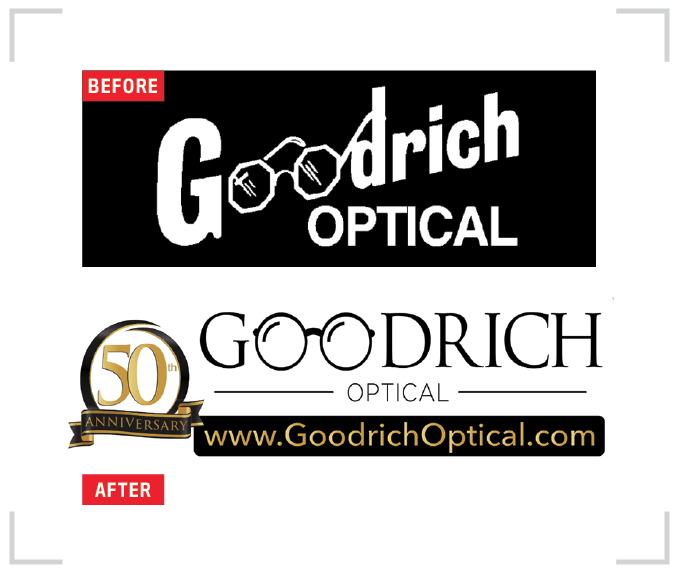 The staff at Dr. Bladh OD added a logo to the wall behind reception. It took them two days (they did it themselves) and cost $775.
$1,000-$2,500
"We have been open seven years and looking to make some small changes," explains Dr. Cynthia Sayers of EyeShop Optical in Lewis Center, OH. So far, she has changed out some furniture — "Ikea is a great resource!" — and repainted the walls to freshen things up. "We also added a 'community wall' where other small businesses can post their business cards," she adds. "Patients love the feeling of 'shop local' these touches have created." Total cost: About $1,000
Robin Hoek of Allen D. Hoek, OD, in Ripon, CA, describes their plain Formica front counter as extremely outdated and "straight out of the '80s." Knowing that the cost and logistics of putting a brand-new counter in was not going to be easy, Dr. Hoek and his daughter-in-law, Mallory, had the idea to reface it. They refaced the front with Pergo flooring to give it the look of reclaimed wood and added a new granite top. Dr. Hoek and Mallory did all the work on the front and a local business put on the granite. "It is the first thing patients see when they walk in," she says. "We receive so many compliments on the new counter. Even a few requests for Dr. Hoek to go to patients' homes and help them!" Total cost: about $1,700
$2,500-$5,000
Dr. Texas Smith of Dr. Texas Smith & Associates in Citrus Heights, CA, has been in business for 50 years so this isn't his first rodeo when it comes to a refresh.
They recently gave the place a facelift and got creative with cost. "We painted, redid the carpet, got new chairs for the reception rooms and bought new dispensary tables," he says. "We did some optical bartering." Total cost: $2,500
Sometimes the biggest bang for your renovation buck comes from removing something, not adding it. At Combs Eyecare & Eyewear in Western Springs, IL, they updated their one-time pediatrician's office by ripping off the protective wall laminate. "We laid new carpet and stripped off the old green laminate that was on the lower half of the walls," says Kathy Maren. "Then we painted and added a chair rail and baseboards that match the maple frame boards up front. Not a lot, just a facelift, and it looks wonderful!" Total cost: $2,500
$5,000+
Even if your renovation costs creep up, often the payoff is worth it. Take it from Dr. Selina McGee of Precision Vision in Edmond, OK. "I spent about $5,000 and it was hugely impactful. We painted, added new signage, decluttered, bought all new optical shelving and new furniture. The ROI has been immeasurable."
Often tackling just one project at a time, especially when you have a list of things, helps keep each project in perspective. At Urban Optics in San Luis Obispo, CA, office manager Hanna Cook shared the projects they're currently doing to update their location of more than 20 years. First, a friend did a whole new sound system. The new system was about $2,500 and includes a smart TV mounted in the waiting area. They use Spotify and the album covers rotate on the screen for every song. "We are all huge music lovers so this was important to us, and we can play anything through Spotify," she shares. "The feedback has been great; our patients love it! We'll utilize the TV for marketing at night. We're next door to a popular restaurant/bar that's open late and people in line can see the TV." But there are more projects in the works. "We aren't doing a complete overhaul, but next up will be paint and new carpet. We are going to paint ourselves, which definitely cuts the cost and helps us stay on budget," says Cook. "The key for us is just one project at a time. That's how we stay on budget. It's important to keep things fresh, not only for our patients but us too. It keeps things interesting and prevents us from getting bored," she concludes. Total cost: $5,000.
---
IDEAS FOR UPDATING ON A DIME
HIT THE WALLS
"We had some really nice pictures professionally framed, which allowed us to support another local business, and we rotate them out every few months," says Harris Decker of Eye Designs of Westchester in Scarsdale, NY. Diana Sims at Buena Vista Optical in Chicago, IL, does something similar by mixing up her wall art. "We replace our wall decor with proprietary images every year. We re-use the frames and go to Vistaprint.com for posters. The total investment including shipping is around $200 and a few hours of set up." Dr. Chani Miller at Park Eye Center in Highland Park, NJ, understands the importance of an impactful wall too. "For less than $500 we added super cool wall art from Wayfair, TJ Maxx and from a local artist (my daughter). It made a huge difference."
BARTER BABY!
We already know Dr. Texas Smith used optical bartering for his renovation but this approach is more common than you may think. "Our owner has bartered eyecare services and materials for an amazing overhaul and renovation," shared William Chancellor of Eye Can See Eyewear in McDonough, GA. "This has kept cost more manageable and creates an amazing atmosphere for our patients." After all, many contractors are small business owners too and offering a comprehensive eye exam and complete pair, yearly contact lenses or vision therapy, could be the difference between composite floors or reclaimed wood.
TAP THOSE VENDOR MONIES
Susan Kantor at Central Phoenix Eyecare in Phoenix, AZ, got new displays by utilizing their Essilor MarketBuilder credits. "It was almost completely covered and we were able to dump our outdated cases," she says. Dawn Christman Munoz of North Valley Eye Medical Group in Mission Hills, CA, regularly taps her reps. "I request all the cabinets, racks, mirrors, and other POP I can from every vendor," she explains. "I change up the displays with new POP every time I get frames and return any I can't use. When they are outdated, I donate them to our local opticianry school." But keep this in mind from Eric Zuckerman of Pac Team America, a display, packaging and exhibition solutions company. "Update your store and windows consistently and in a timely manner. Having an out of date presentation can translate as the store having an out of date collection."
REFRESH FOR FREE
Environment creates confidence, says Zuckerman. "To make a store clean and presentable is different from making it the most modern experience known to man." Simple, clean and presentable doesn't have to be a major renovation.
"A little cleaning can be a huge upgrade with so little expense," agrees Lisa Trippi of Eyesight Solutions in Mt. View, CA. "It's the same as spring cleaning our home. Remove wall decor. Clear counters. Organize filing systems. Purge old records. Take things displayed high, like plants or pottery, down. Dust shelves and clean windows and window coverings. Rearrange to keep clutter to a minimum," she details. A thorough cleaning is the start of a fresh appearance. Consider it as routine as inventory.
REARRANGE THE SPACE
Chris Clark of Mullis Eye Institute in Panama City, FL, achieved a new look just by rearranging furniture. "We moved around displays and worked with frame companies to get their displays for frame purchase. It works well," he says. Ruth Mellergaard, of design group Grid 3/International, suggests rearranging things for a new flow and energy. She says low budget improvements are simply a matter of creative thinking. "In a center aisle store you can walk down the middle right to the reception desk," she says. "Make an island, so they have to flow more, like water. You can't make people look at things but you can slow them down. There may be a way to reuse your existing cases to create more of a meandering path."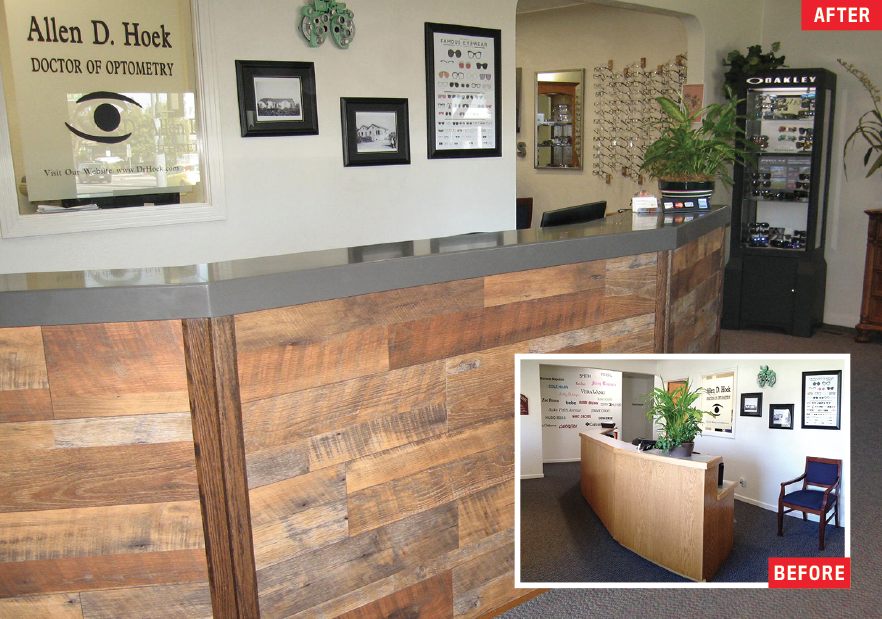 The new flat screen at Urban Optics highlights their love of music and doubles as a marketing tool to those outside after hours.
---
This article originally appeared in the June 2018 edition of INVISION.
SPONSORED VIDEO: VISION SOURCE
Optometric Practice in a Small Town
Practicing in a small town gives you the diversity and opportunities to practice full-scope optometry. See how one OD found professional and personal fulfillment in a small town.