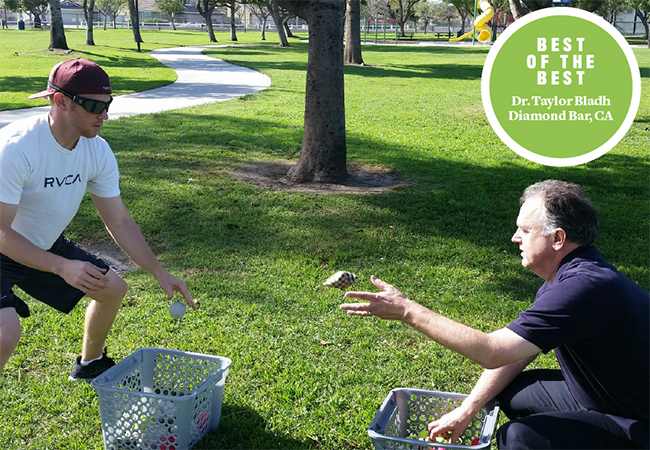 In addition to high-tech testing, Dr. Bladh uses outdoor drills to improve athletes' response times.
Sports vision training helps California eye doctor boost athletic performance
Athletes have always known that eye-hand coordination and reaction time are critical to sporting success. But they've only recently realized how eyecare professionals can help them enhance these skills. An opportunity to partner with Nike gave Dr. Taylor Bladh the spark to launch a sports vision training program at his practice in Diamond Bar, CA. — CORRIE PELC
This article originally appeared in the July 2015 edition of INVISION.
---
THE IDEA:
It's no wonder Bladh chose a specialty in sports vision. As a high school track team member, he held the Sierra League record in the 4x400 relay for a number of years. He also played baseball and basketball, then turned to coaching his six children in basketball. About six years ago, Nike invited Bladh to take part in a pilot program to test the company's new sports vision training technology. Among its innovations: the Nike Sensory Station, an interactive kiosk that administers 10 different visual tests. "It's sports vision training, but it's really more sensory training — we're retraining the whole body," Bladh says. "We're teaching your body to process things more efficiently."
The sensory station is connected to a database, which allows athletes to compare their test scores to others by age, gender, sport and competition level. People could even compare their scores to those of pro athletes. "You would see immediately what areas you needed to work on," Bladh says. "Athletes are all competitive — they want to see if they are improving and you would have it right there."
Bladh also helped Nike test its strobe goggles, which can be programmed to flash at a faster or slower pace to help athletes work on their reaction times.
"You're taking away visual information incrementally so the individual has to make decisions with less and less information," Bladh says. Even after one session, reaction times could improve by 10 percent.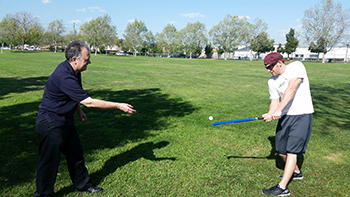 Bladh concentrates on elite baseball and softball players ranging from professionals to top college-bound athletes.
THE EXECUTION:
Although the Nike pilot program ended, Bladh has not stopped offering sports vision at his practice. In fact, he has added more technologies and is even in the midst of developing his own.
For instance, the practice has a neurovision rehabilitator that uses Nintendo Wii technology. Although the test was designed for helping patients with traumatic brain injury and stroke to re-establish nerve connections, Bladh says the technology can help athletes strengthen their neural connections while boosting depth perception and reaction time.
Bladh also uses computer programs to help retrain athletes' brains to process information more efficiently. He's working with his son, a computer animator, on new technology that uses virtual reality. The program will place athletes at home plate in a baseball stadium so they work on batting and hitting skills. "With this you can actually slow it down and speed it up, so we start it slower so they can pick it up and learn what it's like in real time," he adds.
THE REWARDS: Years of networking and word-of-mouth referrals have paid off, and Bladh now concentrates on elite baseball and softball players ranging from professionals to top college-bound athletes.
He's found the technologies he uses for sports vision can be used in another niche: working with patients with autism or learning disabilities. "We have a whole autism and learning disabilities section that we are just developing because they go hand in hand," he says. "If you can make the brain work better, then it will help everything."
DO IT YOURSELF
HELP ATHLETES PLAY TO WIN
➤ Dr. Bladh offers a reality check to ECPs who think a sports vision niche will mean pro athletes knocking on their door. Think local high school teams or Little League teams to start.
➤ Network with coaches and parents. Start small and build from there. "If you can get one sport in a high school, then that's where you start and then maybe you go into the other sports," he says.
➤ Once you establish the niche, signed photos and notes can help build it. Bladh's office has a hallway full of framed memorabilia from thankful patients.
➤ Make sure you have room to accommodate sports vision tests in your office. If not, you will need to do them elsewhere, which may potentially mean less revenue.
➤ Have passion for the work. "It may not be a big money maker depending on your situation and your demographics, but most doctors who do it really love it," Bladh says.
SPONSORED VIDEO: VISION SOURCE
Optometric Practice in a Small Town
Practicing in a small town gives you the diversity and opportunities to practice full-scope optometry. See how one OD found professional and personal fulfillment in a small town.