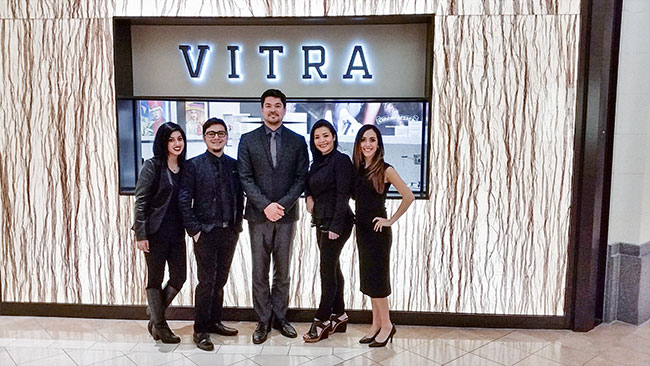 The team at the first Vitra Eyewear boutique includes Kianaz Etemadi, Nestör Cordero, David Abernathy, Sonia Martinez and Karin Abernathy.
New California boutique offers a view into its lab
Vitra Eyewear, Costa Mesa, CA
The vision is clear for Vitra, a new venture launched by some longtime heavy hitters from the optical world: offer a large selection of high-fashion frames in a store that looks like a fine jewelry emporium and literally give people a window into how lenses are custom-fit into prescription eyewear.
This article originally appeared in the March 2016 edition of INVISION.
---
THE IDEA: Taking its name from the Latin word for glasses, the Vitra Eyewear Group is the latest project from co-founders and partners Marvin Freeman, Cosmas Lykos and Joshua Pianko, who together have decades of experience in businesses including Luxury Optical Holdings, Oakley, Chrome Hearts Eyewear and more. The trio opened their first shop last November at South Coast Plaza in Costa Mesa, CA, and plan to grow Vitra into a chain representing what the website at vitraeyewear.com calls "the epitome of luxury eyewear boutiques." Central to that is giving people "an opportunity to look into the store in a way they've never looked into an optical store before," says David Abernathy, manager of the debut location. In an era when everyone wants an experience, offering a view into a high-tech, high-touch lab helps people understand the care that goes into their glasses. "There are so many aspects to a lab that can be appreciated, but they've gone under the radar," Abernathy says.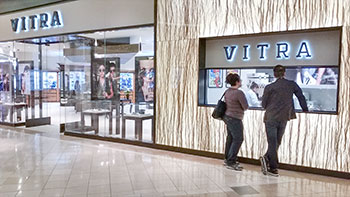 People stop to watch opticians at work through a window into the lab at Vitra Eyewear.
THE EXECUTION: When eyewear and lens sales become performance art in one of the nation's largest malls, you need to have staff who thrive working in the public eye. "I was able to hand-pick some of the best opticians out there," says Abernathy, mostly people he'd worked with before whom he knew were ready for their close-ups.
Abernathy and his team specialize in creating custom lenses for Vitra's selection of about 1,500 frames in about 25 lines including Barton Perreira, Chrome Hearts, Dior, Fendi, Gold & Wood, SALT, Shamballa, Sospiri, Theo, Thierry Lasry and more. It also sells its own Vitra eyewear, promising that only one frame of each design exists on the planet. At the very top end: Luxuriator by Franco, featuring frames in solid 18-karat white, yellow or rose gold with micro pave diamonds and custom buffalo horn temples.
Whether someone is paying $350 or $30,000 (the average frame price is $800-900), Vitra uses Optikam's 3-D imaging technology to deliverprecise measurements. Abernathy likens the process to taking an off-the-rack suit or dress to a tailor to ensure it's just right.
THE REWARDS: With a million-dollar buildout achieved with Semone Gell Design and David R. Olson Architects, Vitra is definitely catching eyes. The lab window draws a steady audience, including some parents who hoist their small children to have a look. Passers-by are also sure to see the seven display cubes — each featuring an exciting frame, each backed with brand storytelling — beckoning them inside.
And once they come in, the Vitra team is ready. "It all starts with the client, getting to the root of what they want and serving their needs," Abernathy says. From showing each person a selection of flattering frames to explaining the benefits of premium lenses, "it's all about finding the best look for them that is going to make them happiest."
Serve a Luxury Niche
How to win high-end customers
➤ Make the customer fall in love with everything about your shop, from your selection of frames to the service you offer.
➤ Word-of-mouth is important, but well-connected customers can evangelize for your business with the fine eyewear they'll be wearing.
➤ Think about ways to turn customers into insiders. Offer experiences they won't get elsewhere.
➤ Showcase your most beautiful frames like the fine jewelry for the face that they are.
➤ If you're positioning yourself as a luxury shop, give people what they're paying for in everything you do.
SPONSORED VIDEO: ESSILOR
Nominate a Difference Maker
Introducing #DifferenceMakers. Recognizing those who improve lives by improving sight.