When Jim Mulligan founded Bouquet Mulligan DeMaio Eye Professionals, his love of sports was a key ingredient to their success. Today, the central Pennsylvania practice is taking fan support to the next level as the official eyecare professionals for the Hershey Bears hockey team.
THE IDEA: Sports are literally built into the foundation of the practice at Bouquet Mulligan DeMaio. In business for more than 30 years (they have offices in both Cleona and Elizabethtown, PA), the eyecare center originally took its founders' love of triathlons to heart, setting out to give the practice what co-owner and optician Jim Mulligan calls a "sports optics kind of feel." Its first marketing push? Sponsorship. "We sponsored a team of about eight triathletes and we'd compete and promote the practice, and we had everyone wearing all the latest eyewear," says Mulligan. "We got a lot of visibility and that really helped that part of the practice." So when professional ice hockey team the Hershey Bears came calling about radio advertising it seemed a no-brainer. The Bears (a farm team for the NHL's Washington Capitals) can average more than 65 percent of Hershey's entire population at home games and draws a large listening audience when away, bringing the Bouquet Mulligan DeMaio name to the forefront via reads during the game, their sponsorship of penalty kills and Mulligan's own twice-yearly live "special guest" spots with the announcers. "We're very present in the game," he says.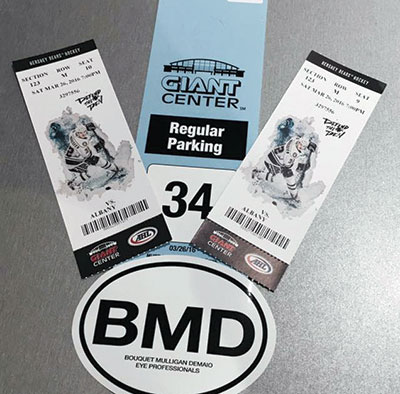 The practice uses its Facebook page for ticket giveaways and other sports-themed promotions.
THE EXECUTION: In addition to radio spots, BMD Eye (as they're known locally) works closely with the Bears, acting as the official eyecare provider for players and staff, and going out of their way over the past five years to build a lasting relationship. "A lot of [the players] wear contacts or will break their glasses. I know they're busy so I'll say 'Let me make some up for you and bring them to the game,' and I'll deliver it right to the locker room," says Mulligan. "That's how the partnership grew and they began to know me." And the visits extend both ways. After BMD Eye completed an extensive remodel in 2015, they invited the players and staff, along with their significant others, to visit the new space for a holiday party where they gave guests $100 gift certificates as well as food, wine and beer tastings. They've also taken their partnership online; regularly giving away home game tickets on the practice's Facebook page, a strategy that has exceeded expectations. "We'll post the tickets and there will be hundreds of people vying for the seats within hours," says Mulligan.
THE RESULTS: Name recognition is just one of the benefits of working with the Bears, says Mulligan. It's also been a valuable way to connect with the surrounding community. Harnessing the power of their Facebook audience, BMD Eye invited five fans to join the Bears at their BMD Eye-hosted holiday party, giving them a chance to interact with both their sports heroes and BMD Eye offerings and creating an instant bond between the practice and the customers. "We had parents come with their kids who were just star struck," says Mulligan. "We asked who their favorite player was and made sure that player spent some time speaking with the family. We still get people coming in to thank us." The practice has also seen a nearly 40 percent increase in social media traffic since embarking on the partnership. But it didn't happen overnight. "It's an investment," says Mulligan of the partnership … and the following. "Sticking with it is the main thing. The first year can seem like it's not working, but now people tell me 'Oh yeah, I hear you on the radio all the time!'"
Do It Yourself:
Find a Local Partnership
Be your best advertisement. Just as Mulligan used his hobby (triathlons) to drive business, post-work activities can be a great way to show off the latest wares. "We would sport all the cool stuff," says Mulligan of his early team.
Stick with it. Mulligan admits the radio results weren't immediate, but says owners have to "bite the bullet" and have faith. "They're not going to remember your name until they hear it a lot."
Embrace your niche. Finding a marketing direction — or partner — that fits with an already-established hallmark of the practice (such as BMD Eye's sports angle) reinforces the message in the eyes of the customer.
Go quality over quantity. Though it can be scary, going all in with a new marketing approach can pay off big. For Mulligan it was having a full-time employee who focuses only on social media, event planning and promotions. "It's an investment, but I cut down on some other advertising," he says.
Think above and beyond. Approach marketing partners as just that… partners. Perks such as on-site delivery and private events can solidify long-term business and personal relationships.
---
This article originally appeared in the February 2017 edition of INVISION.
SPONSORED VIDEO: ESSILOR
Nominate a Difference Maker
Introducing #DifferenceMakers. Recognizing those who improve lives by improving sight.