Three guys, one idea, and the tools to launch your own lens brand.
Imagine designing your own lenses for a customer's frames in minutes. A new design tool created by an optical shop owner and a couple of IT guys does just that. It's called LenSync, it's incredibly powerful ... and it's free.
THE IDEA: LenSync was born when Craig Chasnov, Dave Wedwick and Harry Chilinguerian met on the Optiboard site. The system was created to guide eyecare professionals through designing custom digital progressive lenses for Lindberg and Silhouette frames, as well as Chemistrie Clips and eClips.
Chasnov has been in the luxury business for 18 years. He and his staff of four at I-Topian in Fort Myers, FL, offer a diverse selection of high-end frames with an on-site finishing lab. But it's Chasnov's expansion beyond his retail store with LenSync, of which he's the founder and CEO, that sets his business apart.
THE EXECUTION: LenSync is free software that helps opticians put an RX in the right lens material with the best lens design for any patient. The introduction of free-form technology has allowed this kind of customization.
Still a work in progress, LenSync has a growing database of 50,000 shapes, patterns and chassis that Chasnov has input from Silhouette and Lindberg frame data.
"Certain frames are made to a certain base curve and LenSync allows an optician to design a lens to match that frame," says Joseph Zewe, CEO of Eyenavision, whose Chemistrie lab in Pittsburgh has been using the system.
"We connected our lab to LenSync and have seamlessly integrated this into our lab management software for the fabrication of our Chemistrie Clips. We use it to help opticians strictly plot drill points and to archive jobs," says Zewe.
The first retail store to use LenSync was Focal Point Opticians in Berkeley, CA, and its lab that makes eClips. "We're one of the early adopters of LenSync so we're going through all the minor glitches along the way," says owner David Salk. "I think what they are doing is brilliant and once it's fully up and running will be fantastic. It will definitely change the way people design a lens in their finishing labs."
THE RESULTS: LenSync is an agnostic cloud-based system that sits on a computer in the lab between a tracer, blocker and edger. It allows an optician to plot drill locations and trace a shape or use the system's default settings for consistent jobs. Lens orders are sent straight from the optician to edger equipment from manufacturers such as Santinelli, MEI, Coburn and National Optronics. LenSync has created a common platform for edgers and the data packet is so small it can be sent to any edger in the world.
"We're basically digitizing the entire system so an ECP can control what they're doing and the patient can see what type of lens they're getting for the frames they choose," Chasnov says.
Chasnov has been planning LenSync for ten years and working on it full-time for nine months. "We now can control the lens process for everybody."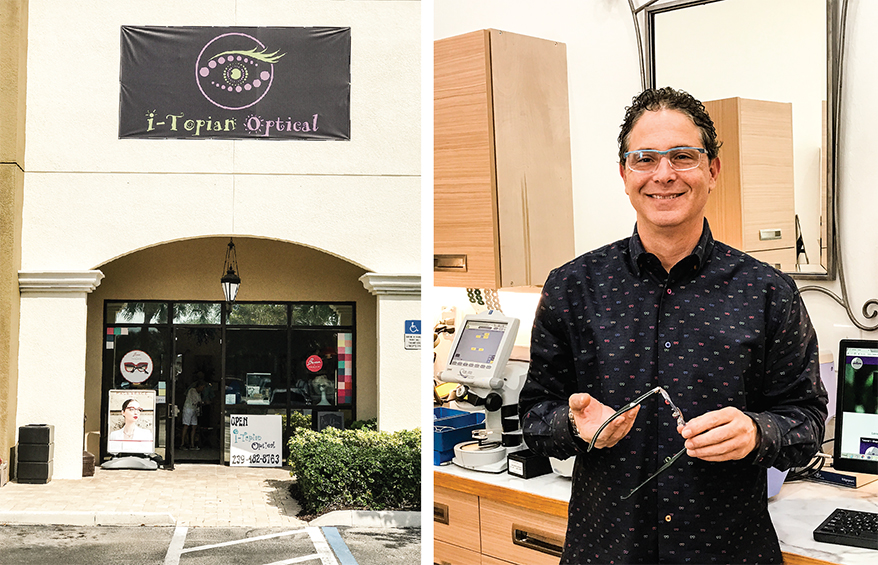 I-Topian in Fort Myers, FL is led by Craig Chasnov, the creator and founder of LenSync.
Do It Yourself: Offer Software for Customized Lens Design
If you are already finishing lenses in-house, download the free LenSync data package.
Bring creativity back into designing lenses for rimless eyewear.
Collaborate with patients to choose the color and placement of magnets for their Chemistrie Clips.
Utilize the system to problem solve even the toughest shapes and customer demands.
Explore the database of 50,000 shapes that are free to any practitioner to add fresh ideas and designs to your dispensary.
This article originally appeared in the March 2017 edition of INVISION.
SPONSORED VIDEO: ESSILOR
Nominate a Difference Maker
Introducing #DifferenceMakers. Recognizing those who improve lives by improving sight.