A variety of looks from Eyecare of Florence's electronic billboard.
At Eyecare of Florence in South Carolina, owner Billy Isgett has been making his clients look fabulous for decades. Now he also makes them famous. A risky investment in a digital billboard raised his profile and his revenue. And it almost didn't happen.
THE IDEA: Isgett found himself with diminishing revenue and bleak prospects after losing his business partner of 23 years. "We lost our doctor. We didn't have any way of generating revenue," he says.
Then a salesperson suggested purchasing ad time on a digital billboard. But investing in advertising is a financial gamble with no guarantee of a worthwhile return. "It was just having the faith to do it. To step out on faith. Most people, when business is good, advertise. You don't believe when business is bad you should advertise," Isgett says.
He decided to take the chance — or to "step out," one of his favorite phrases — and it paid off immediately. He agreed to $1,000 per month for real-time access to a digital billboard that displays his Twitter feed along with photos of his clients wearing their new eyeglasses to the 30,000 commuters who drive by it daily. "They absolutely loved it," he says.
THE EXECUTION: Adams Outdoor Advertising, a national advertising company, believes "outdoor advertising is more powerful than anyone has yet to imagine." Isgett stepped out and discovered their slogan was true. He began posting photos of his customers in their new eyeglasses "and it just took off," he says. "We do it in real time on the phone or computer. One side of the board is the picture and the other side is like a Twitter feed. We write about them and they're looking sassy. Then we started doing funny stuff, humorous stuff. People got to talking about it."
Located at the intersection of two major highways, the billboard is a marquee for the city's 140,000 residents. Customers visit the billboard while it displays their photo. Local churches and community groups ask Isgett to promote fundraisers, BBQs and events on it. He used it to coordinate aid and help those in need after the devastation of Hurricane Matthew. It has become the modern equivalent of the town hall bulletin board — a populist social media resource that champions the community and grows the business through humor and good will.
THE REWARDS: In less than a year, Eyecare of Florence has turned a grim future profitable. People love it so much that there is a waiting list to appear on the billboard. Facebook and Twitter are alive with customers sharing billboard fame while organically promoting Eyecare of Florence to thousands of potential customers.
Isgett conservatively estimates his business is up 10 percent since starting the promotion. "I've been in this business almost 40 years and I consider it a lifesaver."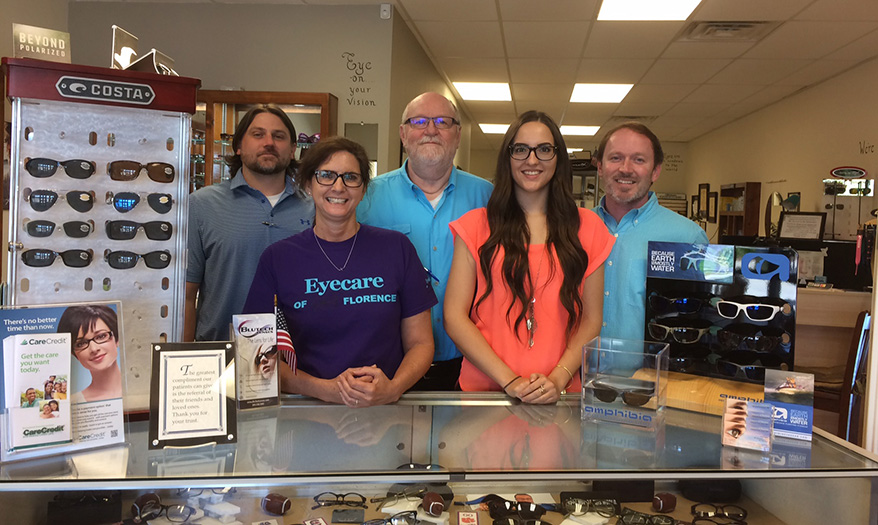 Billy Isgett (center) and the team at Eyecare of Florence.
Do It Yourself:
Lessons From an Industry Lifer
Do not be afraid to take a risk when your business is struggling. Staying the course rarely results in growth. It is said that fortune favors the bold. Be bold.
Social media is an incredible tool, but it best serves people who are willing to "step out" and dazzle customers. If they are thrilled about recognition from you, they'll share it with everyone.
Honor your clients by volunteering in the community, such as Isgett did when Hurricane Matthew struck. Don't look for media attention, just do something kind and the rewards will come.
Tragedy doesn't have to be a setback. When a loss threatens your business it's important to see them as new opportunities.
Be an early adopter. Isgett has always been fond of new technology. His billboard success inspired local car dealerships to follow. By setting trends, he has become an innovator in his market.
This article originally appeared in the April 2017 edition of INVISION.
SPONSORED VIDEO: ESSILOR
Nominate a Difference Maker
Introducing #DifferenceMakers. Recognizing those who improve lives by improving sight.