Eye Candy Optical shows suburban Pittsburgh the perfect storm of cross-promotion with a recent trunk show.



The aim of a trunk show is to get new product in front of new people; the trick is getting it in front of the right new people. This is where partners come in handy. When it's done right, a cross-promotion event is a marketing "perfect storm" that enhances your own brand while promoting those you sell to a new audience and minimizing costs. Just such an event blew into Pittsburgh, PA, when Eye Candy Optical in McMurray, a suburb of the city, hooked up with a local fashion designer and owner Dr. Monika Marczak's favorite cigar lounge.
THE IDEA
The birth of this collaboration, Dr. Marczak recalls, was "very organic and very serendipitous." Already a fan of BURN by Rocky Patel cigar lounge, she learned its newest location had opened in Pittsburgh. At around the same time, her customers had been asking when her next trunk show would be. She was determined that her next one would take her business outside of Eye Candy Optical Center. The idea appeared out of a haze of cigar smoke. "When I started to think of venues, I thought BURN would be a great place." Marczak figured her clientele would be a good fit with the elegant place and she was banking that in exchange for bringing awareness and her client list to a newly opened business, she wouldn't have to pay for the venue. She was right.
In keeping with the show's intended vibe of elegant luxury, she focused her trunk show on Tom Ford. "I took this opportunity to introduce guests to the Tom Ford Genuine Horn collection. I was unable to bring the collection to my store due to its high cost, so this was my way of providing clients the opportunity to view it."
A third element fell naturally into place: David Alan, a former Zeiss sales rep who had started his own business, David Alan Clothing. He was agreeable to combining forces; together, Marczak and Alan had an impressive guest list and "BURN welcomed us with a red carpet, valet parking and a DJ!"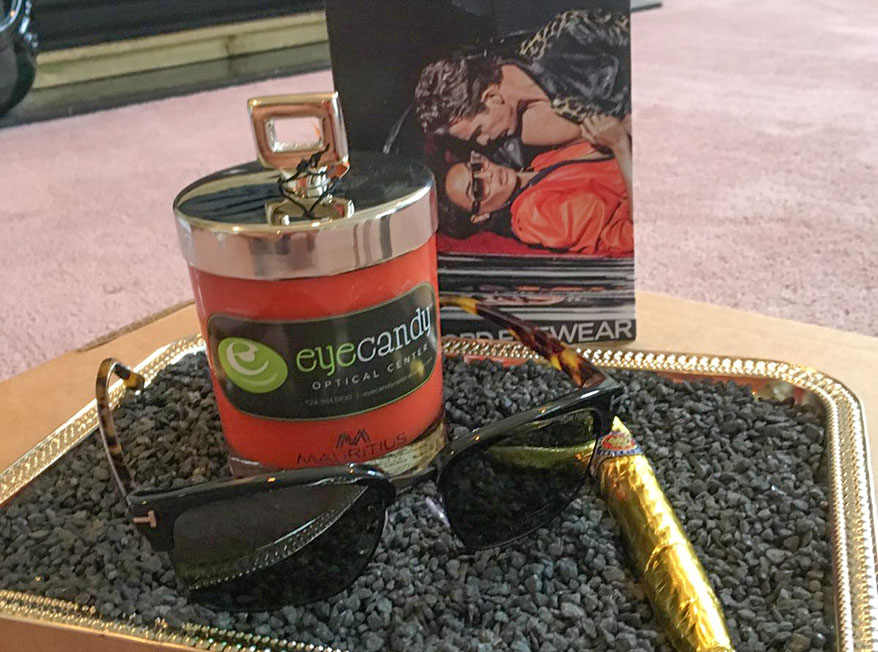 THE EXECUTION
Ahead of the event, Eye Candy staff had meetings to learn everything they needed to know about the Tom Ford Horn collection. On the day of the show, Square was used for all payments. Her Tom Ford rep helped promote the event and the regional manager for Marcolin, the line's distributor, traveled to attend.
The turnout topped 300 guests. "Four hours flew by too fast," she says. The invitation featured all three businesses, each of which prepared separate VIP lists; these guests were entered to win prizes that were raffled off every 30 minutes including Tom Ford sunglasses (donated by Marcolin), gift certificates for designer suits, and cigars. "I have been a business owner for 10 years," says Marczak, "and I always feel like a superstar in the store among my patients, but that night, when I saw people having fun and dancing — and buying — I felt as if I had arrived!"
THE REWARDS
Sales exceeded Marczak's expectations, but the event paid off in other ways. Her team had a "step-and-repeat" banner made, and were able to re-use it and the Square payment system at a women's networking meeting in July. An additional event was planned as a result of working with BURN's events manager. "He was so pleased at the [initial] show … he asked us if we would be involved with the Pittsburgh City Schools Back to Schools Event," says Marczak. And on Sept. 21, Eye Candy, will style all the models at the 3rd Annual David Alan Fashion Show in support of local charities.
DO IT YOURSELF:
CROSS-PROMOTION TRUNK SHOW
1. READY TO ROLL. Marczak's team prepared a checklist of everything they might need, whether to handle a frame adjustment or make a sale.
2. THEY'LL BE BACK. As the event was not in-house, the raffle prizes included Essilor Premium lenses so the winners would have to return to the store.
3. LET IT FLOW. "I think the fantastic music and beverages provided by BURN helped to loosen the wallets," Marczak says.
4. WISH LIST. Marczak's dream is a BMW with eyewear event. She plans to approach the owners of a nearby dealership later this year.
5. FOCUS. Build your show around one line that chimes with your partners and ask your rep to help promote the event.
---
This article originally appeared in the September 2018 edition of INVISION.
SPONSORED VIDEO: ESSILOR
Nominate a Difference Maker
Introducing #DifferenceMakers. Recognizing those who improve lives by improving sight.