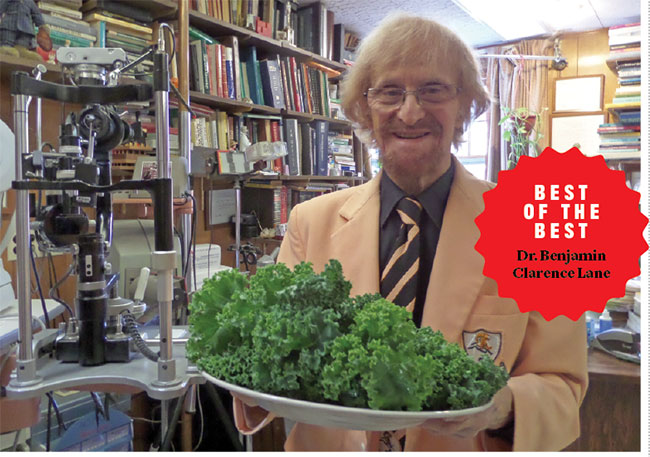 Since the early 1970s, Dr. Benjamin Lane has helped pioneer the field of nutritional optometry, also known as ocular nutrition.
New York optometrist builds his business with nutritional research and advice
With more than 40 years in clinical practice and six academic degrees, Dr. Benjamin Clarence Lane has earned the right to slow down. But the optometric scientist, clinician, nutritionist, researcher and author is still hard at work — and at play, since he also skates, skis, runs and climbs mountains. Chalk it up to an incredibly healthy diet, a lifestyle Lane has passed on to thousands of patients and peers while on the front lines of dietary research and integrative therapy. Since the early 1970s, Lane has helped pioneer the field of nutritional optometry, also known as ocular nutrition. His approach has reversed and prevented countless eye and vision disorders, and his scientific breakthroughs are changing the course of treatment for conditions including glaucoma, cataracts and macular degeneration. — TESS GHILAGA
THE IDEA: Lane's philosophy echoes the wisdom of Hippocrates: "Let food be thy medicine, and medicine be thy food." His research into B vitamin deficiencies, excessive vitamin C and lack of chromium, to name a few, put him in the spotlight as an integrative doctor who improves patient outcomes while enhancing overall quality of life. In his practice, Lane guides patients on the best food and lifestyle choices.
THE EXECUTION: During their initial visit, Lane's patients share their diet, supplement and lifestyle history before undergoing comprehensive blood and urine testing, as well as hair analysis. A thorough, state-of-the art eye exam includes the Zeiss Matrix visual field test (using frequency-doubling technology), the Zeiss Visucam, a retinal camera, optical coherence tomography and more. The results help point toward nutritional deficiencies and the best course of treatment.
"Patients don't have to give up their favorite eye doctor to consult on nutrition," Lane says. With offices in New York City and Lake Hiawatha, NJ, and extensive research available online, Lane works in conjunction with eye surgeons throughout the country to help patients with visual field and pressure reading testing to improve outcomes. "Once patients start enhancing their nutrition, their visual field testing improves," he says.
THE REWARDS: The son of an optometrist, Lane was inspired at any early age to work for the greater good. His decision to specialize in nutritional optometry emerged at the first annual meeting of the College of Optometrists in Vision Development, where major exhibitors promoted a variety of blood, urine and hair testing for mineral imbalances. Lane's methodology and research in collecting and tabulating nutritional data caught the attention of news media. COVD sponsored his appearances on the nationally syndicated show, Viewpoints on Nutrition, while regional optometric congresses arranged TV and radio interviews. Patients find Lane via a combination of word-of-mouth, referrals, press, seminars and conferences for consumers. A business manager and a public relations expert help with strategic growth initiatives. To boost sales of supplements, Lane reminds ODs that Medicare and the Affordable Care Act encourage eye doctors to instruct their patients in the value of nutraceutical supplementation in the prevention of eye disorders. (Read more about nutraceuticals in this month's XXXXXCategory Focus.)
DO IT YOURSELF
HELP PATIENTS TO GOOD EYE HEALTH
➤ "Doctors need to try these dietary changes on themselves first," Lane advises. Get blood work and nutritional analysis to find out what nutrients your body lacks.
➤ Ask your patients what they eat and how they supplement. Prepare handouts and pamphlets on foods that promote eye health and vision, and also include foods to avoid.
➤ Take nutrition courses at professional conferences, and sample Lane's body of research at NutritionalOptometryAssocs.com.
➤ Offer eye supplements to your patients. Lane's favorites include Eye Science Macular Health Formula and Eye and Body Complete from Biosyntrx.
➤ Help staff and patients transition to a clean diet. Instead of pizza for lunch, choose salads with lean protein. Instead of candy in the reception area, offer seasonal organic fruit.
SPONSORED VIDEO: ESSILOR
Nominate a Difference Maker
Introducing #DifferenceMakers. Recognizing those who improve lives by improving sight.