NEW LOOKS
Automation and digital technology give
refraction equipment an update
This article originally appeared in the July-August 2015 edition of INVISION.
---
In 1917, President Woodrow Wilson
declared war on Germany, Babe Ruth pitched for the Red Sox and the Woolf Ski-optometer and DeZeng Phoro-Optometer emerged. Basic refraction technology hasn't changed much since then, but digital phoropters — also known as computerized refractors or automated vision testers — offer updated options. The newer phoropters easily fit in an exam lane and can provide a more accurate refraction in less time. Designs are user-friendly and the units often come with built-in pre-programmed tests. Visionix's VX 55, for example, uses a tablet to control the whole refraction process, including the LCD charts display.
Dr. Lisa Genovese and her husband, Dr. Jason MacLaughlin, chose Reichert's Phoropter VRx Digital Refraction System for their new practice in Williamsville, NY. "Connectivity to our EMR can make me more efficient by decreasing click and points as well as transcription error," she says. "The VRx allows me to seamlessly compare an old Rx to a new Rx," so patients are more likely to fill the new prescription, she adds. Joel Kozlowski of Reichert says the VRx was designed to make refractions more efficient, "which results in additional revenue on the exam side as well as the dispensary."
A relative newcomer to this field is Vmax Vision, whose products use math to calculate a prescription. With Point Spread Function technology, their digital phoropters allow patients to discern more subtle differences in focus than those obtained using Snellen letters. This way, prescriptions can be refined to 0.05D, rather than to the 0.25D found with traditional phoropters. — CAROL GILHAWLEY
---
POINTS TO CONSIDER
➤
A digital refraction system eliminates costly inefficiencies, enhances your practice and makes the exam process more enjoyable for you and your patients. Doctors who use the Veatch Digital Practice can see an additional four to five patients per exam room, per day. —
Kyna Veatch, Veatch Ophthalmic
➤ Before purchasing a refraction system, practitioners should consider: How will it interface with my existing pre-test equipment? Will it interface with my EMR system? Is the user interface intuitive? Look at ergonomic considerations to prevent shoulder/back/neck injuries. The Phoroptor VRx looks modern and so gives patients a positive impression. — Joel Kozlowski, Reichert
➤ Some practices upgrade to have the newest technology, some to increase efficiency and communication with EMR systems and others because of back, neck and arm issues developed over time using manual phoropters. Visionix's VX 55 uses the same interface as a manual phoropter, but on a tablet so you control the phoropter head and charts display at the same time without having to re-learn how to refract with a joystick. It can "wow" your patients, work easily with an EMR and save your body a lot of physical distress. — Julio Maldonado, Visionix
➤ Integrated refraction systems empower the clinician to manage all refraction data instantly. ECPs can benefit from optimized processes, pre-programmed sequence delegation, ergonomic relief and increased dispensing with the ability to compare refraction results to spectacles. — Wayne Stobie, S4OPTIK
---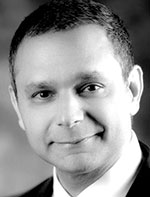 WHAT ECPs SAY
Dr. Sharokh Kapadia
St Johns Eye Associates, St. Augustine and Ponte Vedra, FL
➤ "I was using a traditional manual phoropter until I got tired of running the same repetitive instrument. Automated phoropters are physically less stressful on practitioners, and they provide a better comprehensive experience for patients. They give us the ability to show our patients two images with one eye. At the end of the test we can demonstrate what their current prescription is and what it should be. We can show them objectively that there's a difference. I can also transfer objective data into my medical record system."
➤ "My wife is an OD, too. We have two practices and I have six Topcon automated phoropters. I think they each save me between five and six minutes per patient, especially since I don't have to manually input data. I chose Topcon's phoropters for the quality of their instrument, customer support and price."