HAVE A SEAT
Exam chairs should boost comfort
for your patients (and for you)
This article originally appeared in the October 2015 edition of INVISION.
---
Sitting in an exam chair
will never feel like plopping down into your favorite armchair at home. But design and style advances can help patients feel more at ease — and that helps you provide the best possible exam experience.
Geoff White of S4Optik lists a few features to look for. In addition to a range of recline styles, from no-recline to fully motorized, look for a headrest that is adjustable with one hand; armrests and footrests that can handle a patient's full weight; and a lift mechanism that can retract low enough for elderly or infirm patients and high enough that the doctor can easily examine shorter patients (and have adequate force to raise heavier patients over years of service). Ready to upgrade? Most manufacturers sell very basic setups all the way up to a completely automatic chair, so consider your options to make life easier for you and your patients. — CAROL GILHAWLEY
---
POINTS TO CONSIDER
➤
If the exam lane is the heart and soul of a practice, then the chair and stand are the anchor that provide stability for patient comfort and access to exam instruments. Durability is paramount for the doctor who depends on a reliable exam chair to accommodate thousands of patient visits. Attractiveness, style, function and specific operational controls are also important features for anyone who wants to deliver an efficient and exceptional exam experience. —
Brad Santora, Marco
➤ Look for a contemporary style and a pleasant color scheme, and also for patient comfort, durability and ergonomic design. The chair should allow easy patient positioning for the operator to perform the examination efficiently while keeping the patient comfortable and at ease. — Ricardo Almiron, Topcon Medical Systems
➤ Doctors need to know how they plan to use their exam chairs and what functions are most important to them. They need to consider the types of patients they see and what their common exam procedures are. — Julio Maldonado, Visionix
➤ The eyecare pro should consider a company that can provide them with an excellent return on investment and the highest level of safety for their patients. — Kevin Ball, Reliance Medical Products
➤ When selecting an exam chair, consider your budget, how long you plan to use the chair and functionality. — Kyna Veatch, Veatch Ophthalmic Instruments
---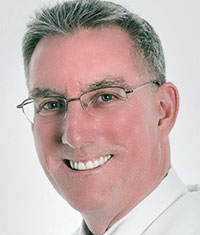 WHAT ECPs SAY
Dr. Kevin Kelly
Retina Group of Florida, Wellington, FL
➤
I bought six Marco EZ Tilt chairs in 2007. I saw the model at another practice and I compared the tilt back and electronic versions. For the price and functionality, the tilt back worked better for me. In eight years only one has broken. That's when a heavy person sat on it and a piece of steel cracked.
➤ The tilt back version has power assisted buttons on both sides. There's a flip pedal on the side which can raise the chair up and down or adjust the height of the chair. There's no bending over at all. These chairs have a lifespan of about 15 to 20 years. The only thing you have to worry about is the synthetic leather wearing out.
➤ Even though we disinfect them every day, I don't see any wear and tear. The headrest is automatic with a handle that I can squeeze to lock it once the patient's head is in position. The armrests can fold and lift to comfortably fit someone who is wide.
SPONSORED VIDEO: VISION SOURCE
Optometric Practice in a Small Town
Practicing in a small town gives you the diversity and opportunities to practice full-scope optometry. See how one OD found professional and personal fulfillment in a small town.