Carry On
From customer service to advertising,
little bags are big multitaskers.
This article originally appeared in the February 2016 edition of INVISION.
---
In a lifetime of eyeglass purchases, I'm not sure I can remember a single time I received my new glasses in a bag of any kind. And it's true some people won't want or need a bag: They often leave wearing their new glasses after all, and they can easily store their old ones in a purse, backpack or briefcase. But smart ECPs are learning the value of presentation, and that includes offering a shopping bag of some sort, especially if you're a high-end shop (or you aspire to be, or you're giving someone a six-month supply of contact lenses).
National vendors and local advertising specialty shops can help you find the right bag for your needs. If you're not ready to spring for special bags, here's a hint from Island Opticians in Palm Beach, FL. "For now, we use Dollar Tree colored paper bags with handles and use jute to tie a hole-punched business card to them," says owner Bryan Finley. "Not 'custom,' but clients say they are nice!" — JULIE FANSELOW
---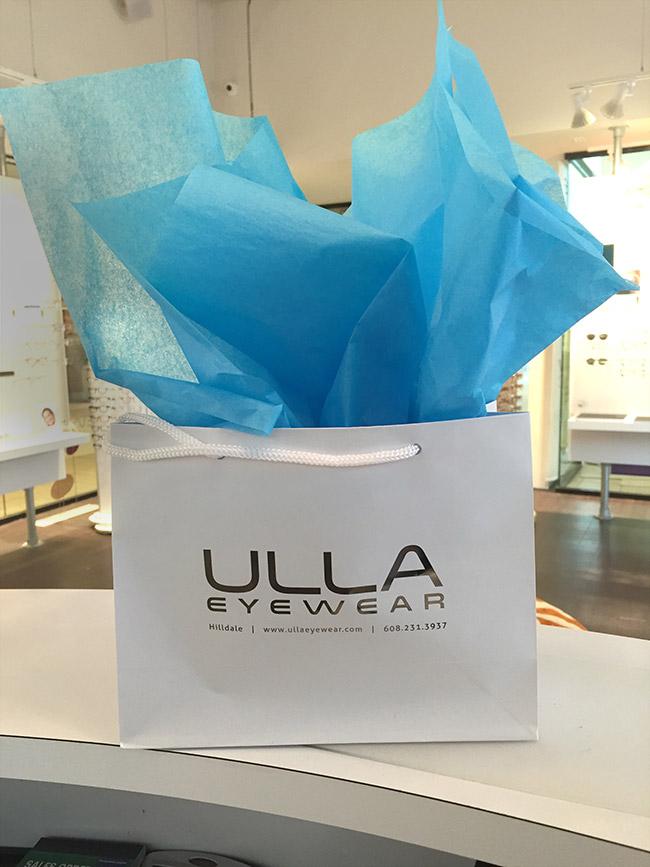 At Ulla Eyewear in Madison, WI, blue tissue paper in a gleaming white bag from Uline plays off the store's clean color scheme and its selection of stylish frames.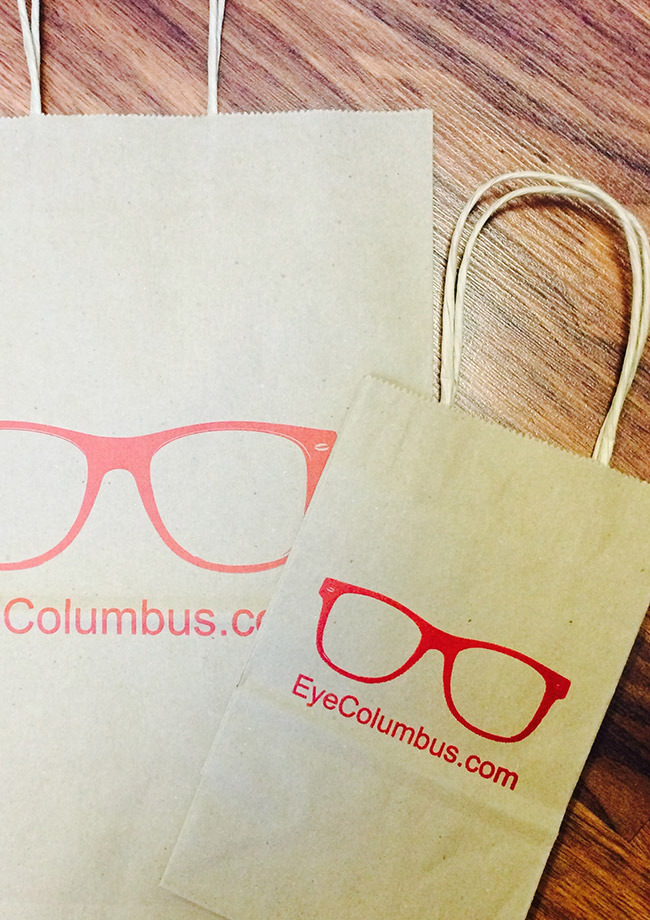 You don't have to get super-fancy with your bags. Says Dr. Craig Miller of Eye Columbus in Columbus, OH, "Patients compliment the design and simplicity. I love it because we have designed really complex, expensive bags in the past, but this is the one we always go back to." (It's from Affinity.)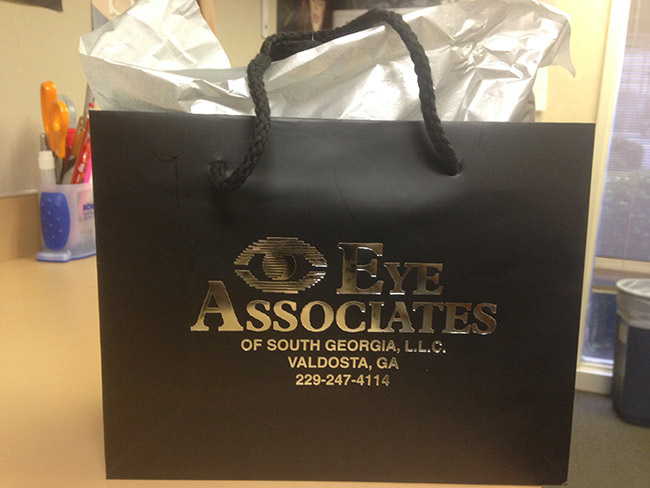 Whenever anyone buys a pair of glasses at Eye Associates of South Georgia in Valdosta, GA, they get a smart-looking black bag with the business name and logo imprinted in foil. It looks good, and it comes complete with cleaning spray, a cloth, lens care instructions, a thank-you card and a chocolate. (From Bags & Bows.)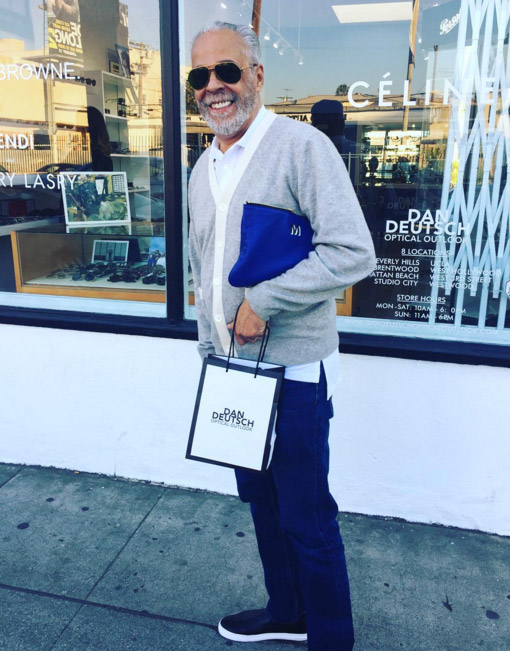 This photo from the Instagram account of Dan Deutsch Optical Outlook in Southern California shows a happy-looking customer leaving with his purchase. Shopping bags double as good sources of inexpensive advertising and brand-building.
POINTS TO CONSIDER
➤
Make the bag an extension of your business' overall look.
"Find a vendor who knows how to coordinate your bag with your brand and will help you incorporate your company's logo and colors," says Alan Kossoff of U.S. Box.
➤ Simplify, simplify. Gregg Schwartz of Affinity Bag says many businesses "are moving away from printing multiple colors and are going with one-color artwork that can be printed or foil stamped. The trend of less-is-more when it comes to bag design has been gaining traction; it allows for tradition and elegance. High-end packaging helps complete the purchase experience. The packaging should be an extension of the branding and the feel of the specific location."
➤ Get a grip. People who are juggling lots of stuff will appreciate it. "Handles are a great thing to consider," says Emily Graffagnino of Stuller, a company that provides packaging to the jewelry industry. (Remember: You are selling jewelry for the face.) "Nice rope handles and reinforced areas around them ensure that there won't be any tears in the bag."
➤ Accessorize to change with the seasons. Brightly colored ribbon can herald the changing seasons. "Imagine moving from a classic white ribbon to bright and energetic lemon," Graffagnino says.
➤ Be creative. Work with a local designer to come up with something fun and uniquely your own. For ideas, see BoredPanda's collection of 30 of the best-ever shopping bags at invmag.us/coolbags.
---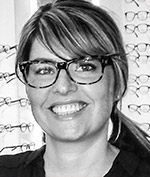 WHAT ECPs SAY
Brittany Graber
Owner, Ulla Eyewear, Madison, WI
➤
For our bags, we wanted sturdy construction. Bold, clean lines with a lot of white space, just like our store. The minimal design and glossy logo have a look of luxury.
➤ Many of the frames we choose also have a bold, clean look with elements of uniqueness. Our motto, after all, is "style, it's all in the details."
➤ We make sure each customer gets everything they need to take care of their glasses: a case, a cleaning cloth and spray cleaner with the Ulla logo, and a little love.
➤ Our customers frequently comment on how convenient the bag's small size is, as well as how well they are made. They're excited they can reuse them, and that equals great advertising for us!