Carry On
As optical display trends evolve, think 'breathing' and 'branding'
This article originally appeared in the March 2016 edition of INVISION.
---
A marketing campaign from OMG shows an old block-style mobile phone next to a tired-looking tier of tortoise frames and the line: "The '80s called. They want their eyewear displays back." Although frame display trends don't change as quickly as phone technology, if you're using the same frame boards and display props you had a decade ago, it's time to reboot.
Think breathing and branding. However you display them, don't crowd your most beautiful frames. Give them space and help them tell their stories via signage, classy point-of-purchase lifestyle images and creative props. And don't forget your windows.
Plenty of optical industry companies are ready to help you maximize your display space. But talk with local craftspeople, too, as they did at Eye Elegance in Houston, TX. Working with a concept from owner Daniel Protz, the shop turned to a local cabinet maker to realize the vision. The results: beautiful walnut cabinetry with LED-lit glass shelves and locally sourced quartz counters. — JULIE FANSELOW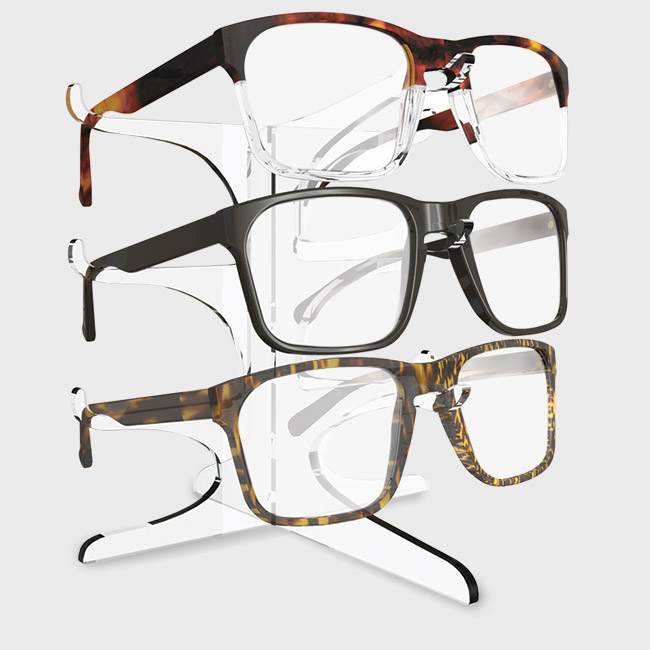 Modern frame display props, like this one from Optical Marketing Group, help shoppers see the entire frame.
Beautiful lighting and creative touches make eyewear shine, as in this Presenta Nova display for Claudine Optique in France.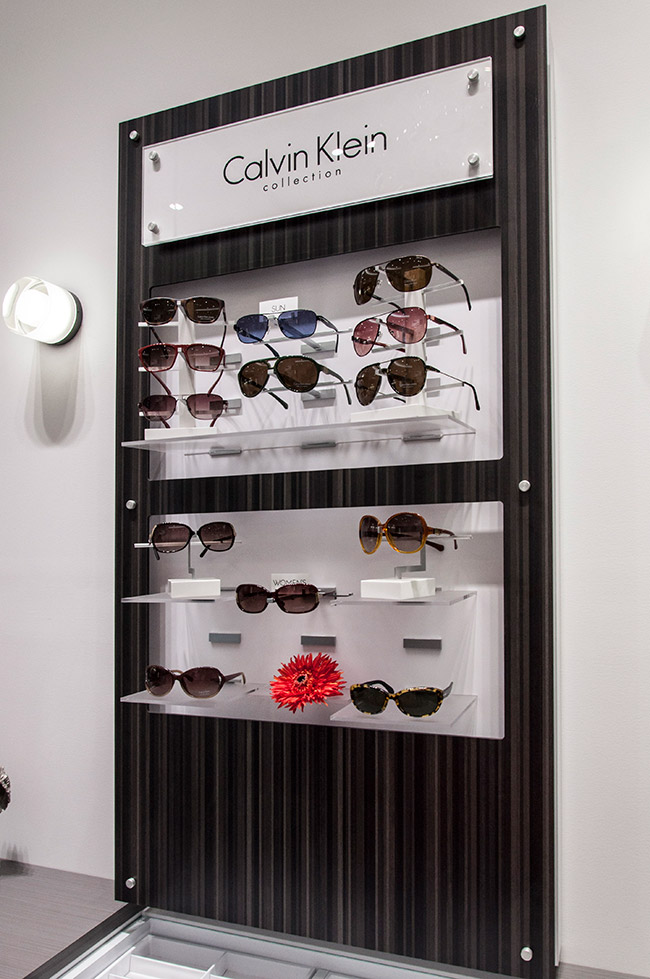 Highlight name brands. Here's a Calvin Klein display from Eye Designs.
POINTS TO CONSIDER
➤ Make it easy for people to browse. "The most important thing is making the displays open and accessible to patients, as long as you are not in a high-theft area," says Lori Estrada of Fashion Optical Displays. "Being able to try on frames without having to ask for assistance will increase sales tremendously. " One exception: Your top-of-the-line frames can be displayed in locked showcases — to deter theft and distinguish them.
➤ Maximize your space. "The main concern I hear from eyecare professionals is 'How can I best use my space to display the most eyewear?'" says Nicole Kenefic of KDA Furniture & Interiors. Break up your wall displays with mirrors so people can try on frames. Adds Kenefic: "Center island displays help utilize open floor space."
➤ Your silent salespeople. Use signs to help people find what they want, whether it's a popular brand, lifestyle eyewear or gender. "Most people cannot easily tell a man's frame from a woman's frame, let alone what sort of price point they are," says Estrada. Adds Andrew Fader of Eye Designs: "Patients want to know where to find the frames they like." This includes brand or style, so make it easy to find with signage, grouping and product messaging.
➤ Lighten up. "Poor or inadequate lighting can do a lot of harm to your interior and overall frames presentation," says Vedran Klaric of Presenta Nova.
➤ Add personality. No matter where you source displays and signs, make them your own with creative touches. Change them with the seasons and highlight new styles.
---
WHAT ECPs SAY
DR. NOAH WIARDA
COLORADO OPTOMETRY, FORT COLLINS, CO
➤ We were moving our office to a new location and needed to set up an optical that fit perfectly into our new office space. After speaking with several optical display companies, I found Fashion Optical to have a larger variety of pricing options and the design which fit my needs for a space-saving, classy feel at a reasonable price.
➤ Since it was my first time purchasing optical displays, I was looking for someone to explain all the details involved and all options available. Fashion Optical did just that, plus Lori was very helpful in setting up the design of the optical to fit well into my office space, especially when it came to the custom-made front desk.
➤ I wanted a classy/upscale look. The value for the "Impressions" design was great for our needs.