WEB WIZARDS
Savvy web designers who build slick sites can help ECPs differentiate from their competitors.
This article originally appeared in the June 2016 edition of INVISION.
---
Once upon a time, a well-designed website was considered just a nice thing for a small business to have. Today it's a must. The modern patient is likely to research your practice online, and probably a few others, before she ever walks through your doors. Steve Freed, vice president at EyeVertise, calls your website the "billboard" of your practice. If your billboard looks weathered and dated, it probably won't persuade potential clients to get off at the nearest exit and see what you have to offer. Your site should also adhere to a few best practices and inform visitors about what you bring to the table. If done right, a newly redesigned website can convert visitors to clients and help you outshine your competition. — JESSE BURKHART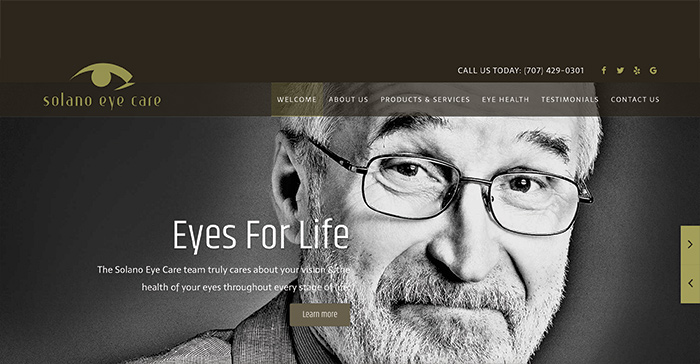 EyeMotion designed a modern-looking site for Solano Eye Care in Fairfield, CA (solanoeyecare.net) that includes educational content on different eye health topics for curious visitors.
The website for Iconic Eye Care in Palm Beach Gardens, FL (iconiceyecare.com) has been adapted for mobile devices so that it can be deftly navigated using a phone or tablet.
Designed by EyeCarePro, the site for Bright Eyes Family Vision Care in Tampa, FL (brighteyestampa. com) encourages appointment- making with a contact form at the bottom of the homepage for visitors to message staff.
The website for Eyehouse in Dallas, TX (eyehousedallas. com), developed by EyeVertise, highlights the range of services and products offered by the practice.
POINTS TO CONSIDER
➤ Understand the Goal. "You must have new business as the goal," says Michael Porat, COO of Eye Care Pro, "and that will drive all of your decisions from a design and content perspective." To that end, he says to make sure that your practice's contact information is prominently displayed throughout the site and that you offer a way for visitors to schedule appointments online.
➤ Be unique. EyeVertise's Freed says it's critical for your site to stand out and not look like "every other practice with a template website." That means highlighting specialties and anything else that makes your practice different from the rest.
➤ Keep current. Rod Yost, president of EyeMotion/Eye-IQ, recommends that your website include a blog so that you can communicate the latest news about your practice and any upcoming events. The key, though, is to regularly update it — as well as any other pages on your website with information that could change frequently — since your site "reflects the image of your practice," he says.
➤ Go mobile. Last year, Google searches on mobile devices eclipsed searches performed on desktops. With mobile traffic on the rise, it's essential that your site be easily viewed and navigated when it's accessed on phones and tablets. Talk to any web design or marketing pro that serves the eyecare industry, and they'll tell you that having a mobile-friendly site is a requirement, not an option.
➤ Mimic yourself. Your website should match the aesthetic and personality of your business. For example, if you sell high-end frames, then you want your site to reflect the quality of products offered. The idea is that you're "trying to build a website that sets correct expectations of what [customers] are going to see when they [walk in]," says Daniel Feldman, CEO of dba designs & communications.
---
WHAT ECPs SAY
KEN MELIES
CFO, EUROPTICS, DENVER, CO
➤ With our redesign, creating a website for the mobile environment was the first priority. The goal was to create a website that's compatible with all devices while maintaining the integrity of the Europtics brand.
➤ We added some features that allow clients to schedule eye exams and request customer service. We were also able to create an environment that supports online reviews because those have become more prominent in the reflection of the brand. Instead of making clients go find us on Yelp, Facebook or Google+, we incorporated all of those sites into one place to streamline the user experience.
➤ Driving engagement with clients was important for our redesign. We've definitely had positive feedback and experienced a lot of engagement from all of the new avenues they can interact with us.
SPONSORED VIDEO: VISION SOURCE
Optometric Practice in a Small Town
Practicing in a small town gives you the diversity and opportunities to practice full-scope optometry. See how one OD found professional and personal fulfillment in a small town.