SHOW-OFFS
Variety rules as
frame displays

move beyond traditional boards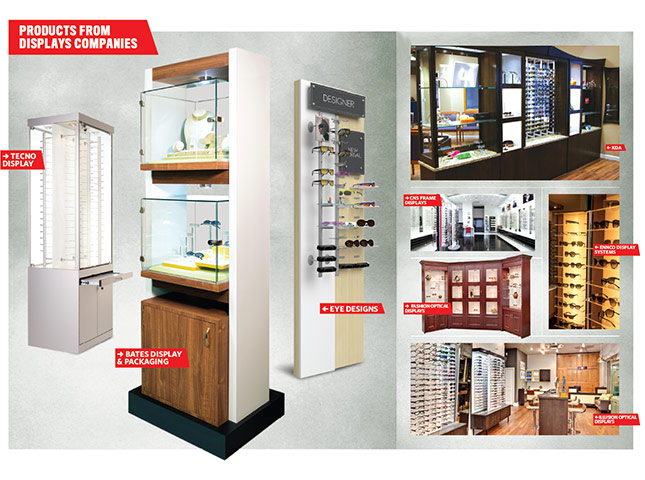 When it comes to choosing display units,
some eyecare providers have an opinion on every rack, drawer and hinge. Others would just as soon let their designer or contractor figure it out. No matter whether you love or loathe the task, finding the right units to show off your merchandise is important to retail success. You'll find an array of options, including wall showcases, tower display cases, shadow boxes and dispensing tables. Keep it simple or go as fancy as you like. But experts say the key is to first figure out who your customers are, what you want to sell them and how your space will flow. At that point, the display cases might just about select themselves. And if they don't, plenty of companies are ready to help you design what makes sense for your dispensary. —
By JAMES RITCHIE
POINTS TO CONSIDER

Don't get too invested in a particular look or style. What you need and want may be different based on your space and the number of frames you carry. — Jan Ennis, Ennco Display Systems
Look for industrial-grade hinges and pulls. You might expect 10 years of use from a typical unit. — Andrew Fader, Eye Designs
Effective displays and fixtures don't need to be expensive, but they must look professional and modern. — Robert Sherman, Bates Display & Packaging
Showcases with built-in vertical display rods allow for a large number of frames to be displayed close together. — Jason Burkhart, Tecno Display
With modularity, you can spend $10,000 to $20,000 to begin with and later get what you always wanted. — Mani Vaghedi, CNS Frame Displays
Offer a wall display with a mirror and shelf in the middle so the patient can try on each frame easily. — Nicole Kenefic, KDA Furniture & Interiors
Vary elements such as cubes, glass shelving and showcases to fully capture patients' attention. — Lori Estrada, Fashion Optical Displays
There's something about custom looks that you notice. — Jamie Van Duinen, Illusion Optical Displays
WHAT ECPs SAY
Dr. MaryJane Healey
Healey Vision, Redmond, WA
I made a wish list with everything I possibly wanted — an upper cabinet here, a drawer there. You get a price quote, and from there you pare it down according to your budget."
"Our optical area is small and doesn't have much wall space, so I couldn't do traditional wall display units. Freestanding units that are double-sided let people walk around and allow us to display more frames."
A lot of display units in front of windows are suspended from clear lines. I didn't use them because kids tend to touch them and they sway back and forth."
"If you have too many displays that look the same, they all blend together and people just don't see things."
"I really pushed to go above the basics in my optical.
I looked at catalogs, I went to other practices. Everywhere I went, I took note of what I liked and didn't like."
SOURCES
Bates Display & Packaging
(800) 824-3114
batesdisplay.com
CNS Frame Displays
(877) 274-9300
framedisplays.com
Ennco Display Systems
(800) 833-6626
ennco.com
Eye Designs
(800) 346-8890
eyedesigns.com
Fashion Optical Displays
(800) 824-4106
fashionoptical.com
Illusion Optical Displays
(800) 891-3312
iodisplay.com
KDA Furniture & Interiors
(260) 637-3304
kdafurniture.com
Tecno Display
(800) 255-3536
tecnodisplay.com