VITAMIN 'N'
Help support patients' health
(and your profits) with nutraceuticals
This article originally appeared in the April 2015 edition of INVISION.
---
Are you looking for a way to grow your practice and help your patients, too? Nutraceuticals are worth a look. Sales of nutritional supplements for eye health hit $422 million in 2013, says Dr. Liz Sloan of Sloan Trends, citing an October 2014 report in Nutrition Business Journal.
As the population ages, more people are suffering from — or trying to avoid — age-related macular degeneration, cataracts and other vision problems. The Centers for Disease Control and Prevention estimates that by 2020, the number of people with AMD will reach 2.95 million and those with cataracts will hit 30.1 million.
Although people are becoming more aware of vision-related nutraceuticals, ECPs play an important role in learning about these products and explaining the potential benefits to patients. Here are tips from top nutraceuticals vendors and an ECP who successfully added nutraceuticals to his practice. — CORRIE PELC
---
POINTS TO CONSIDER
➤
ECPs must take the time to understand the functionality of the nutraceuticals they recommend. Without this commitment, the confidence to recommend isn't there and sales tend to be sluggish. Learn how they work, boldly feature them in your office, and embrace the potential. —
Monique Wellise, Nordic Naturals
➤ Research has shown that taking eye vitamin supplements daily can help slow the progression of macular degeneration and other eye ailments. Taking nutraceuticals for your eyes as a preventative method has become much more widely accepted by patients over 40. — Karl Eisleben, Lipotriad
➤Doctors should stock the best formulas that contain the ingredient dosage form with the highest bio-availability and absorption. Tell the patients that it is the best available and that their eyesight is too valuable to pinch pennies on. — Brian Banks, Natural Ophthalmics
➤ Doctors are sometimes loath to sell nutraceuticals in their offices, based upon the presumption that patients will see it as unprofessional. In fact, among our most successful practices, the contrary is true. Patients are grateful that the doctor has carefully chosen a high-quality supplement and schedules follow-up exams to determine if the supplements are controlling their ocular condition. — Dr. Paul Krawitz, Vitamin Science
➤ ECPs should partner with a company that provides educational materials and instrumentation to identify risk patients and drive compliance. Brands must be guaranteed to resolve patient symptoms or reduce specific risks. — Chris Barber, ZeaVision Holdings
---
WHAT ECPs SAY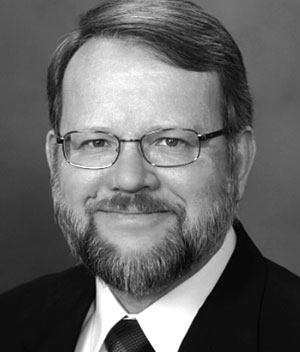 Dr. Michael Dunn
The Family Vision Center, Lubbock, TX
Why should ECPs offer nutraceuticals?
➤ "Your patients get used to coming into your office more than once every two years, and word of mouth will bring in new patients."
How do you consider what products to offer?
➤ "How long has the company been in business? How long have the products been on the market? Do the components of the nutraceuticals agree with your philosophy of treatment? Are the products better than what can be purchased over the counter? Are the products available only through doctors? Are the products cost-competitive?"
How can ECPs sell nutraceuticals effectively?
➤ "Only sell products that you have confidence in. Write out the name of the product and what it is for, and advise them that it is only sold through doctors."